Relevant today as it was when Jonathan preached it!

Israel and the United States of America how are we linked to Israel?
Let me share with you what I believe God has been showing me. As of the date of this update it is now, May 9th, 2020. 
The bible is clear on how actions towards Israel are responded to by our loving God who is also a God of Justice! 
Any Nation that goes against Israel is going to be in trouble! Do it to Israel and it will be done to you. Look at all the nations that are in the middle east and look at what they've done to Israel!

Then look at the nation and see what God has allowed to happen to that nation! It doesn't matter how the cards are played against Israel, God will turn the deck in his favor because he holds the cards. You smite Israel, and you will be smitten, big or small!
Genesis 12:1-3
1 Now the LORD had said unto Abram, Get thee out of thy country, and from thy kindred, and from thy father's house, unto a land that I will shew thee: 2 And I will make of thee a great nation, and I will bless thee, and make thy name great; and thou shalt be a blessing: 3 And I will bless them that bless thee, and curse him that curseth thee: and in thee shall all families of the earth be blessed.
Jeremiah 31:31-34 31 Behold, the days come, saith the LORD, that I will make a new covenant with the house of Israel, and with the house of Judah: 32 Not according to the covenant that I made with their fathers in the day that I took them by the hand to bring them out of the land of Egypt; which my covenant they brake, although I was an husband unto them, saith the LORD: 33 But this shall be the covenant that I will make with the house of Israel; After those days, saith the LORD, I will put my law in their inward parts, and write it in their hearts; and will be their God, and they shall be my people. 34 And they shall teach no more every man his neighbour, and every man his brother, saying, Know the LORD: for they shall all know me, from the least of them unto the greatest of them, saith the LORD: for I will forgive their iniquity, and I will remember their sin no more.
Israel's delegation in Paris trying to prevent 'bad' Iran nuclear deal
Published time: March 24, 2015 04:50
France's Foreign Minister Laurent Fabius (L-R), Germany's Foreign Minister Frank-Walter Steinmeier, European Union foreign policy chief Federica Mogherini, Iran's Foreign Minister Mohammad Javad Zarif and British Foreign Secretary Philip Hammond pose ahead of nuclear talks in Brussels March 16, 2015. (Reuters/Francois Lenoir)
Top Israeli officials are visiting France in a last-minute effort to discuss and "amend loopholes" in the nuclear deal with Iran, which Tel Aviv sees as dangerous. It follows reported disagreements between the US and France around negotiating strategy.
"This is an effort to prevent a [nuclear] deal that is bad and full of loopholes, or at least... to succeed in closing or amending some of these loopholes," Israeli International Relations Minister Yuval Steinitz told Israel Radio.
Steinitz is visiting Paris with National Security Council head Yossi Cohen and several other intelligence officials. The delegation could also be visiting other European capitals, according to The Jerusalem Post.
Steinitz told AP on Monday that discussions with France over Iran's nuclear program have "proven...productive" in the past, which is why Israel is pursuing its trip to Paris.
Over the weekend, there were reports of some disagreements between France and the US, with the former adopting a tougher stance during the negotiations.
French Foreign Minister Laurent Fabius called his team in Switzerland to make sure no more concessions were made, officials present at the Iran nuclear talks said last week. Fabius said on Saturday that France wants a deal that would ensure Iran could not produce a nuclear weapon.
The Iran nuclear talks include the P5+1 powers – China, France, Russia, the UK, and the US, plus Germany. They are aimed at resolving the long-running dispute over Iran's nuclear program.
The parties suspended talks in Switzerland on Friday, which are scheduled to be resume next week. Those involved in the negotiations still need to resolve the deadlock around Iran's atomic research and sanctions before the March 31 framework deadline. The full agreement deadline is set for June 30.
France's envoy to Washington, Gerard Araud, tweeted that the March 31 deadline was "a bad tactic" and "counterproductive."
Another French diplomat also told Reuters that Israel has "gone too far" and "marginalized itself" with its latest moves against the nuclear deal. "We told them to play their part so they could influence a final accord, but they have taken unrealistic positions," the diplomat said on condition of anonymity.
There has been a long-standing rift between Israel and the US on the issue of Iran nuclear talks. The disagreement was further intensified after Israeli PM Benjamin Netanyahu's controversial speech to the US Congress earlier in March.
In his address, Netanyahu said a deal with Tehran would all but guarantee that Iran would have the capabilities to build nuclear weapons. He also pointed out that the Iranian "regime will always be an enemy of America," and compared it to "the Nazi regime."
In response, US President Barack Obama hinted in a video address last week that relations between Iran and the international community, including the US, could "progress," should some forces not undermine the course, which Obama called an "early spring."
http://rt.com/news/243437-israel-france-iran-talks/
****************************************************************************************************************************
We have to pay attention to what happens in and with Israel because God's clock works around these events!
Israeli Prime Minister Benjamin Netanyahu in Washington on March 3. Photo by Jonathan Ernst/Reuters
Israeli Prime Minister Benjamin Netanyahu gave a controversial speech before a joint session of the U.S. Congress on Tuesday where he urged the U.S. not to agree with Iran on a nuclear deal and compared Tehran to the Islamic State militant group. Netanyahu said a potential agreement between the U.S. and Iran would be a "very bad deal," arguing that Tehran can't be trusted to pursue nuclear technology for peaceful purposes.
Netanyahu's speech was littered with applause lines, including when he implored the world to "all stand together to stop Iran's march of conquest, subjugation and terror." He also compared Tehran to ISIS, contending that the Muslim nation and the militant group were engaged in a "deadly game of thrones" for control of militant Islam. You can read the entire speech below in a transcript published by the Washington Post:
NETANYAHU:
Thank you.
Thank you...
... Speaker of the House John Boehner, President Pro Tem Senator Orrin Hatch, Senator Minority -- Majority Leader Mitch McConnell, House Minority Leader Nancy Pelosi, and House Majority Leader Kevin McCarthy.
I also want to acknowledge Senator, Democratic Leader Harry Reid. Harry, it's good to see you back on your feet.
I guess it's true what they say, you can't keep a good man down.
My friends, I'm deeply humbled by the opportunity to speak for a third time before the most important legislative body in the world, the U.S. Congress.
I want to thank you all for being here today. I know that my speech has been the subject of much controversy. I deeply regret that some perceive my being here as political. That was never my intention.
I want to thank you, Democrats and Republicans, for your common support for Israel, year after year, decade after decade.
I know that no matter on which side of the aisle you sit, you stand with Israel.
The remarkable alliance between Israel and the United States has always been above politics. It must always remain above politics.
Because America and Israel, we share a common destiny, the destiny of promised lands that cherish freedom and offer hope. Israel is grateful for the support of American -- of America's people and of America's presidents, from Harry Truman to Barack Obama.
We appreciate all that President Obama has done for Israel.
Now, some of that is widely known.
Some of that is widely known, like strengthening security cooperation and intelligence sharing, opposing anti-Israel resolutions at the U.N.
Some of what the president has done for Israel is less well- known.
I called him in 2010 when we had the Carmel forest fire, and he immediately agreed to respond to my request for urgent aid.
In 2011, we had our embassy in Cairo under siege, and again, he provided vital assistance at the crucial moment.
Or his support for more missile interceptors during our operation last summer when we took on Hamas terrorists.
In each of those moments, I called the president, and he was there.
And some of what the president has done for Israel might never be known, because it touches on some of the most sensitive and strategic issues that arise between an American president and an Israeli prime minister.
But I know it, and I will always be grateful to President Obama for that support. And Israel is grateful to you, the American Congress, for your support, for supporting us in so many ways, especially in generous military assistance and missile defense, including Iron Dome. Last summer, millions of Israelis were protected from thousands of Hamas rockets because this capital dome helped build our Iron Dome. Thank you, America. Thank you for everything you've done for Israel.
My friends, I've come here today because, as prime minister of Israel, I feel a profound obligation to speak to you about an issue that could well threaten the survival of my country and the future of my people: Iran's quest for nuclear weapons. We're an ancient people. In our nearly 4,000 years of history, many have tried repeatedly to destroy the Jewish people. 
Tomorrow night, on the Jewish holiday of Purim, we'll read the Book of Esther. We'll read of a powerful Persian viceroy named Haman, who plotted to destroy the Jewish people some 2,500 years ago. But a courageous Jewish woman, Queen Esther, exposed the plot and gave for the Jewish people the right to defend themselves against their enemies.
The plot was foiled. Our people were saved. Today the Jewish people face another attempt by yet another Persian potentate to destroy us.
Iran's Supreme Leader Ayatollah Khamenei spews the oldest hatred, the oldest hatred of anti-Semitism with the newest technology. He tweets that Israel must be annihilated -- he tweets. You know, in Iran, there isn't exactly free Internet. But he tweets in English that Israel must be destroyed.  For those who believe that Iran threatens the Jewish state, but not the Jewish people, listen to Hassan Nasrallah, the leader of Hezbollah, Iran's chief terrorist proxy. 
He said: If all the Jews gather in Israel, it will save us the trouble of chasing them down around the world.  But Iran's regime is not merely a Jewish problem, any more than the Nazi regime was merely a Jewish problem. The 6 million Jews murdered by the Nazis were but a fraction of the 60 million people killed in World War II. So, too, Iran's regime poses a grave threat, not only to Israel, but also the peace of the entire world. To understand just how dangerous Iran would be with nuclear weapons, we must fully understand the nature of the regime. 
The people of Iran are very talented people. They're heirs to one of the world's great civilizations. But in 1979, they were hijacked by religious zealots -- religious zealots who imposed on them immediately a dark and brutal dictatorship.  That year, the zealots drafted a constitution, a new one for Iran. It directed the revolutionary guards not only to protect Iran's borders, but also to fulfill the ideological mission of jihad. The regime's founder, Ayatollah Khomeini, exhorted his followers to "export the revolution throughout the world." I'm standing here in Washington, D.C. and the difference is so stark. America's founding document promises life, liberty and the pursuit of happiness. Iran's founding document pledges death, tyranny, and the pursuit of jihad. 
And as states are collapsing across the Middle East, Iran is charging into the void to do just that. Iran's goons in Gaza, its lackeys in Lebanon, its revolutionary guards on the Golan Heights are clutching Israel with three tentacles of terror. Backed by Iran, Assad is slaughtering Syrians. Back by Iran, Shiite militias are rampaging through Iraq. Back by Iran, Houthis are seizing control of Yemen, threatening the strategic straits at the mouth of the Red Sea. Along with the Straits of Hormuz, that would give Iran a second choke-point on the world's oil supply.
Just last week, near Hormuz, Iran carried out a military exercise blowing up a mock U.S. aircraft carrier. That's just last week, while they're having nuclear talks with the United States. But unfortunately, for the last 36 years, Iran's attacks against the United States have been anything but mock. And the targets have been all too real.  Iran took dozens of Americans hostage in Tehran, murdered hundreds of American soldiers, Marines, in Beirut, and was responsible for killing and maiming thousands of American service men and women in Iraq and Afghanistan. Beyond the Middle East, Iran attacks America and its allies through its global terror network. It blew up the Jewish community center and the Israeli embassy in Buenos Aires. 
It helped Al Qaida bomb U.S. embassies in Africa. It even attempted to assassinate the Saudi ambassador, right here in Washington, D.C. In the Middle East, Iran now dominates four Arab capitals, Baghdad, Damascus, Beirut and Sanaa. And if Iran's aggression is left unchecked, more will surely follow. So, at a time when many hope that Iran will join the community of nations, Iran is busy gobbling up the nations. We must all stand together to stop Iran's march of conquest, subjugation and terror. Now, two years ago, we were told to give President Rouhani and Foreign Minister Zarif a chance to bring change and moderation to Iran. Some change! Some moderation!
Rouhani's government hangs gays, persecutes Christians, jails journalists and executes even more prisoners than before. Last year, the same Zarif who charms Western diplomats laid a wreath at the grave of Imad Mughniyeh. Imad Mughniyeh is the terrorist mastermind who spilled more American blood than any other terrorist besides Osama bin Laden. I'd like to see someone ask him a question about that. Iran's regime is as radical as ever, its cries of "Death to America," that same America that it calls the "Great Satan," as loud as ever. Now, this shouldn't be surprising, because the ideology of Iran's revolutionary regime is deeply rooted in militant Islam, and that's why this regime will always be an enemy of America. 
Don't be fooled. The battle between Iran and ISIS doesn't turn Iran into a friend of America. Iran and ISIS are competing for the crown of militant Islam. One calls itself the Islamic Republic. The other calls itself the Islamic State. Both want to impose a militant Islamic empire first on the region and then on the entire world. They just disagree among themselves who will be the ruler of that empire. In this deadly game of thrones, there's no place for America or for Israel, no peace for Christians, Jews or Muslims who don't share the Islamist medieval creed, no rights for women, no freedom for anyone.
So when it comes to Iran and ISIS, the enemy of your enemy is your enemy. The difference is that ISIS is armed with butcher knives, captured weapons and YouTube, whereas Iran could soon be armed with intercontinental ballistic missiles and nuclear bombs. We must always remember -- I'll say it one more time -- the greatest dangers facing our world is the marriage of militant Islam with nuclear weapons. To defeat ISIS and let Iran get nuclear weapons would be to win the battle, but lose the war. 
We can't let that happen. But that, my friends, is exactly what could happen, if the deal now being negotiated is accepted by Iran. That deal will not prevent Iran from developing nuclear weapons. It would all but guarantee that Iran gets those weapons, lots of them.  Let me explain why. While the final deal has not yet been signed, certain elements of any potential deal are now a matter of public record. You don't need intelligence agencies and secret information to know this. You can Google it. 
Absent a dramatic change, we know for sure that any deal with Iran will include two major concessions to Iran. The first major concession would leave Iran with a vast nuclear infrastructure, providing it with a short break-out time to the bomb. Break-out time is the time it takes to amass enough weapons-grade uranium or plutonium for a nuclear bomb. According to the deal, not a single nuclear facility would be demolished. Thousands of centrifuges used to enrich uranium would be left spinning. 
Thousands more would be temporarily disconnected, but not destroyed. Because Iran's nuclear program would be left largely intact, Iran's break-out time would be very short -- about a year by U.S. assessment, even shorter by Israel's. And if -- if Iran's work on advanced centrifuges, faster and faster centrifuges, is not stopped, that break-out time could still be shorter, a lot shorter. True, certain restrictions would be imposed on Iran's nuclear program and Iran's adherence to those restrictions would be supervised by international inspectors. But here's the problem. 
You see, inspectors document violations; they don't stop them. Inspectors knew when North Korea broke to the bomb, but that didn't stop anything. North Korea turned off the cameras, kicked out the inspectors. Within a few years, it got the bomb. Now, we're warned that within five years North Korea could have an arsenal of 100 nuclear bombs. Like North Korea, Iran, too, has defied international inspectors. It's done that on at least three separate occasions -- 2005, 2006, 2010. Like North Korea, Iran broke the locks, shut off the cameras. 
Now, I know this is not gonna come a shock -- as a shock to any of you, but Iran not only defies inspectors, it also plays a pretty good game of hide-and-cheat with them.  The U.N.'s nuclear watchdog agency, the IAEA, said again yesterday that Iran still refuses to come clean about its military nuclear program. Iran was also caught -- caught twice, not once, twice -- operating secret nuclear facilities in Natanz and Qom, facilities that inspectors didn't even know existed.  
Right now, Iran could be hiding nuclear facilities that we don't know about, the U.S. and Israel. As the former head of inspections for the IAEA said in 2013, he said, "If there's no undeclared installation today in Iran, it will be the first time in 20 years that it doesn't have one." Iran has proven time and again that it cannot be trusted. And that's why the first major concession is a source of great concern. It leaves Iran with a vast nuclear infrastructure and relies on inspectors to prevent a breakout. 
That concession creates a real danger that Iran could get to the bomb by violating the deal. But the second major concession creates an even greater danger that Iran could get to the bomb by keeping the deal. Because virtually all the restrictions on Iran's nuclear program will automatically expire in about a decade. 
Now, a decade may seem like a long time in political life, but it's the blink of an eye in the life of a nation. It's a blink of an eye in the life of our children. We all have a responsibility to consider what will happen when Iran's nuclear capabilities are virtually unrestricted and all the sanctions will have been lifted. Iran would then be free to build a huge nuclear capacity that could product many, many nuclear bombs.  Iran's Supreme Leader says that openly. He says, Iran plans to have 190,000 centrifuges, not 6,000 or even the 19,000 that Iran has today, but 10 times that amount -- 190,000 centrifuges enriching uranium. 
With this massive capacity, Iran could make the fuel for an entire nuclear arsenal and this in a matter of weeks, once it makes that decision.  My long-time friend, John Kerry, Secretary of State, confirmed last week that Iran could legitimately possess that massive centrifuge capacity when the deal expires.  Now I want you to think about that. 
The foremost sponsor of global terrorism could be weeks away from having enough enriched uranium for an entire arsenal of nuclear weapons and this with full international legitimacy.  And by the way, if Iran's Intercontinental Ballistic Missile program is not part of the deal, and so far, Iran refuses to even put it on the negotiating table. Well, Iran could have the means to deliver that nuclear arsenal to the far-reach corners of the earth, including to every part of the United States. 
So you see, my friends, this deal has two major concessions: one, leaving Iran with a vast nuclear program and two, lifting the restrictions on that program in about a decade. That's why this deal is so bad. It doesn't block Iran's path to the bomb; it paves Iran's path to the bomb. So why would anyone make this deal? Because they hope that Iran will change for the better in the coming years, or they believe that the alternative to this deal is worse? Well, I disagree. 
I don't believe that Iran's radical regime will change for the better after this deal. This regime has been in power for 36 years, and its voracious appetite for aggression grows with each passing year. This deal would wet appetite -- would only wet Iran's appetite for more. Would Iran be less aggressive when sanctions are removed and its economy is stronger? 
 If Iran is gobbling up four countries right now while it's under sanctions, how many more countries will Iran devour when sanctions are lifted? 
Would Iran fund less terrorism when it has mountains of cash with which to fund more terrorism? 
Why should Iran's radical regime change for the better when it can enjoy the best of both world's: aggression abroad, prosperity at home? 
This is a question that everyone asks in our region. Israel's neighbors -- Iran's neighbors know that Iran will become even more aggressive and sponsor even more terrorism when its economy is unshackled and it's been given a clear path to the bomb.
And many of these neighbors say they'll respond by racing to get nuclear weapons of their own. So this deal won't change Iran for the better; it will only change the Middle East for the worse. A deal that's supposed to prevent nuclear proliferation would instead spark a nuclear arms race in the most dangerous part of the planet. This deal won't be a farewell to arms. It would be a farewell to arms control. And the Middle East would soon be crisscrossed by nuclear tripwires. 
A region where small skirmishes can trigger big wars would turn into a nuclear tinderbox.  If anyone thinks -- if anyone thinks this deal kicks the can down the road, think again. When we get down that road, we'll face a much more dangerous Iran, a Middle East littered with nuclear bombs and a countdown to a potential nuclear nightmare. Ladies and gentlemen, I've come here today to tell you we don't have to bet the security of the world on the hope that Iran will change for the better. 
We don't have to gamble with our future and with our children's future. We can insist that restrictions on Iran's nuclear program not be lifted for as long as Iran continues its aggression in the region and in the world. Before lifting those restrictions, the world should demand that Iran do three things. First, stop its aggression against its neighbors in the Middle East. Second... Second, stop supporting terrorism around the world. And third, stop threatening to annihilate my country, Israel, the one and only Jewish state. 
Thank you. If the world powers are not prepared to insist that Iran change its behavior before a deal is signed, at the very least they should insist that Iran change its behavior before a deal expires. If Iran changes its behavior, the restrictions would be lifted. If Iran doesn't change its behavior, the restrictions should not be lifted. If Iran wants to be treated like a normal country, let it act like a normal country. My friends, what about the argument that there's no alternative to this deal, that Iran's nuclear know-how cannot be erased, that its nuclear program is so advanced that the best we can do is delay the inevitable, which is essentially what the proposed deal seeks to do? Well, nuclear know-how without nuclear infrastructure doesn't get you very much. 
A racecar driver without a car can't drive. A pilot without a plan can't fly. Without thousands of centrifuges, tons of enriched uranium or heavy water facilities, Iran can't make nuclear weapons. Iran's nuclear program can be rolled back well-beyond the current proposal by insisting on a better deal and keeping up the pressure on a very vulnerable regime, especially given the recent collapse in the price of oil.
Now, if Iran threatens to walk away from the table -- and this often happens in a Persian bazaar -- call their bluff. They'll be back, because they need the deal a lot more than you do. And by maintaining the pressure on Iran and on those who do business with Iran, you have the power to make them need it even more.
My friends, for over a year, we've been told that no deal is better than a bad deal. Well, this is a bad deal. It's a very bad deal. We're better off without it. Now we're being told that the only alternative to this bad deal is war. That's just not true.  The alternative to this bad deal is a much better deal. A better deal that doesn't leave Iran with a vast nuclear infrastructure and such a short break-out time. A better deal that keeps the restrictions on Iran's nuclear program in place until Iran's aggression ends.  A better deal that won't give Iran an easy path to the bomb. A better deal that Israel and its neighbors may not like, but with which we could live, literally. And no country...
... no country has a greater stake -- no country has a greater stake than Israel in a good deal that peacefully removes this threat. Ladies and gentlemen, history has placed us at a fateful crossroads. We must now choose between two paths. One path leads to a bad deal that will at best curtail Iran's nuclear ambitions for a while, but it will inexorably lead to a nuclear-armed Iran whose unbridled aggression will inevitably lead to war. 
The second path, however difficult, could lead to a much better deal, that would prevent a nuclear-armed Iran, a nuclearized Middle East and the horrific consequences of both to all of humanity. You don't have to read Robert Frost to know. You have to live life to know that the difficult path is usually the one less traveled, but it will make all the difference for the future of my country, the security of the Middle East and the peace of the world, the peace, we all desire.  My friend, standing up to Iran is not easy. Standing up to dark and murderous regimes never is. With us today is Holocaust survivor and Nobel Prize winner Elie Wiesel.  
Elie, your life and work inspires to give meaning to the words, "never again." And I wish I could promise you, Elie, that the lessons of history have been learned. I can only urge the leaders of the world not to repeat the mistakes of the past. Not to sacrifice the future for the present; not to ignore aggression in the hopes of gaining an illusory peace.  But I can guarantee you this, the days when the Jewish people remained passive in the face of genocidal enemies, those days are over. We are no longer scattered among the nations, powerless to defend ourselves. We restored our sovereignty in our ancient home. 
And the soldiers who defend our home have boundless courage. For the first time in 100 generations, we, the Jewish people, can defend ourselves. This is why -- this is why, as a prime minister of Israel, I can promise you one more thing: Even if Israel has to stand alone, Israel will stand. But I know that Israel does not stand alone. I know that America stands with Israel. I know that you stand with Israel. You stand with Israel, because you know that the story of Israel is not only the story of the Jewish people but of the human spirit that refuses again and again to succumb to history's horrors. Facing me right up there in the gallery, overlooking all of us in this (inaudible) chamber is the image of Moses. Moses led our people from slavery to the gates of the Promised Land.
And before the people of Israel entered the land of Israel, Moses gave us a message that has steeled our resolve for thousands of years. I leave you with his message today, (SPEAKING IN HEBREW), "Be strong and resolute, neither fear nor dread them." My friends, may Israel and America always stand together, strong and resolute. May we neither fear nor dread the challenges ahead. May we face the future with confidence, strength and hope. May God bless the state of Israel and may God bless the United States of America. Thank you. Thank you very much. Thank you all.  You're wonderful.  Thank you, America. Thank you. Thank you.
http://www.jewishjournal.com/nation/article/netanyahu_speech_to_congress_full_text
*********************************************************************************************************************

Obama, Netanyahu on collision course six years in the making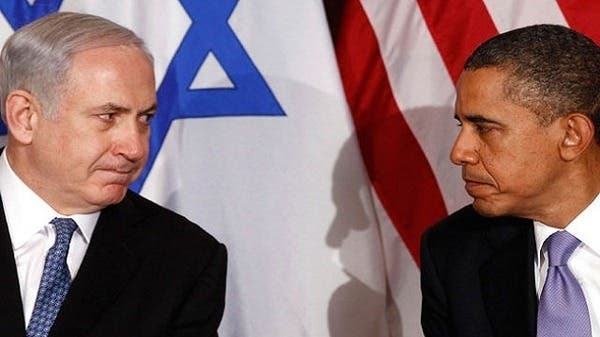 U.S. President Barack Obama meets Israeli Prime Minister Benjamin Netanyahu at the U.N. in 2011. (Reuters)
By Julie Pace and Matthew Lee | The Associated Press
Sunday, 1 March 2015
For six years, President Barack Obama and Israeli Prime Minister Benjamin Netanyahu have been on a collision course over how to halt Iran's nuclear ambitions, a high-stakes endeavor both men see as a centerpiece of their legacies.
The coming weeks will put the relationship between their countries, which otherwise remain stalwart allies, to one of its toughest tests.
Netanyahu is bound for Washington for an address to Congress on Tuesday aimed squarely at derailing Obama's cherished bid for a diplomatic deal with Tehran. At the same time, Secretary of State John Kerry and other international negotiators will be in Switzerland for talks with the Iranians, trying for a framework agreement before a late March deadline.
In between are Israel's elections March 17, which have heightened the political overtones of Netanyahu's visit to Washington.
The prime minister is speaking to Congress at the request of Republicans. His visit was coordinated without the Obama administration's knowledge, deepening tensions between two leaders who have never shown much affection for each other.
Jeremy Ben-Ami, president of the liberal Jewish advocacy group J Street, said Netanyahu was "crossing some lines that haven't been crossed before and is putting Israel into the partisan crossfire in a way it has not been before."
But the largest pro-Israel lobby in the U.S., the American Israel Public Affairs Committee, has tried to play down the partisanship.
"AIPAC welcomes the prime minister's speech to Congress and we believe that this is a very important address," spokesman Marshall Wittmann said. "We have been actively encouraging senators and representatives to attend and we have received an overwhelmingly positive response from both sides of the aisle."
Nearly a dozen Democratic lawmakers plan to sit out Netanyahu's speech, calling it an affront to the president.
Stopping Iran from building a nuclear bomb has become a defining challenge for both Obama and Netanyahu, yet one they have approached far differently.
For Obama, getting Iran to verifiably prove it is not pursuing nuclear weapons would be a bright spot in a foreign policy arena in which numerous outcomes are uncertain and would validate his early political promise to negotiate with Iran without conditions.
Netanyahu considers unacceptable any deal with Iran that doesn't end its nuclear program entirely and opposes the diplomatic pursuit as one that minimizes what he considers an existential threat to Israel.
Tehran says its nuclear program is peaceful and exists only to produce energy for civilian use.
"Through scaremongering, falsification, propaganda and creating a false atmosphere even inside other countries, (Israel) is attempting to prevent peace," Iran's top nuclear negotiator said Saturday in Tehran.
"I believe that these attempts are in vain and should not impede reaching a (nuclear) agreement," said Foreign Minister Mohammad Javad Zarif.
U.S. and Iranian officials reported progress in the latest talks on a deal that would freeze Tehran's nuclear program for 10 years, but allow it to slowly ramp up in the final years of the accord.
Obama has refused to meet Netanyahu during his visit, with the White House citing its policy of not meeting with foreign leaders soon before their elections. Vice President Joe Biden and Kerry will both be out of the country on trips announced only after Netanyahu accepted the Republicans' offer to speak on Capitol Hill.
The prime minister is scheduled to speak Monday at AIPAC's annual policy conference. The Obama administration will be represented at the event by U.N. Ambassador Samantha Power and national security adviser Susan Rice, who criticized Netanyahu's plans to address Congress as "destructive" to the U.S.-Israeli relationship.
The Iran dispute has heightened a relationship between the two leaders that has been frosty from the start. They lack any personal chemistry, leaving them with virtually no reservoir of goodwill to get them through their policy disagreements.
Within months of taking office, Obama irritated Israel when, in an address to the Arab world, he challenged the legitimacy of Jewish settlements on Palestinian-claimed land and cited the Holocaust as the justification for Israel's existence, not any historical Jewish tie to the land.
The White House was furious when Netanyahu's government defied Obama and announced plans to construct new housing units in East Jerusalem while Biden was visiting Israel in 2010. Additional housing plans that year upended U.S. efforts to restart peace talks between the Israelis and Palestinians.
The tension between Obama and Netanyahu was laid bare in an unusually public manner during an Oval Office meeting in 2011. In front of a crowd of journalists, the prime minister lectured Obama at length on Israel's history and dismissed the president's conditions for restarting peace talks.
Later that year, a microphone caught Obama telling his then-French counterpart in a private conversation that while he may be fed up with Netanyahu, "You are sick of him, but I have to work with him every day."
Despite suspecting that Netanyahu was cheering for his rival Mitt Romney in the 2012 presidential campaign, Obama tried to reset relations with the prime minister after his re-election. He made his first trip as president to Israel and the two leaders went to great lengths to put on a happy front, referring to each other by their first names and touring some of the region's holy sites together.
The healing period was to be short-lived.
Another attempt at Israeli-Palestinian peace talks collapsed. Israeli officials were withering in their criticism of Kerry, who had shepherded the talks, with the country's defense minister calling him "obsessive" and "messianic." The Obama administration returned the favor last summer with its own unusually unsparing criticism of Israel for causing civilian deaths when war broke out in Gaza.
The U.S. and Israel have hit rocky patches before.
The settlement issue has been a persistent thorn in relations, compounded by profound unhappiness in Washington over Israeli military operations in the Sinai, Iraq and Lebanon during the Ford, Reagan and George H.W. Bush administrations that led those presidents to take or consider direct punitive measures. Yet through it all, the United States has remained Israel's prime benefactor, providing it with $3 billion a year in assistance and defending it from criticism at the United Nations and elsewhere.
"We have brought relations back in the past and we will do it again now because at the end of the day they are based on mutual interests," said Dore Gold, a former Israeli ambassador to the United Nations and informal adviser to Netanyahu. "The interests of Israel and the U.S. are similar and sometime identical and I think that is what will determine in the end and not feelings of one kind or another."
Last Update: Sunday, 1 March 2015 KSA 09:10 - GMT 06:10
http://english.alarabiya.net/en/perspective/analysis/2015/03/01/Obama-Netanyahu-on-collision-course-six-years-in-the-making.html
******************************************************************************************************

Israel asks US for additional $300mn for missile defense – report
Published time: March 01, 2015 04:32
An Israeli missile is launched from the Iron Dome defense missile system (Reuters/Baz Ratner)
Israel reportedly bypassed the White House and asked the US Congress for an extra $317 million to be added to President Barack Obama's budget for the next fiscal year in order to fund Israeli missile defense programs, Bloomberg reported.
The requested funds would be in addition to the $158 million already proposed by the Pentagon for Israel's security needs for the fiscal year that will begin on October 1. The new allocation will allegedly finance the 'David's Sling' and 'Arrow-3' programs – designed to intercept medium- to long-range missiles – as well as provide an anti-ballistic missile system.
According to Bloomberg's report on Friday, the director of Israel's missile defense organization Yair Ramati "visited lawmakers and aides to the congressional defense committees on February 2 and 3 to outline the case for more money and thank them for past assistance."
Ramati completely bypassed the White House and the Pentagon. The report links the move to the tense relationship between the Obama administration and the Israeli government ahead of Prime Minister Benjamin Netanyahu's speech to Congress on March 3, which is likely to stress that the White House is pursuing a "bad deal" by negotiating to curb Iran's nuclear program.
The report revealed that Ramati's proposal included $250 million to start production of the David's Sling system, in addition to Obama's $37 million request for development. Another $35 million Ramati requested for the initial production of Arrow 3, in addition to the $55.7 million the US administration is seeking for development.
During his visit to Capitol Hill, Ramati "distributed one-page sheets naming US contractors that would benefit from production funds for each of the missile defense systems." According to Bloomberg's information, the list included Chicago-based Boeing Co.; Waltham, Massachusetts-based Raytheon Co.; Arlington, Virginia-based Orbital ATK Inc.; and Falls Church, Virginia-based Northrop Grumman Corp.
When contacted by Bloomberg, the Israeli embassy in the US declined to comment on the report.
The US already provides Israel with $3.1 billion a year as "foreign military financing," which excludes other missile defense funds, according to the report.
For the current fiscal year, Congress has reportedly provided $620 million, including about $347 million for missile defense programs. US Congress has appropriated more than $1.2 billion since 2011 for the Iron Dome, which is designed to intercept and destroy rockets.
In light of the large amounts of distributed funds, US lawmakers have been insisting that Israel use American-based defense contractors when spending the received money.
Last year, the Israeli government agreed to spend more than half the funds provided by the Pentagon for the Iron Dome in the US by this year. Until recently, the missile system was been built solely in Israel by Rafael Advanced Defense Systems Ltd.
Iran nuclear talks have created a significant rift between Israel and the US. Last week, the White House and State Department stated that Israel inaccurately provided information and twisted the official US position in nuclear talks with Iran, and accused Tel Aviv of "selectively" leaking details of sensitive talks.
Washington has also voiced suspicion that Netanyahu's office directly provided Israeli journalists with the leaked information, including an alleged offer to Iran to keep 6,500 centrifuges for uranium enrichment. A White House spokesman expressed frustration with the "cherry-picked" information released by the Israelis out of context.

http://rt.com/news/236545-israel-us-funds-defense/
*********************************************************************************************

Iran threatened to destroy Tel Aviv in 7 minutes if attacked by Israel, says Israeli newspaper
February 23, 2015 by Abdelhak Mamoun
Khamenei's deputy representative to the elite Revolutionary Guards, Mojtaba Zolnour
(IraqiNews.com) On Sunday, the Israeli newspaper

'


Yediot Ahronot' stated that a senior leader in the Iranian Revolutionary Guards said that his country is able to destroy Tel Aviv "in 7 minutes" if Iran was attacked by Israel, indicating that the latter cannot fight Hamas which is equal to a small part of Iran's military power.

The newspaper quoted the deputy representative to the Iranian Revolutionary Guards, Mojtaba Zolnour as saying, "If the Zionist regime was confident about its victory in the war, it would have initiated, but it is not strong enough to do that so it's only threatening."
Zolnour added, "Our missiles can arrive into the heart of Tel Aviv and destroy it in 6 or 7 minutes before the dust and smoke of the Zionists missiles arrive to us," noting that, "Israelis are cowards; they cannot fight Hamas, while the strength of Hamas and Hezbollah is equal to a small part of Iran's military power."
He considered that, "Lieberman's remarks aimed at boosting the morale of the Zionists," explaining, "The exodus of Israelis from Israel threatens the Zionist existence."
http://www.iraqinews.com/arab-world-news/iran-threatened-destroy-tel-aviv-7-minutes-attacked-israel-says-israeli-newspaper/

______________________________________________________________________________________________________________________________
Netanyahu calls for the Jews of Europe
to the mass migration of " I
srael
"
Sunday February 15, 2015 14:33

Called Israeli Prime Minister Benjamin Netanyahu, on Sunday, the Jews of Europe to the mass exodus to " Israel "against the backdrop of attacks Copenhagen , claiming that Tel Aviv is home to every Jew in the world.

Netanyahu said at the start of Ministers of Israel Council meeting held this morning, "I hit the terrorism practiced Islam extremist again in Europe, this time in Denmark .. We send our condolences to the Danish people and to the Jewish community in Denmark .. and again been killing Jews Land of Europe just because they are Jews is expected that this wave of terrorist operations will continue It also includes carrying out deadly attacks anti-Semitic character, "he said.


"The Jews deserve course protection in any country they live, but we say to our fellow Jews: Israel is your home .. We call to accommodate a mass exodus from Europe and prepare for it .. I would like to say to all the Jews in Europe and the Jews wherever they are: Israel is home to every Jew wherever" .
He continued, "we will bring to the cabinet today plan aims to encourage immigration from France, Belgium and Ukraine at a cost of 180 million shekels," he said, adding "we will present later on other plans, and I say to the European Jews and Jews in all throughout the land," and concluded by saying, "Israel awaits you with open arms."
http://translate.googleusercontent.com/translate_c?depth=1&hl=en&rurl=translate.google.com&sl=ar&tl=en&u=http://www.alsumaria.tv/news/125035/%25D9%2586%25D8%25AA%25D9%2586%25D9%258A%25D8%25A7%25D9%2587%25D9%2588-%25D9%258A%25D8%25AF%25D8%25B9%25D9%2588-%2
5D9%258A%25D9%2587%25D9%2588%25D8%25AF-%25D8%25A3%25D9%2588%25D8%25B1%25D9%2588%25D8%25A8%25D8%25A7-%25D9%2584%25
D9%2587%25D8%25AC%25D8%25B1%25D8%25A9-%25D8%25AC%25D9%2585%25D8%25A7%25D8%25B9%25D9%258A%25D8%25A9-%25D8%25A5%25D9%25
84/ar&usg=ALkJrhiYuoeHDFLbMTC-ugoujWTB2M559Q
___________________________________________________________________________________________________________________

By
Geo
ffrey Grider
April 20, 2020o
itter
MeWe
Reddit
Email
Share
Prime Minister Benjamin Netanyahu and Blue and White chairman Benny Gantz signed a coalition deal Monday, each terms lasting for 18 months. Judea and Samaria will be annexed starting July 2020.
Ibegan calling 2020 the 'year of prophecy' way back in 2019 on our Sunday night radio bible study programs, and 2020 has in no way disappointed me. In fact, 2020, at the moment you are reading this article about Israel annexing the West Bank area of Judea and Samaria in July, is far and away exceeding my end times expectations. Something I would like to draw your attention to, though, is wondering why the phrase '18 months' keeps popping up so often.
"The burden which Habakkuk the prophet did see. Behold ye among the heathen, and regard, and wonder marvellously: for I will work a work in your days, which ye will not believe, though it be told you."
Habakkuk 1:1,5
(KJB)
Yeah, that pesky little phrase '18 months' keeps popping up in stories related to the coronavirus plannedemic, the New World Order, and Bill Gates with his global vaccine shots. Everyone seems to keep repeating '18 months' whenever any kind of timetable is mentioned. 18 months from April put us right in the middle of October 2021. Coincidence that Benjamin Netanyau gets the first 18 months to lead Israel? Only a coincidence if you don't follow bible prophecy. Take a look at all the articles telling us it will take '18 months' for everything to be done with.
Melinda Gates: it would likely take about 18 months for a vaccine to become widely available, and that it should first go to healthcare workers to help them keep others safe.
The dust has finally settled in Israel, and Benjamin Netanyahu will be the leader in the first go-round, guess how long his term will last for? Yep, 18 months. During that time he will oversee Israel annexing Judea and Samaria, why is this so earth shattering? Because Matthew 24 says the Jews in Israel will be fleeing from Antichrist in Judea, so Israel annexing Judea now is a giant step towards the fulfillment of the prophecies in Matthew 24 about
the Jews and Selah Petra
. 18 months is the perfect time frame for all this end times stuff to be put in place, Netanyahu and
Trump
to do what God raised them both up to do, with plenty of time leftover for the
Pretribulation Rapture
to take place after we got a good look at Antichrist as Paul in 2 Thessalonians says we will.
Whatever you do, don't miss this flight, but if you do
here is the parting gift
we'll leave you with.
"When ye therefore shall see the abomination of desolation, spoken of by Daniel the prophet, stand in the holy place, (whoso readeth, let him understand:) Then let them which be in Judaea flee into the mountains: Let him which is on the housetop not come down to take any thing out of his house: Neither let him which is in the field return back to take his clothes. And woe unto them that are with child, and to them that give suck in those days! But pray ye that your flight be not in the winter, neither on the sabbath day: For then shall be great tribulation, such as was not since the beginning of the world to this time, no, nor ever shall be. And except those days should be shortened, there should no flesh be saved: but for the elect's sake those days shall be shortened."
Matthew 24:15-22
(KJB)
Go grab a post-it note, write '18 months' on it and slap in on your computer monitor. Every time from now on you hear a news story talking about '18 months' in connection with the coronavirus plannedemic and the New World Order, write it down. You're going to need that information, God has already given us the roadmap of bible prophecy, and now it looks like He's giving us the timeline as well. 18 months, remember that. 18 months.
Netanyahu and Gantz Agree to Form a Unity Government, Annexation Of Judea and Samaria Will Begin In July 2020
FROM TIMES OF ISRAEL: A joint statement from Blue and White and Netanyahu's Likud party said the agreement was to form a "national emergency government," apparently to deal with the coronavirus pandemic. "We prevented fourth elections. We'll safeguard democracy," Gantz tweeted shortly after the announcement was made. "We'll fight the coronavirus and look out for all Israeli citizens. We have a national emergency government."
Netanyahu spoke with all the leaders of his right-wing religious bloc of parties after signing the unity deal, his spokesman said in a statement.
"THE PRIME MINISTER SAID THAT THE ESTABLISHMENT OF A UNITY GOVERNMENT IN THE FACE OF THE CORONAVIRUS PANDEMIC IS A NATIONAL IMPERATIVE," THE STATEMENT SAID. "THE PRIME MINISTER PLEDGED THAT HE WILL CONTINUE TO UPHOLD THE PRINCIPLES OF THE NATIONAL CAMP AND THE RIGHT-WING BLOC WITHIN THE UNITY GOVERNMENT."
The deal is expected to be signed formally after Independence Day next week, after which the other right-wing parties would sign on to it. The emerging coalition is then expected to move forward with legislation to cement the premiership rotation agreement that will see Gantz take over from Netanyahu as prime minister after 18 months.
The final agreement dovetails with most of Netanyahu's demands, including on the the annexation of parts of the West Bank, a process that it says can begin in July 2020.
GANTZ: WE PREVENTED FOURTH ELECTIONS, WILL FIGHT CORONAVIRUS
After impasse of over a year, Netanyahu and Gantz agree to form a government
Deal will see PM step down in 18 months, but dovetails with most of his demands including annexation and judicial appointments, paves way for largest cabinet in Israel's history
By
TOI STAFF
20 April 2020, 7:37 pmUpdated at 7:58 pm
14
https://www.timesofisrael.com/netanyahu-gantz-reach-agreement-to-form-national-emergency-government/
__________________________________________________________________________________________________________________
Prime Minister Benjamin Netanyahu and Blue and White chairman Benny Gantz signed a coalition deal during a meeting Monday evening, bringing to an apparent end a nearly year-and-a-half-long political stalemate.
A joint statement from Blue and White and Netanyahu's Likud party said the agreement was to form a "national emergency government," apparently to deal with the coronavirus pandemic.
"We prevented fourth elections. We'll safeguard democracy," Gantz tweeted shortly after the announcement was made. "We'll fight the coronavirus and look out for all Israeli citizens. We have a national emergency government."
Get The Times of Israel's Daily Edition by email and never miss our top stories
FREE SIGN UP
Netanyahu spoke with all the leaders of his right-wing religious bloc of parties after signing the unity deal, his spokesman said in a statement.
"The prime minister said that the establishment of a unity government in the face of the coronavirus pandemic is a national imperative," the statement said. "The prime minister pledged that he will continue to uphold the principles of the national camp and the right-wing bloc within the unity government."
The deal is expected to be signed formally after Independence Day next week, after which the other right-wing parties would sign on to it. The emerging coalition is then expected to move forward with legislation to cement the premiership rotation agreement that will see Gantz take over from Netanyahu as prime minister after 18 months.
The final agreement dovetails with most of Netanyahu's demands, including on the the annexation of parts of the West Bank, a process that it says can begin in July 2020.
Prime Minister Benjamin Netanyahu and Blue and White party leader Benny Gantz in the Knesset, November 10, 2019. (Yonatan Sindel/Flash90)
The cabinet will include 32 ministers at first and then swell to 36, with 14 deputy ministers, as soon as the coronavirus crisis is deemed to have ended, in what will be the largest cabinet by far in Israel's history.
Gantz will serve as defense minister in the year and a half he waits in the wings to take over as premier, while Blue and White No. 2 Gabi Ashkenazi will be foreign minister. Among other key ministries, Blue and White's Avi Nissenkorn was to receive the Justice Ministry, while Likud would get the finance and public security ministries, as well as the position of Knesset speaker.
As recently as Monday morning, when Gantz and Netanyahu last met, reports indicated the coalition talks had stalled.
The main bone of contention seemed to be the makeup and mechanics of the Judicial Appointments Committee, which installs judges, with Netanyahu — who has been indicted on multiple counts of corruption, including bribery — demanding veto power over nominations.
Under the agreement reached Monday night, Likud ensured right-wing veto power on the panel, with the appointment of Blue and White's MK Zvi Hauser, a former cabinet secretary under Netanyahu.
From right to left: Blue and White party chairman Benny Gantz, Yair Lapid and Moshe Ya'alon at a faction meeting in Ramat Gan on December 25, 2019. (Tomer Neuberg/Flash90)
That clause was immediately castigated by Gantz's former ally Yair Lapid, the Yesh Atid-Telem leader.
"So the compromise on the Judicial Appointments Committee is that Bibi [Netanyahu] chose all its representatives. Gantz and [Blue and White MK Gabi] Ashkenazi agreed to allow the criminal defendant to appoint the judges that will adjudicate his affairs," tweeted Lapid.
Though a right-wing conservative who is unlikely to back judicial activism, Hauser has also been critical of attacks on the courts and is considered by Gantz and his allies to be a defender of the judiciary's independence.
Meanwhile Blue and White's Avi Nissenkorn is set to be appointed justice minister, replacing the firebrand Amir Ohana of Likud who had made a habit of attacking the courts and the state prosecution.
Yesh Atid-Telem ran as part of the Blue and White alliance in all three elections over the past year, before breaking with Gantz over his
appointment
as Knesset speaker with the backing of Netanyahu's political allies, the March 26 move that marked the advent of the coalition talks.
As Knesset speaker, Gantz had threatened to advance legislation earlier Monday that would disqualify Netanyahu from continuing to serve as prime minister due to his upcoming corruption trial, a move that Likud had warned would sink the prospects of an agreement for good.
Besides Likud's demands concerning the Judicial Appointments Committee, another key issue was Netanyahu's concern that the High Court may rule that he cannot serve as prime minister due to the criminal charges against him, a development that could theoretically leave Gantz as premier for the entire term of the joint coalition.
Netanyahu had therefore been trying to engineer some kind of legislative guarantee that Gantz would not take over as prime minister in the event of such a court ruling. According to the agreement, there will be no such legislation in the first six months of the coalition's lifespan, when such a ruling would be most likely to be issued; instead, if Netanyahu is disqualified, new elections would be called.
Netanyahu is also believed to be looking at recent favorable polling that shows him with a comfortable majority if an election were held today — though public opinion could rapidly sway in the coming months, depending on developments on the coronavirus front and the government's handling of it.
President Reuven Rivlin, center, Prime Minister Benjamin Netanyahu, left, and Blue and White leader Benny Gantz shake hands at the memorial ceremony for the late president Shimon Peres at the Mount Herzl cemetery in Jerusalem on September 19, 2019. (Yonatan Sindel/Flash90)
The signing of the agreement came after President Reuven Rivlin informed Gantz last week that his mandate to form a government had ended, after he failed to present a coalition to the Knesset by Wednesday's midnight deadline.
That triggered the start of a 21-day period during which the Knesset as a whole may select a candidate with majority support to form a government. The move was widely seen as an attempt to force Netanyahu and Gantz to stop dithering and seal a unity deal quickly amid the coronavirus pandemic.
Israel has been led by a caretaker government since December 2018, when the 20th Knesset dissolved. Since then, three consecutive elections have failed to yield a new government, creating an unprecedented political crisis.
May 16th 2020 Revisions - 3