Oklahoma's top court orders removal of 10 Commandments monument
Published time: July 01, 2015 02:51
Oklahoma State Capitol in Oklahoma City. 

Oklahoma's top court ruled that the 10 Commandments monument situated on capitol grounds violates state laws prohibiting the use of government property for the benefit of a religion.
The decision from the state Supreme Court also puts an end to donations for statues proposed by animal rights group, a Hindu leader, and the New York Satanic Temple, which were meant to be erected on the capitol grounds as well.
The ruling stems from an American Civil Liberties Union lawsuit filed on behalf of several Oklahomans challenging the constitutionality of the monument. The lawsuit argued that it violated the state's constitution, which bans public property from supporting "any sect, church, denomination or system of religion." The suit also argued that the monument violated provisions of the US Constitution forbidding the establishment of religion by government.  
Holidays from hell: Satanic Temple wins right to erect 'fallen angel' display in Florida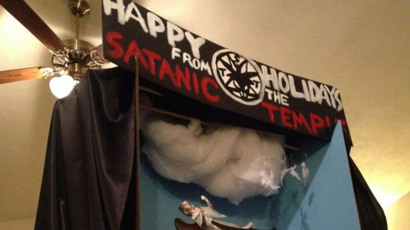 In a 7-2 ruling handed down on Tuesday, the Oklahoma court agreed.
In the lawsuit, the plaintiffs argued that the placement of the monument at the Capitol created "a more divisive and hostile state for many Oklahomans," and that the "state has no business telling it citizens what to believe."
Lawmakers had argued that the monument was not serving a religious purpose but was meant to mark a historical event
That prompted other groups, including Satanists, a Hindu leader in Nevada, an animal rights group, and the satirical Church of the Flying Spaghetti Monster to submit requests for putting up their own monuments marking what they said were historical events.
The New York-based Satanic Temple was seeking to erect a 7-foot tall statue depicting Satan as Baphomet, a goat-headed figure with horns, wings and a long beard. The Hindu leader wanted to install a statue of Lord Hanuman, a Hindu deity with an ape-like face and a tail that is known for incredible strength.
The current stone monument inscribed with the 10 Commandments, with a weight of 2,400 pounds of pure granite and height of 6 feet (1.8 meters), is a replica of an earlier one which occupied the State Capitol grounds from 2012 until it was smashed to pieces in October 2014 when a man drove a car across the Capitol lawn and crashed into it. The man was arrested and admitted for mental health treatment. The monuments were paid for with private money and supported by conservative lawmakers.
In March, a US judge dismissed a case filed by an atheist group that was seeking to remove the monument from State Capitol grounds, saying the plaintiffs failed to show standing to bring the suit, according to Reuters.

http://rt.com/usa/270862-oklahoma-court-remove-momument/
______________________________________________________________________________________________________
'Like a thunderbolt': America reacts to gay marriage ruling
Published time: June 27, 2015 00:25     
(THIS WILL BRING GOD'S JUDGMENT TO AMERICA EVEN MORE RAPID THAN BEFORE!)
(EVIDENTLY THE PERVERSE IN WASHINGTON DON'T REMEMBER THE STORY OF SODOM AND GOMORRAH!)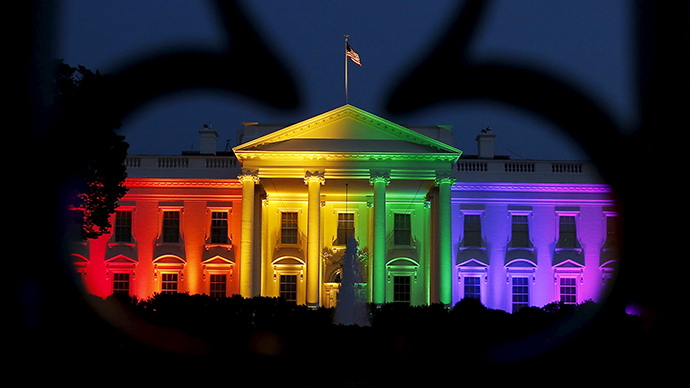 The White House is illuminated in rainbow colors after today's historicSupreme Court ruling legalizing gay marriage in Washington June 26, 2015(Reuters / Gary Cameron)
Friday's historic Supreme Court ruling granting same-sex couples the right to marry across the United States arrived "like a thunderbolt," President Barack Obama said, delighting progressive supporters but enraging conservative opponents.
Following the Court's 5-4 decision, President Obama said, "This ruling is a victory for America."
"Progress on this journey often comes in small increments, sometimes two steps forward, one step back, propelled by thepersistent effort of dedicated citizens. And then sometimes, there are days like this, when that slow, steady effort is rewarded with justice that arrives like a thunderbolt," Obama said from the Rose Garden.
He added that the Supreme Court "reaffirmed that all Americans are entitled to equal protection of the law, that all people should be treated equally regardless of who they are or who they love."
Meanwhile, Democratic presidential candidate Hillary Clinton tweeted that she is "proud to celebrate a historic victory for marriage equality—& the courage & determination of LGBT Americans who made it possible."
Independent Vermont Senator Bernie Sanders, also a Democratic candidate for president, said the court "fulfilled the wordsengraved upon its building: 'Equal justice under law.'" Other Democratic candidates also weighed in:
Outside of the Supreme Court, activists and same-sex couples celebrated the decision once it was handed down. Under theruling, couples around the US will be able to enter civil marriages regardless of their sexual orientation.
Conservatives, however, reacted angrily, with nearly every Republican candidate for president excoriated the ruling. Perhaps the strongest condemnation came from Louisiana Gov. Bobby Jindal, who just declared his candidacy. He said the decision would lead to an "an all-out assault on religious freedom guaranteed in the first amendment" and later suggested eliminating theSupreme Court entirely.
"The Supreme Court is completely out of control, making laws on their own, and has become a public opinion poll instead of ajudicial body," he told an Iowa crowd during a speech.
"If we want to save some money, let's just get rid of the court."
Former Arkansas Gov. Mike Huckabee also blasted the Supreme Court, calling the ruling an "out-of-control act ofunconstitutional, judicial tyranny."
"If accepted by Congress and this President, this decision will be a serious blow to religious liberty, which is the heart of the First Amendment," he added in his statement.
Texas Senator Ted Cruz, a Tea Party favorite and harsh critic of same-sex marriage, said the Supreme Court has delivered "some of the darkest 24 hours in our nation's history."
Speaking on Fox pundit Sean Hannity's radio show, Cruz said the Court's rulings on Obamacare and gay marriage "were bothnaked and shameless judicial activism."
"Today, this radical decision purporting to down the marriage laws of every state. It has no connection to the United StatesConstitution," he said. "They are simply making it up. It is lawless, and in doing so, they have undermined the fundamental legitimacy of the United States Supreme Court."
Former Texas Gov. Rick Perry, former Pennsylvania Senator Rick Santorum and other GOP candidates also expressed their anger.
Notably, former Florida Gov. Jeb Bush, who many consider a frontrunner for the GOP nomination, also steered clear of directly railing against same-sex marriage, instead saying he believes states should be allowed to make their own decision on the matter.
The American Civil Liberties Union, which has argued intensely in favor of equal rights for gay couples, celebrated the ruling.
"Today's decision has been 50 years in the making and will stand with Brown vs. Board of Education as one of the landmark civil rights moments of our time," said Anthony D. Romero, ACLU executive director, in a statement.
"Now we take the battle for full legal equality to the states, where 31 states have yet to pass any statewide LGBT non-discrimination laws. The wind is at our backs, and we are now on the cusp of achieving full legal equality for LGBT Americansacross the country."
The decision was also hailed by some corporations.
~~~~~~~~~~~~~~~~~~~~~~~~~~~~~~~~~~~~~~~~~~~~~~~~~~~~~~~

READ MORE: US Supreme Court rules in favor of same-sex marriage nationwide

26 Jun, 2015 14:09
US Supreme Court rules in favor of same-sex marriage nationwide
Reuters / Noah Berger
© 
Reuters
In a 5-4 decision, the US Supreme Court ruled the equal protection clause of the 14th Amendment requires all states to license same-sex marriages in the US. Justice Anthony Kennedy wrote the majority opinion.
The case, commonly known as Obergefell v Hodges, challenged the definition of marriage in Michigan, Kentucky, Ohio and Tennessee as "a union between one man and one woman," under the 14th amendment to the US Constitution, specifically the provision guaranteeing equal protection under the law.

(Note from website designer)

This is an abomination in the eyes of God, and the USA will be under worse judgement as was Sodom and Ghamorah in the days of Lot!

"The Fourteenth Amendment requires a State to license a marriage between two people of the same sex and to recognize a marriage between two people of the same sex when their marriage was lawfully licensed and performed out-of-State," the majority of judges ruled, terming marriage a "fundamental right."
"No union is more profound than marriage, for it embodies the highest ideals of love, fidelity, devotion, sacrifice, and family. ... [The challengers] ask for equal dignity in the eyes of the law. The Constitution grants them that right," says the majority opinion.

Meanwhile, the White House hailed the decision in a tweet from the official @POTUS account, adding the hashtag #LoveWins.
Today is a big step in our march toward equality. Gay and lesbian couples now have the right to marry, just like anyone else. #LoveWins

— President Obama (@POTUS) June 26, 2015
"This ruling is a victory for America," President Barack Obama said in remarks at the White House, praising the rapid change of social attitudes on the issue.
"Shifts in hearts and minds are possible," Obama said. "There is still so much work to be done in extending the promise of America to every American. But today we can say we made our Union a little more perfect."
LOVE wins!!! #LoveIsLove#MarriageEqualitypic.twitter.com/Myt9cwFB7d

— Ben & Jerry's (@benandjerrys) June 26, 2015
Among the four judges that opposed the ruling was Chief Justice John Roberts. He read from his 29-page dissent from the bench, the first time he has ever done so according to court observers.
"If you are among the many Americans - of whatever sexual orientation - who favor expanding same-sex marriage, by all means celebrate today's decision," Roberts wrote. "Celebrate the achievement of a desired goal. Celebrate the opportunity for a new expression of commitment to a partner. Celebrate the availability of new benefits. But do not celebrate the Constitution. It had nothing to do with it."
Marriage between a man and a woman was established by God, and no earthly court can alter that. http://t.co/1Kfw9l0KMG

— Gov. Bobby Jindal (@BobbyJindal) June 26, 2015
Justices Antonin Scalia, Clarence Thomas and Samuel Alito each issued their own dissenting opinions as well.
Jim Obergefell, the lead petitioner in the case, celebrated the ruling.
"Today's ruling from the Supreme Court affirms what millions across the country already know to be true in our hearts: that our love is equal. It is my hope that the term gay marriage will soon be a thing of the past, that from this day forward it will be simply, marriage," he said, according to the Washington Post. "All Americans deserve equal dignity, respect and treatment when it comes to the recognition of our relationships and families.''
Proud to celebrate a historic victory for marriage equality—& the courage & determination of LGBT Americans who made it possible. -H

— Hillary Clinton (@HillaryClinton) June 26, 2015
Obergefell married John Arthur, his partner of over two decades, in Maryland after Arthur was diagnosed with amyotrophic lateral sclerosis, better known as ALS or Lou Gehrig's Disease. Three months after they returned to their Ohio home, Arthur died. Obergefell was not legally allowed to be listed as the surviving spouse on Arthur's death certificate, so he filed suit against the state.
Attorney General DeWine Statement on Supreme Court Decision https://t.co/nJrBBv02ur

— Ohio AG Mike DeWine (@OhioAG) June 26, 2015
"It would misunderstand these men and women to say they disrespect the idea of marriage. Their plea is that they do respect it, respect it so deeply that they seek to find its fulfillment for themselves," Kennedy wrote, granting Obergefell and others the right to marry. "Their hope is not to be condemned to live in loneliness, excluded from one of civilization's oldest institutions."
Obama applauded the decision from the Rose Garden.
"Sometimes, there are days like this, when that slow, steady effort is rewarded with justice that arrives like a thunderbolt," Obama said.
This decision recognizes the fundamental truth that our love is all equal. Today is a great day for America. #LoveWins -mo

— The First Lady (@FLOTUS) June 26, 2015
"This decision will end the patchwork system we currently have. It will end the uncertainty hundreds of thousands of same-sex couples face from not knowing whether they're marriage, legitimate in the eyes of one state, will remain if they decide to move or even visit another," the president added. "This ruling will strengthen all of our communities by offering to all loving same-sex couples the dignity of marriage across this great land."
If we're free to love whoever/whatever we want, why can't we love our religious freedom? #SCOTUS

— American Life League (@AmerLifeLeague) June 26, 2015
The Supreme Court ruling opens the doors for same-sex couples to wed in Alabama, Arkansas, Georgia, Kentucky, Louisiana, Michigan, Mississippi, (most of) Missouri, Nebraska, North Dakota, Ohio, South Dakota, Tennessee and Texas.
First couple in line for marriage license in Louisville. #LoveWinspic.twitter.com/BRvDHMauvU

— Mayor Greg Fischer (@louisvillemayor) June 26, 2015
However, it could lead to problems for conservative religious schools that forbid same-sex relationships based on a 1983 Supreme Court decision. That ruling allowed the Internal Revenue Service to take away religious schools' tax-exempt statuses as a violation of a "fundamental national public policy" for banning interracial relationships. In fact, Alito brought up that case during oral arguments in April.
This flawed, failed decision is an out-of-control act of unconstitutional judicial tyranny --> http://t.co/WMborH3TxB#SCOTUS

— Gov. Mike Huckabee (@GovMikeHuckabee) June 26, 2015
"In the Bob Jones case, the court held that a college was not entitled to tax-exempt status if it opposed interracial marriage or interracial dating," Alito said. "So would the same apply to a university or a college if it opposed same-sex marriage?"
Solicitor General Donald B. Verrilli Jr., representing the Obama administration, admitted that it was possible, but did not elaborate further.
BREAKING: The Supreme Court rules same-sex marriage is a right nationwide! Join us in saying Mazel Tov!Posted by Bend the Arc: A Jewish Partnership for Justice on Friday, June 26, 2015
Nearly two-thirds of Americans ‒ 61 percent ‒ support same-sex marriage, with higher acceptance rates among the younger generations, a recent Washington Post-ABC poll found.
http://rt.com/usa/270052-america-reaction-scotus-gay-marriage
________________________________________________________________________________________________________________________________________
Jonathan Cahn came to prominence in the news after being on shows like "It's Supernatural", The Jim Baker Show, Pat Robertson's 700 Club, and others and he's spoken at the United Nations and the presidential prayer breakfast. 
This man is anointed of God and speaks prophetic words.
**************************************************************************************************************
In this commentary below Henry Bechthold does an outstanding job on describing America's falling away from God, it's decline and it's deterioration into a nation of immorality and evilness. They are almost now on the same footing as Sodom and Gomorrah!

Judgment On America
In June of 2000, I preached a message titled, "Judgment of America".  I stated that "a storm is coming upon America" because of the following abominations: the practice of infanticide via abortion, honoring homosexuality as an acceptable alternative lifestyle, respecting other false  religions as equal with Christianity, exalting the "Big Bang" theory as Creator rather than God, and expelling the Bible and God from our public schools and other public institutions.  I stated that "the storm was coming", judgment from God.  Fifteen months later America was humbled by the terrorist attacks on 9-11.  I'm not trying to exalt myself as being some kind of a prophet, for anyone who faithfullystudies their Bible could have arrived at the same conclusion, as you will see demonstrated from Scripture.
After 9-11 America had a brief superficial revival, which dissipated fast.  Why?  It was because there was no true repentance.  The abortion mills kept running; fanatical extreme gay rights legislation continued to be adopted; atheist evolutionary concepts continued to brainwash our children in our public schools; activist courts continued to expel God and His commandments from our society; and, false religions continued to be elevated to equal, if not superior, status with Christianity.  In fact, the same "false religion" that had attacked America was being revered as a good and peaceful religion that worshipped the same God as Christianity.
Two of America's abominations, abortion and homosexuality, are the exact "antithesis" of who Jesus is and of what He stands for. Jesus is all about "life". Jesus stated that He is the "life", and He said that He came so that we could have "life", and have it more abundantly (John 10:10; 14:6). He also tells us to "choose life", so that our descendants may live (Deuteronomy 30:19).
Abortion, however, is all about death. Abortion ends the life of a child. What a pregnant woman has in her womb is not a "fetus"; it is a "child" or "baby". When Jesus' mother, Mary, visited Elizabeth, who was pregnant with John the Baptist, Elizabeth said that her "babe" or "baby" leaped in her womb at the sound of Mary's voice (Luke 1:41-44). It wasn't a "fetus" in Elizabeth's womb; it was a "baby". And, when Mary was pregnant with Jesus, the Bible states that she was "with child", not with a fetus (Luke 2:4-7). Furthermore, the Scriptures tell us that God is the one who is "forming" and "making" that child in the womb, and the Bible states that God has already "fashioned" or "planned" all of the days of that child's entire life while still in the mother's womb (Psalm 139:13-16; Jeremiah 1:4-5). Finally, in Exodus 21:22-23, God clearly states that a child who has not yet been born, is a "life" just as much as a grown man who causes the death of that child by hurting the mother. The Bible declares that the "life" of that man will be taken as just punishment for the "life" of that child which was still in the womb; Scripture says "life for life".
Homosexuality is also all about death. A person who participates in homosexual sexual relations is more than a thousand times more likely to contract the deadly disease of AIDS, than a person who participates in heterosexual relations. Moreover, if homosexuality was universally and exclusively practiced by all people, it would exterminate the human race in less than one century. Yes, homosexuality is indeed also "all about death".
America's two national abominations, protecting and exalting abortion/infanticide as being constitutionally protected freedom of choice, and protecting and exalting the practice of homosexuality as an acceptable and moral lifestyle equivalent to heterosexuality; these two "national abominations", coupled with the others previously mentioned, will bring additional greater judgments upon America.
Why do I say this?  I say it because our God is fair, just and consistent.  He does not "play favorites".  The Bible states that He is "no respecter of persons"; He does not practice partiality (Deuteronomy 10:17; 2nd Chronicles 19:7; Acts 10:34; Ephesians 6:9; Romans 2:11).  And, the Bible also states that God and Jesus Christ do not change; they're always the same (Malachi 3:6; Hebrews 13:8).  Furthermore, Scripture declares that we will "reap what we sow", and, that if we "sow the wind, we will reap the whirlwind" (Galatians 6:7-8; Hosea 8:7).  Therefore, if God has judged other nations in the past for similarbehavior, which He has, we can expect that He will also judge America.
Why shouldn't God judge a nation like America?  The past 37 years we have murdered approximately 50 million babies via abortion.  That equals more innocent lives slaughtered than Hitler and Stalin combined.  One out of every four babies in America is aborted/killed.  Every single year in America we kill more babies than the number of American soldiers killed in every war that we've ever fought added together: the Revolutionary War, the War of 1812, the war with Mexico over Texas, The Civil War, the Spanish American War, World War 1, World War 2, the Korean War, Vietnam, and both Gulf Wars.
And, what about homosexuality?  Is homosexuality a sin? Is it an abomination?  What does the Bible say about it?  Genesis 13:13 states that the men of "Sodom", which is where our word of "sodomy" came from, were exceedingly wicked.  Genesis 19:1-11 reveals that their sin was homosexuality, for it states that the men of Sodom wanted to "know", in a sexual way, the two male angel guests of Lot.  The New Testament concurs, for verse seven in the book of Jude states that the sexuallyimmoral sin of Sodom was that they went after "strange flesh".  The Bible specifically calls homosexuality an "abomination" (Leviticus 18:22; Leviticus 20:13).  Romans 1:26-27 speaks of the sin of homosexuality, saying that people exchanged the "natural use" for what is against nature.  
It mentions men being with men and women being with women, and says they were committing what is "shameful"; moreover, it refers to these practices as being "vile passions".  And, 1st Corinthians 6:9-10 lists sodomites or homosexuals among those categories of sinners that will not be allowed to inherit the Kingdom of God.  Yet, our nation, which claims to be "one nation under God", has placed its constitutional stamp of approval and "honorability" upon it, even referring to it as being an equally acceptable alternative lifestyle.
When I speak of the practice of homosexuality as being an abomination, which the Bible says that it is, I am not referring to individual homosexuals as being abominations.  God loves every homosexual person just as much as He loves me or anyoneelse.  And, Jesus died to save them from their sin, just as He died to save me from my sin.  However, the Bible is clear that we all must confess our sins and repent of them, rather than make excuses for continuing to practice them.  Homosexuality is just one particular type of sin among many that can enslave us, such as dishonesty, adultery, fornication, murder, idolatry, thievery, covetousness, selfishness, anger, lust and pride.  Now it is true that only a few sins are called abominations, as is the case with homosexuality. 
However, lest the rest of us sinners become "proud" and deceive ourselves, there are a couple of common sins that most of us have struggled with at some time or other that are also called abominations; those sins are pride and deceit or dishonesty (Proverbs 16:5; Proverbs 6:16-19).  So, I do not sit in judgment of the sin of homosexuality, as though my past sins of pride and deceit were less offensive to God.  What I do rightly address concerning homosexuality, however, is the attitude of so many homosexuals today regarding their sin.  They hold "gay pride" marches and rallies, as though their sin is something to be proud of.  And, many of them proclaim that it was God's will for them to be homosexual, because He intentionally created them that way.  I do not see groups of "proud people" and liars holding "deceit and dishonesty rallies" or "pride and arrogance marches"; moreover, I do not hear them proclaiming that it's God's will for them to be proud and deceitful.  The attitude of so many homosexuals today, more or less "spitting in God's face", by blaming Him for their sin and proudly wallowing in it, is what I'm referring to when I speak of homosexuality in this article.
Should we not expect additional and greater judgments upon America?  Shall America not "reap what she sows"?  Shall America not receive similar judgments from God as other nations who also committed abominations against Him, remembering that God does not show partiality? The Bible tells us that disobedient and rebellious nations will be destroyed and turned into hell (Psalm 9:17; Jeremiah 12:17).  So, beware America! 
There is a striking parallel between America and what the Bible says about the ancient kingdom of Babylon, especially in the New Living Translation (Isaiah 47:8-11).  Babylon was called a "pleasure crazy kingdom" that thought it was the greatest in the world, but its own "wisdom" had turned it away from God.  This is certainly an apt description of today's America.  And, what did God say was to happen to Babylon?  He said that disaster would come upon her, and that calamity and catastrophe would arise so fast that she wouldn't know what hit her, and she would not be able to buy her way out of it.  So, bewareAmerica!
The experience and example of Israel should also serve as a warning for our nation.  In Ezekiel 7:1-13, 23-27, God accuses Israel of practicing "abominations" and filling their land with "crimes of blood".  God stated that the end had come upon them and that He would pour out His fury and anger and repay them for their abominations, bringing disaster upon disaster on Israel.  Therefore, our nation's abominable practices and "crimes of blood" against our aborted children are surely crying out to a righteous God who does not change as well.  So, beware America!
The sin of infanticide is specifically singled out in Scripture, and was responsible for bringing God's judgments upon Israel.  In Ezekiel 23:36-39, 45-49, God promised to bring trouble and plunder upon Israel because they had slain and sacrificed their children to their "idols"; moreover, God stated that the women had "blood on their hands".  How very applicable this scripture is to the 50 million women who have chosen to abort their babies in our nation.  However, I must hasten to say that Jesus removes the guilt and stain of their sin when they come to Him in sincere repentance asking for forgiveness.  Nevertheless, the relevance of this text is obvious.  America has also sacrificed its children to modern-day idols of radical, liberal feminism, situational ethics, secular humanism and the supposedly noble slogan of "pro-choice".  So, beware America!
Israel's sin of infanticide is again referred to in Jeremiah 7:27-34. The Bible states that Israel sacrificed their sons and daughters to other abominable gods by "burning them" in the fire. Therefore, God said that He would remove the gladness from Israel, and that He would allow Israel to be slaughtered by her enemies to such an extent that the beasts and birds would eat the corpses of Israel. As previously stated, America has also sacrificed its children to its modern-day, radical,liberal political idols, and, thus, can expect similar judgments from God. So, beware America!
In Jeremiah 19:3-11, God also warned Israel that He was going to bring such a catastrophe upon their land, that whoever heard of it, his "ears would tingle".  This catastrophe included severe famine to such a degree that it would result in cannibalism. What was their sin that caused this impending doom?  The Bible states that they had filled their land with the blood of the "innocents".  Certainly the blood of 50 million innocent, aborted/killed American babies also cries out to a righteous God who does not change.  So, beware America!
Ezekiel 5:5-10 states that Jerusalem/Israel had rebelled and done more wickedness and abominations than the other nations. Therefore, God declared that He would execute judgments on Jerusalem/Israel in the sight of the other nations. Once again, one of those judgments was terrible famine to such an extent that it resulted in cannibalism. America has also rebelled more than the other nations, forsaking the God of Christianity who blessed and established her in the beginning, by exalting false gods to equal or greater status. And, America has become the top exporter of the abominations of abortion, pornography and the radical gay agenda to nations throughout the world. So, beware America!
Israel's history is summed up well in Ezekiel 16:1-23, 35-41, and it is remarkable how comparable it is to the history of America.  This passage states that God had taken Israel in the beginning when they were struggling, and had blessed them in every way until Israel had become beautiful.  However, they rebelled against God and abused His blessings, using them to worship other gods, and sacrificing their children to them.
What about America?  God also took our nation in the beginning when it was struggling, and blessed it in every way and made it beautiful, because our founding fathers had founded it on Christian principles; moreover, there was only one God worshipped in America, the God of Christianity.  However, America has also rebelled against God and abused His blessings.  As previously mentioned, our nation sacrifices her children via abortion to our modern-day gods of secular humanism,situational ethics, radical feminism and a perverted "pro-choice" slogan.  And, America has also taken God's financial blessings via our taxes, and has offered them to these modern-day gods by financing their unholy agendas.  So, beware America!
Isaiah 5:20-25 decries "woe" upon those who call evil good and call good evil.  Unfortunately, that is the sad state that we have come to in America.  The ones who oppose the radical gay agenda, because of the Bible's clear position on homosexuality, are called disparaging names, such as homophobe, while the ones involved in the lewd and unbiblical behavior are exalted as practicing an honorable, alternative lifestyle.  Furthermore, the ones praying outside of the abortion clinic are hauled away as criminals if they get too close to the doorway of the abortion building, while the doctors and nurses killing the babies inside the clinic are considered to be fine, upstanding, law-abiding citizens.  Beware America!  The storm is coming!
If America continues its abomination-honoring, child-aborting, false religion-exalting, Christianity-rejecting ways; then America is racing toward catastrophic judgments from God and its ultimate humbling.
Article no longer available with the below link!
http://www.articlesbase.com/politics-articles/judgment-on-america-4296003.html?en