WHO RUNS THE WORLD

~~~~~~~~~~~~~~~~~~~~~~~~~~~~~~~~~~~~~~~~~~~~~~~~~~~~~~~~~
HERE'S A LITTLE PRIMER VIDEO TO GET YOU WARMED UP TO THE FOLLOWING READING!
Full History of the WEF, UN, the Climate Change Hoax,

Covid-19 and the People Who Wish to Rule Us
~~~~~~~~~~~~~~~~~~~~~~~~~~~~~~~~~~~~~~~~~~~~~~~~~~~~~~

Rothschild: Donald Trump is threatening to destroy the New World Order, for good

Clueless as to why President Trump was elected into office, the Rothschilds have used their globalist media mouthpiece to declare that President Trump is threatening to destroy the New World Order, for good. Globalism propaganda tool and Rothschild family-owned publication, The Economist has branded the US President a "present danger" to the "New World Order," and stated that the "internationalists" that formed it are "spinning in their graves.
"The Economist names Trump is the biggest threat to the "liberal" New World Order above other legitimate threats such as jihadism and terrorism, Communist Chinese expansion, and North Korean hostility."
Perhaps the greatest danger at present is the incumbency of an American president who despises international norms, who disparages free trade and who continually flirts with abandoning America's essential role in maintaining the global legal order," writes The Economist.
"The rules-based international order that emerged from the wreckage of the second world war was a huge improvement on any preceding era," states the article. "Yet liberal internationalism is now under attack from many sides. Donald Trump's America First doctrine explicitly repudiates it."The Economist describes how the Trump administration views the world stage, citing a piece written by two of Trump's advisors in a Wall Street Journal op-ed.
"The world is not a 'global community' but an arena where nations, non-governmental actors, and businesses engage and compete for advantage,"
H.R. McMaster and Gary Cohn wrote. "We bring to this forum unmatched military, political, economic, cultural and moral strength. Rather than deny this elemental nature of international affairs, we embrace it."
The Economist then makes the strange assertion that, despite being directly responsible for numerous wars and destabilizing coup attempts around the world, the New World Order is "better than any of the alternatives."
"Of course, there are still plenty of wars," it states. "In some ways, the New World Order, which has helped make international wars so much less imaginable, has inadvertently made possible more 'intranational' wars."
"Fragile and fractious countries that would previously have feared being conquered by more powerful neighbors can now fall prey to civil wars or brutal insurgencies without bad actors fearing loss of the national territory they seek to control."Non-state groups, such as Islamic State (a misnomer), can take and hold, at least for a while, territory from dysfunctional governments.
"Well-meaning but ill-conceived wars to change odious regimes have sometimes gone badly wrong."The magazine concludes by saying that the NWO architects of the past "must be spinning in their graves" considering how far Trump has already come and that he must be removed from office to preserve the New World Order.
http://50statereport.com/rothschild-donald-trump-is-threatening-to-destroy-the-new-world-order-for-good/?fbclid=IwAR35DurlHMG09leMHoKpWYsBlTnnvcTISsCZWe_5sFDvPV3xtjp_BT5kcpU
~~~~~~~~~~~~~~~~~~~~~~~~~~~~~~~~~~~~~~~~~~~

George Soros: 'I Am A God, I Created Everything, I Control America And Hillary Clinton'
His god-complex explains so much about George Soros, the billionaire globalist, who uses his powerful influence in every corner of the Earth. Soros has said of himself that "normal rules do not apply" to him and that he is a "self-centered" god.
Much that Soros has done has been with an agenda to sculpt the world into the likeness of his globalist world view. He has influence over heads of state and his Open Societies Foundation has been instrumental in the mass influx of Mulsim immigrants through out Europe and the United States.
Arch socialist globalist and race riot revolution mastermind George Soros emerged to spout an ultimatum to all Europe. Every country must "accept responsibility" for the mass influx of Muslims now flooding the continent.
"The EU needs a comprehensive plan to respond to the crisis, one that reasserts effective governance over the flows of asylum-seekers so that they take place in a safe, orderly way, and at a pace that reflects Europe's capacity to absorb them. To be comprehensive, the plan has to extend beyond the borders of Europe," Soros writes.
The plan must be globalist in nature, Soros argues, and led by the United Nations. "This would distribute the burden of the Syrian crisis over a larger number of states, while also establishing global standards for dealing with the problems of forced migration more generally."
The ego on this one is enormous

George Soros' god-complex when paired with his ungodly amount of wealth, makes him a nemesis to those who resist his idea of a one-world government. He has been directly involved in many schemes to alter the balance of power and create the world into what he dreams fit.
By funding Soros' Open Societies Foundation as well as Mr. Soros himself are funding strategies to encourage participation in the electoral process among those groups most likely to vote for leftest candidates. With the added words we have an accurate statement that exposes Soros' motives and agenda.
"The following four goals form the scaffolding of U.S. Programs' work," the guide states. "1. An American democracy strengthened through increased meaningful participation, inclusive practice, and accountability." The third strategic goal expands upon this, calling for "Full political, economic, and civic participation of immigrants and communities of color by dismantling the barriers and strengthening the conduits to opportunity."
On the world stage, "Globalist George Soros is meddling in the nations around the world, forcing them to take in Muslim refugees, so that the nations will change to fit his brand of the what the world should look like.
Moreover, according to Soros, the Muslim migrants must be allowed to choose where they will settle. Most currently travel to Germany and Western Europe where social benefits are available.
Muslim migration "has been the biggest engine of demographic growth in the EU as a whole since the mid-1990s," a report issued by the EU's Organization for Economic Co-operation and Development states. "It is about to become the only one."
"I fancied myself as some kind of god …" he wrote. "If truth be known, I carried some rather potent messianic fantasies with me from childhood, which I felt I had to control, otherwise they might get me in trouble." When asked by Britain's Independent newspaper to elaborate on that statement, Soros doubled down: "It is a sort of disease when you consider yourself some kind of god, the creator of everything, but I feel comfortable about it now since I began to live it out."Since I began to live it out. Those unfamiliar with Soros would probably dismiss that claim as nothing more the typical blathering of an irrelevant madman. But those who have followed his career and sociopolitical endeavors realize that while he may be mad, he is a mad billionaire, and billionaires tend not to be irrelevant.
Soros freely admits he pulls the puppet-strings and holds the purse strings too, by his account, he is "god".
Is George Soros a psychopath? Sociopaths and psychopaths can be quite difficult to spot. Outwardly they can appear normal or even charming. But underneath their well-crafted veneers they lack conscience and empathy and are top manipulators. There is a difference between these two antisocial personalities.
The terms "psychopath" and "sociopath" are often used interchangeably, but in correct parlance a "sociopath" refers to a person with antisocial tendencies that are ascribed to social or environmental factors, whereas psychopathic traits are more innate, though a chaotic or violent upbringing may tip the scales for those already predisposed to behave psychopathically. Both constructs are most closely represented in the Diagnostic and Statistical Manual of Mental Disorders (DSM) as Antisocial Personality Disorder. Brain anatomy, genetics, and a person's environment may all contribute to the development of psychopathic traits.
Here are the top 20 traits of psychopaths according to The Hare Psychopathy Checklist, which is a diagnostic tool to determine if someone is on the psychopathy spectrum.
pathological lying
- glib and superficial charm - grandiose sense of self - need for stimulation - cunning and manipulative - lack of remorse or guilt
shallow emotional response
- callousness and lack of empathy - parasitic lifestyle - poor behavioral controls - sexual promiscuity
early behavior problems
- lack of realistic long-term goals - impulsivity - irresponsibility - failure to accept responsibility - many short-term marital relationships - juvenile delinquency - revocation of conditional release - criminal versatility
Does Soro fit the bill?
We have already seen him declare himself a god.
SOROS: PUTIN IS NO ALLY IN THE FIGHT AGAINST ISLAMIC STATE

In the Guardian's article, then, Soros claims "the US and the EU are making a grievous error in thinking that President Vladimir Putin's Russia is a potential ally in the fight against Islamic State."
The assumptions here are based on pure falsehood. My colleague, the diligent and forthright journalist and writer
Gearóid Ó Colmáin
, laid an axe as sharp as any to the root of the notion that the so-called War on Terror (taken to include Islamic State) serves anything other than the interests of what Ó Colmáin rightly calls a "tiny and particularly tyrannical ruling elite".
In an interview with RT, Ó Colmáin said, "There is no War on Terror. There is a war which is being waged using terrorist proxy groups and they are being used against nation states who are resisting US and Israeli hegemony. And they are also being used as a means of disciplining the work forces in Europe. In a period of mass unemployment and austerity, you now have terrorist attacks being committed by terrorists funded, armed and trained by Western intelligence agencies. There is no such thing as ISIS. ISIS is a creation of the United States."
Soros and his ilk created and benefit from what Soros calls "Islamic State," yet his argument not only disregards that fact, it kicks blame in the direction of the one major power – Russia – which has taken steps to deal with this US creation.
Soros goes on to make a number of other accusations against Russia, failing at any time to note that Russia alone has a mandate from the legitimate government of Syria, or that Russia is seriously engaged in cleaning house in Syria, a job the US was only simulating.
SOROS: PUTIN WORKING TOWARDS EUROPE'S DEMISE
Soros' next point is that "Putin's aim is to foster the EU's disintegration, and the best way to do so is to flood Europe with Syrian refugees."
The truth is that Russia's natural ally is Germany – and preventing that alliance is the primary aim of the US government – at least according to
Stratfor
, a US intelligence agency.
Germany's efficiency and organizational abilities combined with Russia's raw materials, inventive genius, and good relations with China, is the combination those funding and directing ISIS least want to see. By occupying Germany with an army of aggressive, unskilled, culturally insoluble economic migrants from Africa and elsewhere, the chess-players at the board of realpolitik are attempting to head off that natural outcome.
Soros' part in destabilizing Europe is well attested. The Daily Mail reported back in November 2015 that Soros was busy telling the EU to take "
at least a million
" refugees every year.
In the same article, Hungary's Prime Minister Viktor Orban is quoted as saying, "This invasion is driven, on the one hand, by people smugglers, and on the other hand by those activists who support everything that weakens the nation-state." Orban went on, "This Western mindset and this activist network is perhaps best represented by George Soros."
Soros – described in the article as "a funder of pro-migration groups all over the world" – responded to Orban's comments by arguing that his beliefs "uphold European values".
I don't know what Soros means by "European values," but I assume it includes lots more immigration for us – unilaterally decided upon by Mr. Soros.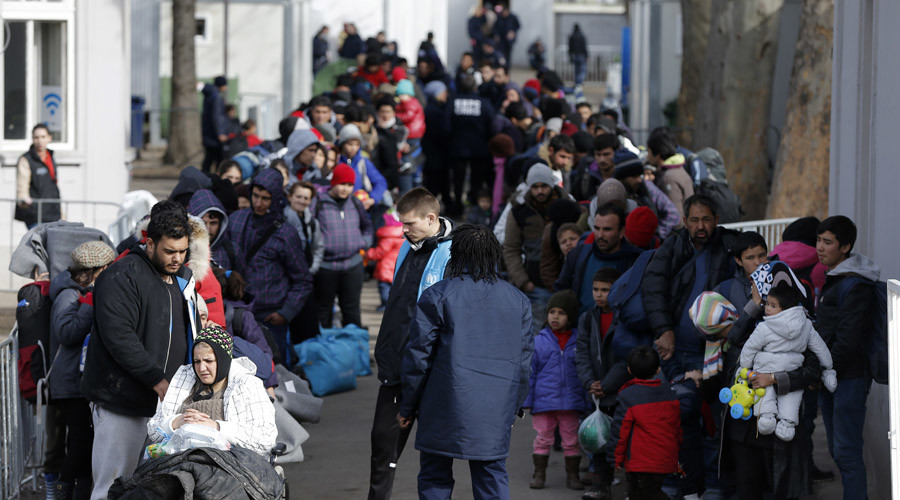 Migrants and refugees queue to board a train in the town of Sid, Serbia © Marko Djurica / Reuters
As prime minister of Hungary, Orban is a man with, perhaps, better access than most to the truth about George Soros, a Hungarian Jew who got his first business breaks collaborating with the Nazis in Hungary – the source for which information is his own father's book Masquerade – Dancing Around Death in Nazi-Occupied Hungary. Thus, Soros has moved effortlessly from collaborating with the Nazis against his fellow Jews – an occupation (if you will excuse the pun) he makes little effort to hide – to
telling
indigenous European peoples what the ethnic make-up of their countries should be.
He was also instrumental in the destruction of Ukraine. As reported by
New American
, Soros "has a giant footprint in Ukraine. Similar to his operations in dozens of other nations, he has, over the past couple of decades, poured tens of
millions of dollars
into Ukrainian non-governmental organizations (NGOs), ostensibly to assist them in transforming their country into a more 'open' and 'democratic' society."
We have good reason to take George Soros seriously.
SOROS: ANTICIPATES RUSSIA'S COLLAPSE
Soros' article downplays Putin's strategic prowess before going on to anticipate regime change in Russia in 2017 as a result of bankruptcy forced upon it by Western sanctions and crushed oil prices.
He then appears to credit Putin with masterminding a "collapse" in Europe and of anticipating benefits for Russia in the aftermath. He notes, "As Merkel correctly foresaw, the migration crisis has the potential to destroy it."
If you find yourself asking here: "Why then did she create that crisis?" that is because you are not a psychopath.
Soros' article begins its descent with metaphysical and social observations, which from someone without billions of dollars behind them would be seen as merely subjective musings, before landing squarely on the runway of identifying Putin's Russia as the real threat.
TEXTBOOK PSYCHOPATHY

This is not simply chutzpah. The traits Soros exhibits are those of textbook psychopathy: blaming others for his own actions and attacking the victim is what the psychopath does.
Here, Soros disregards entirely his own extensive role in creating the problem he purports to seek to solve; meanwhile, he accuses Russia, the only country to man-up to the war on Syria, of being behind the "migration" Soros has spent millions engineering.
Soros is part of a cabal which plans the overthrow of countries at dinner. Psychopathy is the baseline requirement for membership. So if you think conscience will make him and his friends stop at some point before you and your family reach conditions materially identical to those experienced by the inhabitants of the Donbass region – or if you think that Western Europe is beyond the scope of their plans for engineered collapse just because you wouldn't do something like that – you will find that you are wrong.
When Europe is in tatters, and its men (whom Soros' money helped turn in one lifetime from actual men into effeminized liberal cultural lemmings) are squawking in disbelief as their pampered delusions are shattered in the "collapse" Soros envisages, Soros will not care. No matter that this is Europe and it is your life under attack this time, and not that of brown people or Eastern Europeans. It won't make any difference.
For a psychopath it's simple: you let him do it – it's your fault.
Source:
End the Fed
,
RT
,
Learning-Mind
http://www.truthandaction.org/george-soros-god-created-everything-control-america-hillary-clinton/
***************************************************************************************************************************

The phrase Novus ordo seclorum (English:
/ˈnoʊvəs ˈɔːrdoʊ sɛˈklɔːrəm/
,
Latin
:
[ˈnɔwʊs ˈoːrdoː seːˈkloːrũː]
; "New order of the ages") is the second of two mottos that appear on the reverse (or back side) of the
Great Seal of the United States
(the first motto is
Annuit cœptis
).[1]
What does NWO stand for?
Straight from Wikipedia:
https://en.wikipedia.org/wiki/New_World_Order_(conspiracy_theory)

New World Order (conspiracy theory = Secret Agenda)
For other uses, see
New World Order
.
The reverse side of the
Great Seal of the United States
(1776). The Latin phrase "
novus ordo seclorum
", appearing on the reverse side of the Great Seal since 1782 and on the back of the
U.S. one-dollar bill
since 1935, translates to "New Order of the Ages"
[1]
and alludes to the beginning of an era where the United States of America is an independent nation-state; conspiracy theorists claim this is an allusion to the "New World Order".
The New World Order or NWO is claimed to be an emerging clandestine
totalitarian
world government
by various
conspiracy theories
.
This Movie on the left is a good start to showing the possible scenario of a One World Government!
The common theme in conspiracy theories about a New World Order is that a
secretive
power
elite
with a
globalist
agenda is
conspiring
to eventually rule the world through an
authoritarian
world government—which will replace
sovereign
nation-states
—and an all-encompassing
propaganda
whose
ideology
hails the establishment of the New World Order as the
culmination of history's progress
.
Many influential historical and contemporary figures have therefore been alleged to be part of a
cabal
that operates through many
front organizations
to orchestrate significant political and financial events, ranging from causing
systemic crises
to pushing through
controversial policies
, at both national and international levels, as steps in an ongoing plot to achieve world domination.
Before the early 1990s, New World Order
conspiracism
was limited to two American countercultures, primarily the
militantly anti-government right
and secondarily that part of
fundamentalist Christianity
concerned with the
end-time
emergence of the
Antichrist
.
[8]
Skeptics, such as
Michael Barkun
and
Chip Berlet
, observed that
right-wing populist
conspiracy theories about a New World Order had not only been embraced by many seekers of
stigmatized knowledge
but had seeped into
popular culture
, thereby inaugurating a period during the late 20th and early 21st centuries in the United States where people are actively preparing for
apocalyptic
millenarian
scenarios.
[4]
[6]
Those political scientists are concerned that
mass hysteria
over New World Order conspiracy theories could eventually have devastating effects on American political life, ranging from escalating
lone-wolf terrorism
to the rise to power of authoritarian ultranationalist
demagogues
.
As the author of this website I want to insert this: The definition of NWO from Wikipedia has not mentioned in the above that the methodology of the NWO is "Order Through Chaos," so they create devastating events and circumstances to Conn the general pubic worldwide into submitting to their rules! These events are labeled as either "Black Swan" or "False Flag" events and it's true!
The LIST of NWO organizations and companies goes into the thousands. Here are just a few examples;
All Oil & Gas Producing Companies
(Sinopec - Saudi Aramco - China National Petroleum - Royal Dutch Shell - BP -
ExxonMobil - Total - Valero - Gazprom and Phillips 66.)
All of your top Banking Organizations

(JP Morgan Chase & Co., Bank of America, ICBC, Japan Post Holdings Co. Ltd., Wells Fargo & Co., Citi Group Inc., Goldman Sachs Group Inc.)
All the Global Organizations for example:
(IMF - World Bank - Council on Foreign Relations - International Finance Corporation - United Nations and subsidiaries, Bank of International Settlements, Bilderberg Group, )
Huge Corporations and Companies
(Apple, Microsoft, Amazon, Alphabet, Berkshire Hathaway, Alibaba, Facebook, Tencent Holdings, Twitter, Instagram, Johnson & Johnson, Visa, MasterCard, American Express, Samsung, Toyota, General Motors, Chrysler, Verizon and the lists go on!)
All of the Main Stream Media Co.s are owned by 6 Global Corporations and under these companies and corporations are many subsidiary Org.s and Inc.s that you see the names daily in the news.
(CNN, CBS, MSNBC, NBC, ABC, New York Times, Wall Street Journal, Washington Post, Enquirer, Time Inc., Time Warner, ABS-CBN, Manila Times, Financial Post, BBC News, Bloomberg, Walt Disney Company, Gannett, Hubert Burda Meda, ProSiebenSat1, Yomiuru Shimbun Holdings, Fuji Media Holdings, ITV, MTV, Mediaset, Axel Springer, JCDecaux, Hearst Corporation, CCTV, IGCN, Asahi Shimbun Company, Yahoo, Google, Grupo Globo, Discovery Communications, iHeart Media, Advanced Publications, News Corp, Baidu, Viacom, Bertelsmann, 21st Century Fox, Comcast, Alphabet.)