Be sure and watch the videos posted on this page.....

This other truths page, is all about the truths that we often don't see. If you know your bible, than you know that the devil is working 24/7 round the clock to destroy you and this world, his ultimate goal, if he could succeed, would be to control everything, and make everyone that is left, succumb to his evil commands. However, we know that Jesus won the victory on the cross. That being said, the bible tells us we "need to be wise as serpents and harmless as doves."
Why do you suppose we were told this?
It's because our Lord and savior, Jesus Christ, died on the cross for our sins and HE wants to make sure we are following HIM, and to do that, we have to as they say "do the research." What does that mean? If you're a born again believer, you will be listening to the still small voice of the Holy Ghost inside you and be obedient to the calling in which Christ has called you. My heart is terribly burdened for you and all of the world's population as we progress toward the end of times.
There is way, way, way too much injustice in this world, too much political, financial and local dominance, that disrupts our ability to, not only exercise the natural freedom we were given in Christ, but, also the freedom we should have according to the world we were born into.
The bible says we are to submit to the authorities that God has placed above us, but, remember this, if they are not in-line with God's word, than we are to adhere to God's word. God's Word was Jesus Christ in the flesh living out the truth and instilling in the world for our example, the total truth.
Truths are brought to us by many unknown sources, as in the days before Christ, when God raised up a prophet, HE did it for a reason, after Jesus Christ was born, HE, God's Son in the flesh, lived out the life of a believer, but in a way that we need to examine very meticulously for our own example.
The world is full of lies and deception. We have to "rightly divide the truth from error," the only way to do this is by the oneness we have as a born again believer in Christ with the Holy Spirit. Without the Holy Spirit, we are lost in translation.
Now, know this, everything you see, and hear on the nightly news and "ALL", mainstream media, is all pre-edited, controlled, and pre-meditated for influencing the general public to believe what they want us/you to believe.
I would have to say at this point, because people are so tired, so burdened by life, and always searching for their own satisfaction, that they are oblivious to the NWO (new world order) and their secret agenda. People would rather be pacified with the constant stream of crap their being fed by the mainstream media. They concentrate on news, gossip, sports, and negative information which keeps  people in a daze, and distracts them from what is really taking place behind their backs and behind the scenes.
This, my dear friends, is the agenda of the power base that has taken control of everything that is related to, controlling and manipulating our societies and civilization.
We have to be diligent in seeking out the truth, and stay focused in our walk in Jesus Christ. This website is a product of that endeavor.
************************************************************************************************************************************************
Published on Sep 16, 2014
Karen Hudes is a graduate of Yale Law School and worked in the legal department of the World Bank for more than 20 years. She was in a unique position to see exactly how the global elite rules the world. According to Hudes, the elite uses a very tight core of financial institutions and corporations to dominate the planet.

The goal of the elite is control. They want all of us enslaved to debt. Since the elite also own all the big media companies, the mainstream media never lets us in on the secret that there is something fundamentally wrong, and corrupt, with the system. Karen has spent the last number of years attempting to expose this corruption through political channels and alternative media.

You can learn more about Karen and her efforts on her website at www.kahudes.net

Below are the sources Karen refers to in this interview:

Sources referred to in the interview:
Power Transition Model: http://philosophyofmetrics.com/2014/0...
StefaniaVitali, James B. Glattfelder, and Stefano Battiston: "The network of global corporate control", ETH Zurich: http://arxiv.org/PS_cache/arxiv/pdf/1...
YCT Foundation: https://s3.amazonaws.com/khudes/yct.pdf
Lars Schall: http://www.larsschall.com/2013/05/08/...
Newsweek En Espanol: http://www.newsweek.mx/index.php/arti...
Edmund Druilhet's Clip for Banksters Madoff with America: https://www.youtube.com/watch?v=F-2Rf...
Please send your questions, comments, and feedback to Alan at conspiracyqueries@gmail.com
Conspiracy Queries can be found on iTunes, Stitcher, and can be heard on SiriusXM's Canada Talks Channel 167.
Twitter: https://twitter.com/Con_Queries
Facebook: https://www.facebook.com/ConspiracyQu...
iTunes: https://itunes.apple.com/ca/podcast/c...
Website: http://www.conspiracyqueries.com/
***************************************************************************************************************************************************

Historic Speech in Damascus sends Shockwaves around the World
Posted by Preston James, Ph.D on December 13, 2014
by  Preston James
From the Left: VT Financial Editor Mike Harris, VT Managing Editor Jim Dean, VT Senior Editor Gordon Duff and VT Director Colonel James Hanke.
Last week Gordon Duff, Senior Editor of Veterans Today delivered an Historic Keynote Address at the International Conference on Combating Terrorism and Religious Extremism held in Damascus, Syria. This speech is sending shock-waves around the World.

Gordon Duff was part of a Veterans Today Senior Staff Delegation that traveled to Damascus and was in consultation with the Veterans Today Board and other like minded individuals within the American Military and Intelligence community and other such individuals from sixty-eight different nations around the World who were at the Conference.
This Delegation included Veterans Today Senior Editor *Gordon Duff, Veterans Today Managing Editor **Jim Dean, Veterans Today Director ***Colonel James Hanke, and Veterans Today Financial Editor ****Mike Harris.
Gordon Duff's speech quickly changed the focus of the whole conference and is now sending shock-waves around the World in the various Diplomatic, Military and Intelligence corps around the World.
Why is his speech Historic? For a number of vitally important reasons. This speech is the first time in history an American Intelligence Team of "non-activists" gave a military briefing to an audience of this type, including key Military Leaders of diverse Tribal Forces throughout Lebanon, Syria and Iraq, along with a Russian delegation and many others from around the world. Before this historic speech by Duff, no one has ever dared to speak the simple truth about the true problem, that it is not Terrorism in the Mideast, but it is the effects of large scale international Organized Crime.
https://www.youtube.com/watch?v=jE2_qmlKFVU#t=29

What American general made sure stockpiles of heavy weapons and ammo would be left in Iraq for the soon to emerge ISIS/ISIL/Daish?
ISIS, also known as ISIL, Daish, Al Qaeda version 2, or Al CIA Duh version 2. How could this group grow so fast and become instantly so well armed and unopposed?
 

 

But even more important, Duff, a noted international Intel and Security Consultant, identified the root cause of United States of America's dysfunctional involvement in Iraq and Syria and the true cause of ISIS/Daish.
Duff's speech immediately changed the whole tone of the Conference and turned it to a very practical focus on the true causes of ISIS/Daish.
His speech immediately shifted the focus of the Conference from theoretical discussions of Terrorism and Extremism, to what is actually going on at the ground level at a practical level, who is responsible and why they are doing it, that is stealing factories and torturing and killing civilians, folks that are their people.
Gordon Duff laid out the true cause of ISIS/Daish in simple terms for the very first time anyone has ever done so publicly and this disclosure from such a highly credentialed and credible Intel Professional is now sending shock-waves around the World.
Duff declared that there are far too many that have died to continue speaking in unclear terms and that it was time to share a key hypothesis based on signals intelligence. Then Duff proceeded to explain the True Causes of ISIS/Daish in simple understandable terms which provide the clarity needed to form a sustainable solution.
Duff explained that what is going on in Iraq and Syria with ISIS is not Terrorism, it is simply CRIME. That is, it is the works of an international Crime Cabal which has gotten control of the American Congress. Yes, this is a large Organized Crime problem that must be understood at its simple root cause.


Duff identified this Crime Cabal as Israeli and pointed out that this is Worldwide Crime on a scale never experienced before.
Duff explained how the illegal Supreme Court Decision of Citizens United made it possible for an Israeli-American Organized crime magnate now operating out of Macao, Sheldon Adelson to essentially buy control of both Houses of Congress in the last election and being able to bring Congress under control of this International Crime Syndicate which specializes in human trafficking and narcotics.
Duff also identified American Generals McInerney and Vallely as being involved in organizing Daisch along with Senator John McCain.

He also pointed out that Secretary of Defense Chuck Hagel [who has just resigned] was the one that prevented the American bombing of Syria in response to the False-Flag gas attack at Aleppo, Syria.
This keynote address delivered by Gordon Duff was historic because for the very first time ever a Top Intel and Security Consultant publicly explained how the problem with ISIS/Daish is not terrorism but is Crime. He clarified that ISIS/Daish is a result of Criminal Behavior of an Israeli based International Crime Syndicate which essentially bought control over the US Congress during the last election.
Here is Gordon Duff's keynote speech which was historical and is now sending shock-waves around the World.
It should now be clear to everyone that the creation of ISIS/Daish occurred not because of Terrorism, but because of the undue influence exercised on the American Political system by this Israeli based Crime Syndicate in which a faction inside the American Congress, Military and Intel has been manipulated into supporting the creation of ISIS/Daish.
It is easy to imagine why Duff's frank disclosure in his keynote address that the real problem on the ground in Iraq and Syria is Crime and the handy-work of an international Israeli Crime Cabal immediately changed the tone of the conference, and is now sending shock-waves around the World.

This is the first time ever that these issues have been clarified for the Syrian Security Services and Military as well as to Intel, Military and Diplomatic representatives from all over the World.

In days and weeks to follow it is expected that such an Historic disclosure based on hard Intel will change the scope and tone of the discussion about what is really going on in Iraq and Syria on the ground and how a worldwide criminal enterprise is behind it.
There were several sophisticated attempts to sidetrack and derail the VT Delegation and keep Gordon Duff from delivering his Historic Speech. Despite all these attempted interceptions, one of which was directly thwarted by VT Financial Editor Mike Harris, Gordon Duff was able to deliver his keynote address and make history by putting the actual facts behind ISIS/Daish on the public record for the very first time. Colonel Jim Hanke spoke at the Conference also and his talk was very well received.
Jim Dean took numerous films which should prove to be quite important when some are published on VT.
Mike Harris gave numerous interviews to the Syrian Press and met with Syrian Security Officials and the Grand Mufti, the World's top Islamic legal and theological scholar. These discussions were very productive and did a great deal to further an understanding of what is actually behind the ISIS/Daish crime problem in Iraq and Syria which is nothing more than sophisticated international Organized Crime and must be dealt with as such.
Conclusion:
Obviously Gordon Duff and his team displayed great courage in attending this Conference in Damascus and deserve the highest commendations possible for this fine work representing the true interests of peace for folks with no voice.
When the dust settles time will show this speech will be a major turning point in the Criminal Cabal's blatant abuse of the American People from their buying and hijacking of the US Congress and some American Generals with deep Intel connections and their abuse of millions around the World in many different nations, especially the Mideast.
No criminal Cabal or conspiracy this large can exist without utmost secrecy, which no longer exists thanks to Duff's keynote address and complete disclosure. Their crimes are now no longer secret and the "Jig is now up".

Thanks to Duff the Jig is about up for this International Israeli linked Crime Cabal, some have identified as the International Zionist Crime Cabal (IZCS) which has formed an alliance with the Bush Crime Cabal (BCC) which is now being completely identified all over the Worldwide Internet. It is now realized by many that the BCC was formed when Bush1 ran the Assassination of JFK and rose to power, able to deeply embed his operatives in the CIA, the Military, Congress, the Department of Justice and the Judiciary.
Now if anyone doubts that ISIS/Daish was set up under the Money Power of the International Zionist Crime Cabal (IZCS) operating out of Israel which has now gained Control of the US Congress, consider this. All ISIS/Daish wounded are taken to Israel for medical treatment, all expenses paid and those that can be are returned to Iraq or Syria to attack, torture, murder and asset strip innocent civilians, pretending to be Islamic Terrorists. This is all done in order to create mass confusion and to empower those governments that exist off the spoils of pushing solutions to their synthetic terrorism which is really nothing more than a massive Organized crime operation to make money and accrue more power. How do we know that the Criminal cabal has truly gained control over the US Congress. We now have actual specific evidence which has uncovered the Crime Cabal's control over Congress through the use of large bribes and threats of assassination.
It is now beyond obvious that the only way to deal with a such a large Criminal Cabal is to indict them, arrest them, fully prosecute them, and if convicted with clearly convincing evidence beyond any shadow of a doubt, then sentence them appropriately. If they have committed Treason, Sedition or other Capital offenses well, then upon conviction in a suitable court of law, US or International, they must be executed like the convicted Nazis from the Nuremberg War trials or the convicted Japanese from the International Military Tribunal for the Far East also known as the "Tokyo Trials" and in other courts in many different places in Asia and the Pacific. About 1,000 Japanese War criminals were executed after conviction and Twenty Nazi War criminals were executed after conviction.
However, it is known inside high level Intel circles and by those who worked closely with OSS agents and operatives, that numerous American Army secret assassination teams were deployed in Europe to bring many uncharged Nazis to instant justice. Some teams operating under Presidential Orders were also deployed to Hawaii and Asia to bring "instant, extra-judicial justice" to many Japanese war criminals that avoided exposure and arrest. This whole Nuremberg Trial and Tokyo Trial process needs to be repeated against the Criminal Cabal and all their kingpins, Top Policy-Makers, political and Judicial puppets as well as all their operative and mass-murderers deployed on the ground as mercenaries for fat paychecks. Those who attempt to flee prosecution can be hunted down to the ends of the Earth if necessary.
And the worst of all this is the ability of the Crime Cabal to use American Generals and a sitting US Senator to start up and run ISIS/ISIL/Daish. This is truly disgusting but there is actually even more to this story. Because the honest faction of the US Military is now targeting some ISIS positions, what we actually have now is a Secret American Civil War being fought in Iraq. And now China has offered military help to the Iraqi government. Unless John McCain is stopped in his rise to become Chairman of the Armed Service Committee, he may be able to exert serious pressure and be able to push America into another War in Iraq (maybe Syria, Iran and the Ukraine too) and his actions could trigger a nuclear WW3 with the Russian Federation and President Putin who has just about had enough.
Hat's off and Highest Commendations to Gordon Duff and his team of American Heroes who have now set the record straight and had the great courage necessary to publicly disclose, for the very first time anywhere, the true causes of ISIS/ISIL/Daish and have shown it to be a crime problem created by a large international Organized Crime Cabal. Now most of the World Security and Intel Units know the truth that has been hidden from them for many years by excess compartmentalizing and billions of dollars spent by the Crime Cabal to control and prevent their access to this information. These Units now know with incredible clarity who it is that deploys synthetic terror, torture, mass-murder and asset-stripping in the Mideast and why. They now know it is being done to further the Organized Crime Cabal's goals and power.
Within two weeks of this International Conference in Damascus, Gordon Duff appeared on a Talk show in England and delivered another incredibly dynamic presentation with a substantial amount of new information revealed for the very first time.
On December 16, 2014 Gordon Duff was a guest on the Richie Allen show in England. Richie Allen is a respected talk show host whose radio program has been broadcast for the last sixteen years. Some of the material discussed in this interview with Gordon Duff was stunning to say the least.
Duff connected many dots providing distinct clarity to some previously very confusing matters. This interview is probably the best, most revealing interview ever broadcast anytime anywhere so far on the subject of International Security and Intel matters. If you have time to listen to it, it will be well worth your time.
Right now you cannot get this depth of information on International Security and Intel matters anywhere else but VT. Yes, VT often provides the real story behind all the Controlled Major Mass Media (CMMM) dispensed narratives and propaganda for the USG. And for major breaking Mideast News, you will usually find it at VT presented realistically, often based on actual "on the ground" observational reports by VT Managing Editor Jim Dean as reported on VT News Reports and in his VT articles.
Photo with captions from Rense.com
---
Gordon Duff is the Managing Director and Senior Editor of veterans Today, a Marine combat veteran of the Vietnam War. He is a disabled veteran and has worked on veterans and POW issues for decades. He is an accredited diplomat and is generally accepted as one of the top global intelligence specialists. He manages the world's largest private intelligence organization and regularly consults with governments challenged by security issues. Gordon Duff has traveled extensively, is published around the world and is a regular guest on TV and radio in numerous countries. Gordon Duff is a trained chef, wine enthusiast, avid motorcyclist and gunsmith specializing in historical weapons and restoration. His business experience and interests are in energy and defense technology. He is the Managing Director of Adamus Defense Group of Switzerland.
 Jim Dean is the Chairman of Veterans Today and wears many hats, ranging from day to day operations to the development, writing and editing of numerous articles. He also has an active schedule of international TV and radio interviews. He has numerous contacts on the ground in the Mideast and provides detailed reports in his articles and on Veterans Today News Reports Radio. Jim Dean is also a member of the Military Order of World Wars, Association for Intelligence Officers, and the Senior Vice President, Adamus Defense Group, Switzerland.
Colonel James Hanke is a Veterans Today Director and US Army Special Forces (Ret.) Colonel Hanke is Former G2 Third Army, NATO Nuclear Weapons Commander, Attache to Israel, A-Team Leader Vietnam, and a Director of Operations, Adamus Defense Group, Switzerland.
Mike Harris is the Financial Editor of Veterans Today,  a radio host, a former GOP Campaign Finance Chairman, gubernatorial candidate for Arizona,  and a Senior Vice President of Adamus Defense Group, Switzerland. Mike is an expert in full-contact mixed martial arts. His long term expertise in such has gained him a lot of respect and the nickname "Iron Mike".
—————————————————————————————————————————————————–
Here is transcript of this Historic Keynote Address by Gordon Duff at the International Conference on Combating Terrorism and Religious Extremist Conference held in Damascus, Syria first week of December, 2014. Gaps are where his speech was translated to listeners.
Gordon Duff: Too many people have died for people to continue speaking in terms that are unclear and just not speaking the truth.
It's time we simply said what we know, whether it's classified information or not.
All of you have seen the results of what we're saying.
What we're saying will fit what has happened here and what facts you've been able to bring out…
Our hypothesis is based on solid information, solid research on the ground, using human signals intelligence from our extensive capabilities.
We don't guess.
We know what we're talking about here.
Their motivation is largely economic.
They're a criminal organization but they are part of a worldwide criminal organization.
And they're here in your territory, taking your things – your factories, your lives, your people – for the enrichment of a specific group of people who need to be held to account.
It's almost as though it's a police problem.
This is crime.
This terrorism you're suffering is worldwide crime on a scale we have never seen before.
There has never been anything like this.
Gordon Duff: I appreciate your statements and I recognize the truth and honesty of what you were saying but I do believe there are areas of misunderstanding how the United States works politically.
And this is a problem, a tremendous problem in the Middle East and one of the things that's driven us here is it's very difficult to understand what has happened as far as Israeli control of American politics and I will, as succinctly as possible, I will explain this to you.
Gordon Duff: In 2005, the Supreme Court of the United States had a decision on a case called Citizens United.
The decision of the Supreme Court legalized unlimited corporate bribery.
This turned control of the Congress of the United States over to human traffickers, narcotics traffickers and in particular, the most powerful individual in the United States today is a gambling boss named Sheldon Adelson, an Israeli citizen who fled the US living in Macau.
He spent over one billion dollars in the last election and bought control of both Houses of Congress.
Now Senator John McCain, the father of al Nusra, the father of ISIS, will be running US legislative and military foreign policy.
Gordon Duff: American generals like General McInerny and General Paul Vallely, specialists in psychological warfare, helped organize Daish.
They have traveled in and out of your country here, Syria, over and over, as had Senator John McCain.
Meeting with al Qaeda – an organization created by the American, Saudi and Israeli Defense Forces and Intelligence Services.
Gordon Duff: Only a week ago, the US Secretary of Defense Chuck Hagel, resigned.
Chuck Hagel was the individual that stopped the United States from bombing Syria over the false flag gas attacks near Aleppo.
Gordon Duff: It was our organization here that supplied the intelligence that stopped those attacks.
Gordon Duff: It's our goal here, while we are here, to try to establish a method of communication that will allow Syria and other nations within the area to understand Israel's control of the US, the control of the US by organized crime and how the US government is subservient to a worldwide criminal organization.
http://www.veteranstoday.com/2014/12/13/historic-speech-in-damascus-sends-shockwaves-around-the-world/

************************************************************************************************************************************************

You will need to activate closed captioning titles to view this video, it is well worth the time to watch every minute of it. I have been following this kind of news and had an awareness of it in several forms and from several sources and now, a complete video has been created with most all of the information linking together. I implore everyone to watch it.

LIKE CLOCKWORK: Pension plans to be looted nationwide as Congress okays institutional theft of funds

Friday, December 12, 2014
by Mike Adams, the Health Ranger
Tags: pension plans, looting, retirement funds
When societies approach collapse, coercion shifts to outright theft: Stealing money right out of your bank account, for example, like we recently witnessed in Cyprus. Government also routinely target pension funds and even private retirement accounts, attempting to keep itself afloat by any means necessary.
Just like clockwork, that looting of pension plans is now about to commence. "Congress could soon allow the benefits of current retirees to be cut as part of an agreement to address the fiscal distress confronting some of the nation's 1,400 multi-employer pension plans," writes Michael Fletcher of the Washington Post. [1] The Post continues:
"This proposal would devastate retirees and their surviving spouses," said Karen Friedman, executive vice president of the Pension Rights Center, a nonprofit group. "The proposal would also torpedo basic protections of the federal private pension law ... that states that once benefits are earned, they can't be cut back."
All the pension benefits that have been promised government retirees, in other words, are about to be
stolen back from retirees
.
This is precisely what I've long warned Natural News readers was coming. And this is merely the very beginning of the true destruction of the financial collapse headed our way. When the next market crash arrives,
billions of dollars in retirement funds will be destroyed virtually overnight
, and pension funds nationwide will be wiped out.
A "declaration of war" against the American worker

fact that this wholesale theft of pension funds is now under way has not escaped union workers and retirees.
As WashPost also reports:
"This is nothing less than a declaration of war by Congress on American retirees," said R. Thomas Buffenbarger, international president of the International Association of Machinists and Aerospace Workers.
Indeed, "war" is exactly how most people are going to perceive this... especially when retirement checks are the primary source of income for many retirees who are just barely getting by.
For millions of Americans, when those checks stop coming, it spells
instant financial disaster
. Many won't be able to pay their mortgages or rent payments, and we are sadly going to see a massive wave of new American homeless coupled with a glut of vacant homes owned by banks teetering on financial collapse.
As pension funds are increasingly looted and stolen from retirees, more and more of America is going to resemble Detroit: a city that once shined with innovation but now -- thanks to outrageous corruption, taxation and the endless expansion of
government
-- has collapsed into third-world status that even lacks running water for many of its residents.
Back in 2013, I warned about all this in an article entitled "Production, Coercion and Theft."
It's time to revisit that article, so here it is:
Flashback: Production, Coercion and Theft

like to share a lesson in economics today, and I call it the "Production, Coercion and Theft" lesson.
There are only three ways to accumulate
money
and wealth in world (other than stumbling across a hidden treasure and actually
finding
money, that is):
#1) Production: Offer something of value in exchange for money voluntarily traded by recipients
#2) Coercion: Confiscate money (or stores of value) by claiming authority over those who earn it
#3) Theft: Steal money (or stores of value) from those who already have it
Every person in society today acquires money in these three ways (with "gifting" being a fourth way that's in a separate category because it's passive, not active). The office worker, the entrepreneur, the laborer, the weekend burglar and even the professional politician all acquire money in one of these three primary ways.
Production
means offering something of value to another party who is willing to trade you dollars for it. It can include both goods and services. A 9-5 office worker, for example, offers the value of their time and effort, and in exchange they are compensated at an agreed upon pay rate.
Production can also mean adding value to physical goods. We do this at the Natural News Store by sourcing organic superfoods from around the world and packaging them in pouches and cans for retail in the USA. This is a classic example of value-added production.
Out of the three methods of money accumulation covered here, production is the only one that adds abundance to the economy. The other two methods reduce wealth and ultimately promote poverty.
Coercion
means forcing someone to give you money. This is the default method of all government bodies, from your local property tax collector to the federal IRS. Coercion means extracting money from someone in a non-mutually-agreed (i.e. "non-voluntary") way.
Being mugged is a lot like being taxed
A mugging is money extraction via coercion. Ironically, it is almost identical to taxation: There is a threat of force stated or implied, followed by a request for a certain amount of money: "Give me your wallet" or "Pay $12,453.24." Your compliance results in the source of the
coercion
taking your money then moving on to their next victim. Non-compliance results in you either being shot, stabbed, arrested at gunpoint or stripped of other possessions you may own.
Theft
is different from coercion in that there is no interaction at all between two parties. Theft is when someone breaks into your house and steals your flat screen TV when you're not even there. Or it's when someone breaks into your online bank account and transfers all your money to an offshore crime haven in Nigeria.
Theft is what recently happened in Cyprus, where
banksters stole 40% or more of private account balances
, later stealing 60% or more of many business accounts. It wasn't coercion because there was no threat of force, nor any compliance on your part. You simply wake up one morning and find that your bank account, your truck, your wallet or your laptop computers is missing. That's
theft
... and that's how the global banking system fundamentally functions.
Another advanced kind of theft is committed by the Federal Reserve. By printing new money, it steals the value of all the money you currently hold. This is called "currency theft" but a full discussion of it is beyond the scope of this lesson. For now, let's stick to simple theft and coercion.
The illusion of compliance
Governments typically shy away from engaging in outright theft. Why? Because they hope to create the illusion of voluntary compliance. By coercing you into giving up your money "voluntarily," they avoid the appearance of outright stealing money or property from you. You "agreed" to pay your taxes, didn't you?
In certain cases, of course, the government does engage in outright theft. This is called "eminent domain" and it means the government simply claims ownership of something you own (usually some land or a building), then decides how much money to pay you for it. The government claims the right to steal from you for "the common good," implying that the benefit of some is more important than protecting the private property rights of all.
Theft is also carried out through
misrepresentation and fraud
. If a used car salesman sells you a 2005 Chevy pickup with "only 25,000 miles" on it, but it turns out they hacked the odometer and the vehicle actually has 300,000 miles on it, that's misrepresentation and fraud.
This is very common in the food industry where "extra virgin olive oil" often turns out to be cut with GMO canola oil. Or where "tuna fish" actually isn't from tuna. In the health supplements market, misrepresentation and fraud is also common among heavily-hyped "miracle" supplements that claim impossible results. Acai weight loss pills are a good example.
Misrepresentation and fraud is how virtually the entire system on Wall Street operates, by the way. It's all a numbers game where investment houses sell stocks short while telling their customers to buy. The ratings are faked, the customers buy the stock, the investment brokers sell it short and wait for the stock to tumble from its artificial high, after which they rake in the profits.
Why governments prefer coercion to theft
By and large, governments far prefer coercion to theft. The IRS, for example, continues to insist that paying federal tax is a "voluntary" act. "Compliance is voluntary," they admit. But this brand of volunteerism comes with the heavy hand of coercion. A typical warning letter from the IRS threatens the recipient with losing all his property and spending years in jail if they refuse to comply.
So yes, paying the IRS is "voluntary" as long as you don't mind the consequences: Years in prison and the forfeiting of everything you own. That's classic coercion.
By the same token, a Chicago mafia goon could walk into a popular night club in 1929 and say, "You's gonna volunteer to pay us 20% of your profits, okay?" (Say that in your head with a cartoonish mob accent for better effect.) Followed by: "It would be a real shame to see a nice joint like this burn to ashes, y'know?"
This is not unlike the offer made by the IRS. Pay us 50% (or more) of your income, or lose your freedom.
Obamacare is implemented entirely by coercion. The gambit is this: Buy Obamacare health insurance, or we'll just confiscate money right out of your paycheck. That has very little difference from the mafia's offer of "pay us 20% or we burn this place down." In both cases, it's a threat and a demand for compliance. That's coercion.
Coercion and theft are signs of a crumbling society
When society is healthy,
production
is the dominant method of wealth creation. But when society begins to fall into criminality, corruption and government gone bad, coercion and theft become the dominant methods for diverting wealth from those who have earned it into the hands of those who are receiving it.
All agents and employees of the government are, by definition, beneficiaries of coercion. Their salaries are paid entirely by the government's confiscation of wealth from private sector workers and businesses, all of whom comply solely because they are threatened with imprisonment if they fail to do so.
The ratio between production and coercion is a very good indicator of the level of freedom in any given nation. When tax rates are low, production is high because people have more incentive to start businesses, hire more people and produce more products or services. Wealth is primarily created by productivity
But when tax rates are high -- more coercion -- production plummets because the rewards for starting a business and hiring workers are diminished. The focus of the economy becomes
government growth
accompanied by
increasing coercion / confiscation of private wealth
.
When societies approach collapse, coercion shifts to outright theft: Stealing money right out of your bank account, for example, like we recently witnessed in Cyprus. Government also routinely target
pension funds
and even private retirement accounts, attempting to keep itself afloat by any means necessary.
Understand these three key truths
In summary, the fall of society can be understood through these key transitions:
Abundant society = Freedom and liberty = Production and wealth creation
...then Production becomes Coercion
Coercion society = High taxes, growth of government = Wealth confiscation
...then Coercion becomes Theft
Theft society = Looting of private bank accounts, government seizure of industry = Wealth destruction
...Theft leads to Collapse
The EU has entered the stage of "coercion becoming theft." The collapse is near.
Additional sources
Readers always ask me for "sources" when I write original articles, so I'll answer this question up front: What is my source for this analysis? There is no specific source.
These ideas are self-evident.
I did not read them in any particular book or website, nor learn them in a course of some kind.
In a general sense, of course, these ideas are derivatives of libertarian / Austrian economics: Mises.org,
Murray Rothbard
,
Lew Rockwell
, Henry Hazlitt and others.
Click here to read "Economics in One Lesson" (PDF)
and gain an understanding of economics vastly exceeding that of Ben Bernanke.
See the article just published on Mises.org which just happens to coincide with my own article here. It's entitled,
Taxation is Robbery, Part 1
.
If you really want to understand how the world works, read these websites:
www.Mises.org
www.LewRockwell.com
www.DailyReckoning.com
www.TrendsResearch.com
(Gerald Celente)
Sources for this article include:
[1]
http://www.washingtonpost.com/business/econo...
http://www.naturalnews.com/047968_pension_plans_looting_retirement_funds.html
__________________________________________________________________________________________________________________

FUKUSHIMA RADIATION HITTING CALIFORNIA SHORES AT HIGH HAZARDOUS LEVELS!!!
The End of California? Fukushima Radiation And Related Deaths
MAKE SURE YOU WATCH THIS AT FULL SCREEN MODE SO YOU CAN SEE THE TEXT IN THE PRESENTERS VIDEO!
_____________________________________________________________________________________________________________

PEOPLE NEED TO BE NOTIFIED...ANOTHER THING, WHERE IS THE SEAFOOD YOU GET IN THE RESTAURANTS IN AMERICA COMING FROM?                                          

HORROR " Pacific Ocean Now Dead From Fukushima Radiation "                                 

Streamed live on Aug 10, 2014
http://www.thenuclearproctologist.org/ The entire 200 kilometers we checked of Canadian Pacific Coast Line was devoid of all life except 4 main species and they are very patchy and we a found several other species like limpets and snails etc in tiny insignificant spots never in groups , . When a rational person considers the reality of the 5500 species that are missing from the tidal area that is also the nursery of the pacific ocean itself ,recovery seems highly unlikely because Fukushima can not be stopped . The bigger marine animals like salmon fish crabs etc will not last much longer and because people are ignoring 5500 missing species it seems almost impossible to have a debate with that closed compartmentalized irrational mind set . This presentation will be followed tonight with a Q & A session at 8 pm pacific Canada time on this same site beautifulgirlbydana . Watch the live presentation Aug 10th 2014 at 1 pm BC Pacific time in Canada on beautifulgirlbydana
it will show up at this link https://www.youtube.com/user/Beautifu...
Sunset stroll in the Inter Tidal Zone (ITZ) Tofino B.C a few days ago
________________________________________________________________________________________________________                            
How many people can live on God's earth. Here's a video that will bring to your attention some issues we all need to be concerned about!

SHADE the Motion Picture
The intention of this film is to provide the viewer with a wealth of factual information that he or she may not have been aware of, or have disregarded in the past as not having merit.
The filmmakers have chosen to use what some may consider polarizing figures to present this information, however their intention is the complete opposite. Although everyone in this film speaks for themselves they hope to present a complete picture that can generally be agreed upon by all.
Nothing in this world works the way you think it does. Governments do not operate the way you think they do, banks do not do what you think they do, the Police Department is not here for what you think it is... nothing in your world works the way you think it does. There's a far higher, bigger picture.
In 1954 a group of industrialists, political elites and even royalty set out to form an organization that will essentially pull the strings of society from behind the scenes. The Bilderberg Group is a group of world leaders, CEOs, heads of banking institutions that meet every year and decide what's going to happen throughout that next year.
The media has largely ignored this organization over the past 50+ years and even today when it's mentioned it's mentioned in a manner in which you shouldn't be asking about it. The mainstream media is now acknowledging that these world leaders are meeting except for there is nothing to worry about. They're not doing anything sinister even thought they meet behind closed doors.
We've been programmed to believe certain things, we've been programmed, when we hear certain buzz words, to immediately close ourselves off to that information. The powerful elite hide behind the curtain of government. They hide behind the wall, the facade of government and really there's just a tiny dot that control the masses. These are the shadow masters.
WATCH IT AT EITHER LINK BELOW.......
____________________________________________________________________________________________________________________________________

New World Order:

Blueprint of Madmen (Full Length HD)
In this video Alex Jones reveals the truth behind many

government agendas and high power people!

__________________________________________________________________________________________________________________________________
This is a video about who caused

the economic meltdown in America

and how it happened!
Stefan Molyneux, host of Freedomain Radio, presents a collection of information detailing the foundational lies, fraudulent claims, unaccountability, failure, environmental, economic and human costs of the decade long Iraq War.
__________________________________________________________________________

Iraq After Ten Years — Paul Craig Roberts
March 19, 2013. Ten years ago today the Bush regime invaded Iraq. It is known that the justification for the invasion was a packet of lies orchestrated by the neoconservative Bush regime in order to deceive the United Nations and the American people.
The US Secretary of State at that time, General Colin Powell, has expressed his regrets that he was used by the Bush regime to deceive the United Nations with fake intelligence that the Bush and Blair regimes knew to be fake. But the despicable presstitute media has not apologized to the American people for serving the corrupt Bush regime as its Ministry of Propaganda and Lies.
It is difficult to discern which is the most despicable, the corrupt Bush regime, the presstitutes that enabled it, or the corrupt Obama regime that refuses to prosecute the Bush regime for its unambiguous war crimes, crimes against the US Constitution, crimes against US statutory law, and crimes against humanity.
In his book, Cultures Of War, the distinguished historian John W. Dower observes that the concrete acts of war unleashed by the Japanese in the 20th century and the Bush imperial presidency in the 21st century "invite comparative analysis of outright war crimes like torture and other transgressions. Imperial Japan's black deeds have left an indelible stain on the nation's honor and good name, and it remains to be seen how lasting the damage to America's reputation will be. In this regard, the Bush administration's war planners are fortunate in having been able to evade formal and serious investigation remotely comparable to what the Allied powers pursued vis-a-vis Japan and Germany after World War II."
Dower quotes Arthur Schlesinger Jr.: "The president [Bush] has adopted a policy of 'anticipatory self-defense' that is alarmingly similar to the policy that imperial Japan employed at Pearl Harbor on a date which, as an earlier American president said it would, lives in infamy. Franklin D. Roosevelt was right, but today it is we Americans who live in infamy."
Americans paid an enormous sum of money for the shame of living in infamy. Joseph Stiglitz and Linda Bilmes calculated that the Iraq war cost US taxpayers $3,000 billion dollars. This estimate might turn out to be optimistic. The latest study concludes that the war could end up costing US taxpayers twice as much. http://www.reuters.com/article/2013/03/14/iraq-war-anniversary-idUSL1N0C5FBN20130314
In order to pay for the profits that have flowed into the pockets of the US military-security complex and from there into political contributions, Americans are in danger of losing Social Security, Medicare, and the social cohesiveness that the social welfare system provides.
The human cost to Iraq of America's infamy is extraordinary: 4.5 million displaced Iraqis, as many as 1 million dead civilians leaving widows and orphans, a professional class that has departed the country, an infrastructure in ruins, and social cohesion destroyed by the Sunni-Shia conflict that was ignited by Washington's destruction of the Saddam Hussein government.
It is a sick joke that the United States government brought freedom and democracy to Iraq. What the Washington war criminals brought was death and the destruction of a country.
The US population, for the most part, seems quite at ease with the gratuitous destruction of Iraq and all that it entails: children without parents, wives without husbands, birth defects from "depleted" uranium, unsafe water, a country without hope mired in sectarian violence.
Washington's puppet state governments in the UK, Europe, the Middle East and Japan seem equally pleased with the victory–over what? What threat did the victory defeat? There was no threat. Weapons of mass destruction was a propaganda hoax. Mushroom clouds over American cities was fantasy propaganda. How ignorant do populations have to be to fall for such totally transparent propaganda? Is there no intelligence anywhere in the Western world?
At a recent conference the neoconservatives responsible for the deaths and ruined lives of millions and for the trillions of dollars that their wars piled on US national debt were unrepentant and full of self-justification. While Washington looks abroad for evil to slay, evil is concentrated in Washington itself. http://nationalinterest.org/blog/paul-pillar/still-peddling-iraq-war-myths-ten-years-later-8227

The American war criminals walk about unmolested. They are paid large sums of money to make speeches about how Americans are bringing freedom and democracy to the world by invading, bombing and murdering people. The War Crimes Tribunal has not issued arrest warrants. The US Department of State, which is still hunting for Nazi war criminals, has not kidnapped the American ones and sent them to be tried at the Hague.
The Americans who suffered are the 4,801 troops who lost their lives, the thousands of troops who lost limbs and suffer from other permanent wounds, the tens of thousands who suffer from post-traumatic stress and from the remorse of killing innocent people, the families and friends of the American troops, and the broken marriages and single-parent children from the war stress.
Other Americans have suffered on the home front. Those whose moral conscience propelled them to protest the war were beaten and abused by police, investigated and harassed by the FBI, and put on no-fly lists. Some might actually be prosecuted. The Unites States has reached the point where any citizen who has a moral conscience is an enemy of the state. The persecution of Bradley Manning demonstrates this truth.
A case could be made that the historians' comparison of the Bush regime with Japanese war criminals doesn't go far enough. By this October 7, Washington will have been killing people, mainly women, children, and village elders, in Afghanistan for 12 years. No one knows why America has brought such destruction to the Afghan people. First the Soviets; then the Americans. What is the difference? When Obama came into the presidency, he admitted that no one knew what the US military mission was in Afghanistan. We still don't know. The best guess is profits for the US armaments industry, power for the Homeland Security industry, and a police state for the insouciant US population.
Washington has left Libya in ruins and internal conflict. There is no government, but it is not libertarian nirvana.
The incessant illegal drone attacks on Pakistani civilians is radicalizing elements of Pakistan and provoking civil war against the Pakistani government, which is owned by Washington and permits Washington's murder of its citizens in exchange for Washington's money payments to the political elites who have sold out their country to Washington.
Washington has destabilized Syria and destroyed the peace that the Assad family had imposed on the Islamic sects. Syria seems fated to be reduced to ruins and permanent violence like Libya and Iraq.
Washington is at work killing people in Yemen.
As the video released to WikiLeaks by Bradley Manning shows, some US troops don't care who they kill–journalists and civilians walking peacefully along a street, a father and his children who stop to help the wounded. As long as someone is killed, it doesn't matter who.
Killing is winning.
The US invaded Somalia, has its French puppets militarily involved in Mali, and perhaps has Sudan in its crosshairs for drones and missiles.
Iran and Lebanon are designated as the next victims of Washington's aggression.
Washington protects Israeli aggression against the West Bank, Gaza, and Lebanon from UN censure and from embargoes. Washington has arrested and imprisoned people who have sent aid to the Palestinian children. Gaza, declares Washington which regards itself as the only fount of truth, is ruled by Hamas, a terrorist organization according to Washington. Thus any aid to Gaza is aid to terrorism. Aide to starving and ill Palestinian children is support of terrorism. This is the logic of an inhumane war criminal state.
What is this aggression against Muslims about?
The Soviet Union collapsed and Washington needed a new enemy to keep the US military/security complex in power and profits. The neoconservatives, who totally dominated the Bush regime and might yet dominate the Obama regime declared Muslims in the Middle East to be the enemy. Against this make-believe "enemy," the US launched wars of aggression that are war crimes under the US imposed Nuremberg standard that was applied to the defeated WWII Germans.
Although the British and French started World War II by declaring war on Germany, it was Germans, defeated by the Red Army, who were tried by Washington as war criminals for starting a war. A number of serious historians have reached the conclusion that America's war crimes, with the fire-bombings of the civilian populations of Dresden and Tokyo and the gratuitous nuclear attacks on the civilian populations of Hiroshima and Nagasaki, are of the same cloth as the war crimes of Hitler and the Japanese.
The difference is that the winners paint the defeated in the blackest tones and themselves in high moral tones. Honest historians know that there is not much difference between US WWII war crimes and those of the Japanese and Germans. But the US was on the winning side.By its gratuitous murder of Muslims in seven or eight countries, Washington has ignited a Muslim response: bitter hatred of the United States. This response is termed "terrorism" by Washington and the war against terrorism serves as a source of endless profits for the military complex and for a police state to "protect" Americans from terrorism, but not from the terrorism of their own government.
The bulk of the American population is too misinformed to catch on, and the few who do
understand and are attempting to warn others will be silenced. The 21st century will be one of the worst centuries in human history. All over the Western world, liberty is dying.
The legacy of "the war on terror" is the death of liberty.
_____________________________________________________________________

State-Wrecked: The Corruption of Capitalism in America


By

DAVID A. STOCKMAN
Published: March 30, 2013
GREENWICH, Conn.

The Dow Jones and Standard & Poor's 500 indexes reached record highs on Thursday, having completely erased the losses since the stock market's last peak, in 2007. But instead of cheering, we should be very afraid.
Over the last 13 years, the stock market has twice crashed and touched off a recession: American households lost $5 trillion in the 2000 dot-com bust and more than $7 trillion in the 2007 housing crash. Sooner or later — within a few years, I predict — this latest Wall Street bubble, inflated by an egregious flood of phony money from the Federal Reserve rather than real economic gains, will explode, too.
Since the S.&P. 500 first reached its current level, in March 2000, the mad money printers at the Federal Reserve have expanded their balance sheet sixfold (to $3.2 trillion from $500 billion). Yet during that stretch, economic output has grown by an average of 1.7 percent a year (the slowest since the Civil War); real business investment has crawled forward at only 0.8 percent per year; and the payroll job count has crept up at a negligible 0.1 percent annually. Real median family income growth has dropped 8 percent, and the number of full-time middle class jobs, 6 percent. The real net worth of the "bottom" 90 percent has dropped by one-fourth. The number of food stamp and disability aid recipients has more than doubled, to 59 million, about one in five Americans.
So the Main Street economy is failing while Washington is piling a soaring debt burden on our descendants, unable to rein in either the warfare state or the welfare state or raise the taxes needed to pay the nation's bills. By default, the Fed has resorted to a radical, uncharted spree of money printing. But the flood of liquidity, instead of spurring banks to lend and corporations to spend, has stayed trapped in the canyons of Wall Street, where it is inflating yet another unsustainable bubble.
When it bursts, there will be no new round of bailouts like the ones the banks got in 2008. Instead, America will descend into an era of zero-sum austerity and virulent political conflict, extinguishing even today's feeble remnants of economic growth.
THIS dyspeptic prospect results from the fact that we are now state-wrecked. With only brief interruptions, we've had eight decades of increasingly frenetic fiscal and monetary policy activism intended to counter the cyclical bumps and grinds of the free market and its purported tendency to under produce jobs and economic output. The toll has been heavy.
As the federal government and its central-bank sidekick, the Fed, have groped for one goal after another — smoothing out the business cycle, minimizing inflation and unemployment at the same time, rolling out a giant social insurance blanket, promoting homeownership, subsidizing medical care, propping up old industries (agriculture, automobiles) and fostering new ones ("clean" energy, biotechnology) and, above all, bailing out Wall Street — they have now succumbed to overload, overreach and outside capture by powerful interests. The modern Keynesian state is broke, paralyzed and mired in empty ritual incantations about stimulating "demand," even as it fosters a mutant crony capitalism that periodically lavishes the top 1 percent with speculative windfalls.
The culprits are bipartisan, though you'd never guess that from the blather that passes for political discourse these days. The state-wreck originated in 1933, when Franklin D. Roosevelt opted for fiat money (currency not fundamentally backed by gold), economic nationalism and capitalist cartels in agriculture and industry.
Under the exigencies of World War II (which did far more to end the Depression than the New Deal did), the state got hugely bloated, but remarkably, the bloat was put into brief remission during a mid-century golden era of sound money and fiscal rectitude with Dwight D. Eisenhower in the White House and William McChesney Martin Jr. at the Fed.
Then came Lyndon B. Johnson's "guns and butter" excesses, which were intensified over one perfidious weekend at Camp David, Md., in 1971, when Richard M. Nixon essentially defaulted on the nation's debt obligations by finally ending the convertibility of gold to the dollar. That one act — arguably a sin graver than Watergate — meant the end of national financial discipline and the start of a four-decade spree during which we have lived high on the hog, running a cumulative $8 trillion current-account deficit. In effect, America underwent an internal leveraged buyout, raising our ratio of total debt (public and private) to economic output to about 3.6 from its historic level of about 1.6. Hence the $30 trillion in excess debt (more than half the total debt, $56 trillion) that hangs over the American economy today.
This explosion of borrowing was the stepchild of the floating-money contraption deposited in the Nixon White House by Milton Friedman, the supposed hero of free-market economics who in fact sowed the seed for a never-ending expansion of the money supply. The Fed, which celebrates its centenary this year, fueled a
roaring inflation in goods and commodities during the 1970s that was brought under control only by the iron resolve of Paul A. Volcker, its chairman from 1979 to 1987.
Under his successor, the lapsed hero Alan Greenspan, the Fed dropped Friedman's penurious rules for monetary expansion, keeping interest rates too low for too long and flooding Wall Street with freshly minted cash. What became known as the "Greenspan put" — the implicit assumption that the Fed would step in if asset prices dropped, as they did after the 1987 stock-market crash — was reinforced by the Fed's unforgivable 1998 bailout of the hedge fund Long-Term Capital Management.
That Mr. Greenspan's loose monetary policies didn't set off inflation was only because domestic prices for goods and labor were crushed by the huge flow of imports from the factories of Asia. By off-shoring America's tradable-goods sector, the Fed kept the Consumer Price Index contained, but also permitted the excess liquidity to foster a roaring inflation in financial assets. Mr. Greenspan's pandering incited the greatest equity boom in history, with the stock market rising fivefold between the 1987 crash and the 2000 dot-com bust.
Soon Americans stopped saving and consumed everything they earned and all they could borrow. The Asians, burned by their own 1997 financial crisis, were happy to oblige us. They — China and Japan above all — accumulated huge dollar reserves, transforming their central banks into a string of monetary roach motels where sovereign debt goes in but never comes out. We've been living on borrowed time — and spending Asians' borrowed dimes.
This dynamic reinforced the Reaganite shibboleth that "deficits don't matter" and the fact that nearly $5 trillion of the nation's $12 trillion in "publicly held" debt is actually sequestered in the vaults of central banks. The destruction of fiscal rectitude under Ronald Reagan — one reason I resigned as his budget chief in 1985 — was the greatest of his many dramatic acts. It created a template for the Republicans' utter abandonment of the balanced-budget policies of Calvin Coolidge and allowed George W. Bush to dive into the deep end, bankrupting the nation through two misbegotten and un-financed wars, a giant expansion of Medicare and a tax-cutting spree for the wealthy that turned K Street lobbyists into the de facto office of national tax policy. In effect, the G.O.P. embraced Keynesianism — for the wealthy.
The explosion of the housing market, abetted by phony credit ratings, securitization shenanigans and willful malpractice by mortgage lenders, originators and brokers, has been well documented. Less known is the balance-sheet explosion among the top 10 Wall Street banks during the eight years ending in 2008. Though their tiny sliver of equity capital hardly grew, their dependence on unstable "hot money" soared as the regulatory harness the Glass-Steagall Act had wisely imposed during the Depression was totally dismantled.
Within weeks of the Lehman Brothers bankruptcy in September 2008, Washington, with Wall Street's gun to its head, propped up the remnants of this financial mess in a panic-stricken melee of bailouts and money-printing that is the single most shameful chapter in American financial history.
There was never a remote threat of a Great Depression 2.0 or of a financial nuclear winter, contrary to the dire warnings of Ben S. Bernanke, the Fed chairman since 2006. The Great Fear — manifested by the stock market plunge when the House voted down the TARP bailout before caving and passing it — was purely another Wall Street concoction. Had President Bush and his Goldman Sachs adviser (a k a Treasury Secretary) Henry M. Paulson Jr. stood firm, the crisis would have burned out on its own and meted out to speculators the losses they so richly deserved. The Main Street banking system was never in serious jeopardy, ATMs were not going dark and the money market industry was not imploding.
Instead, the White House, Congress and the Fed, under Mr. Bush and then President Obama, made a series of desperate, reckless maneuvers that were not only unnecessary but ruinous. The auto bailouts, for example, simply shifted jobs around — particularly to the aging, electorally vital Rust Belt — rather than saving them. The "green energy" component of Mr. Obama's stimulus was mainly a nearly $1 billion giveaway to crony capitalists, like the venture capitalist John Doerr and the self-proclaimed outer-space visionary Elon Musk, to make new toys for the affluent.
Less than 5 percent of the $800 billion Obama stimulus went to the truly needy for food stamps, earned-income tax credits and other forms of poverty relief. The preponderant share ended up in money dumps to state and local governments, pork-barrel infrastructure projects, business tax loopholes and indiscriminate middle-class tax cuts. The Democratic Keynesians, as intellectually bankrupt as their Republican counterparts (though less hypocritical), had no solution beyond handing out borrowed money to consumers, hoping they would buy a lawn mower, a flat-screen TV or, at least, dinner at Red Lobster.
But even Mr. Obama's hopelessly glib policies could not match the audacity of the Fed, which dropped interest rates to zero and then digitally printed new money at the astounding rate of $600 million per hour. Fast-money speculators have been "purchasing" giant piles of Treasury debt and mortgage-backed securities, almost entirely by using short-term overnight money borrowed at essentially zero cost, thanks to the Fed. Uncle Ben has lined their pockets.
If and when the Fed — which now promises to get unemployment below 6.5 percent as long as inflation doesn't exceed 2.5 percent — even hints at shrinking its balance sheet, it will elicit a tidal wave of sell orders, because even a modest drop in bond prices would destroy the arbitrageurs' profits. Notwithstanding Mr. Bernanke's assurances about eventually, gradually making a smooth exit, the Fed is domiciled in a monetary prison of its own making.
While the Fed fiddles, Congress burns. Self-titled fiscal hawks like Paul D. Ryan, the chairman of the House Budget Committee, are terrified of telling the truth: that the 10-year deficit is actually $15 trillion to $20 trillion, far larger than the Congressional Budget Office's estimate of $7 trillion. Its latest forecast, which imagines 16.4 million new jobs in the next decade, compared with only 2.5 million in the last 10 years, is only one of the more extreme examples of Washington's delusions.
Even a supposedly "bold" measure — linking the cost-of-living adjustment for Social Security payments to a different kind of inflation index — would save just $200 billion over a decade, amounting to hardly 1 percent of the problem. Mr. Ryan's latest budget shamelessly gives Social Security and Medicare a 10-year pass, notwithstanding that a fair portion of their nearly $19 trillion cost over that decade would go to the affluent elderly. At the same time, his proposal for draconian 30 percent cuts over a decade on the $7 trillion safety net — Medicaid, food stamps and the earned-income tax credit — is another front in the G.O.P.'s war against the 99 percent.
Without any changes, over the next decade or so, the gross federal debt, now nearly $17 trillion, will hurtle toward $30 trillion and soar to 150 percent of gross domestic product from around 105 percent today. Since our constitutional stasis rules out any prospect of a "grand bargain," the nation's fiscal collapse will play out incrementally, like a Greek/Cypriot tragedy, in carefully choreographed crises over debt ceilings, continuing resolutions and temporary budgetary patches.
The future is bleak. The greatest construction boom in recorded history — China's money dump on infrastructure over the last 15 years — is slowing. Brazil, India, Russia, Turkey, South Africa and all the other growing middle-income nations cannot make up for the shortfall in demand. The American machinery of monetary and fiscal stimulus has reached its limits. Japan is sinking into old-age bankruptcy and Europe into welfare-state senescence. The new rulers enthroned in Beijing last year know that after two decades of wild lending, speculation and building, even they will face a day of reckoning, too.
THE state-wreck ahead is a far cry from the "Great Moderation" proclaimed in 2004 by Mr. Bernanke, who predicted that prosperity would be everlasting because the Fed had tamed the business cycle and, as late as March 2007, testified that the impact of the sub-prime meltdown "seems likely to be contained." Instead of moderation, what's at hand is a Great Deformation, arising from a rogue central bank that has abetted the Wall Street casino, crucified savers on a cross of zero interest rates and fueled a global commodity bubble that erodes Main Street living standards through rising food and energy prices — a form of inflation that the Fed fecklessly disregards in calculating inflation.
These policies have brought America to an end-stage metastasis. The way out would be so radical it can't happen. It would necessitate a sweeping divorce of the state and the market economy. It would require a renunciation of crony capitalism and its first cousin: Keynesian economics in all its forms. The state would need to get out of the business of imperial hubris, economic uplift and social insurance and shift its focus to managing and financing an effective, affordable, means-tested safety net.
All this would require drastic deflation of the realm of politics and the abolition of incumbency itself, because the machinery of the state and the machinery of re-election have become conterminous. Prying them apart would entail sweeping constitutional surgery: amendments to give the president and members of Congress a single six-year term, with no re-election; providing 100 percent public financing for candidates; strictly limiting the duration of campaigns (say, to eight weeks); and prohibiting, for life, lobbying by anyone who has been on a legislative or executive payroll. It would also require overturning Citizens United and mandating that Congress pass a balanced budget, or face an automatic sequester of spending.
It would also require purging the corrosive financialization that has turned the economy into a giant casino since the 1970s. This would mean putting the great Wall Street banks out in the cold to compete as at-risk free enterprises, without access to cheap Fed loans or deposit insurance. Banks would be able to take deposits and make commercial loans, but be banned from trading, underwriting and money management in all its forms.
It would require, finally, benching the Fed's central planners, and restoring the central bank's original mission: to provide liquidity in times of crisis but never to buy government debt or try to micromanage the economy. Getting the Fed out of the financial markets is the only way to put free markets and genuine wealth creation back into capitalism.
That, of course, will never happen because there are trillions of dollars of assets, from Shanghai skyscrapers to Fortune 1000 stocks to the latest housing market "recovery," artificially propped up by the Fed's interest-rate repression. The United States is broke — fiscally, morally, intellectually — and the Fed has incited a global currency war (Japan just signed up, the Brazilians and Chinese are angry, and the German-dominated euro zone is crumbling) that will soon overwhelm it. When the latest bubble pops, there will be nothing to stop the collapse. If this sounds like advice to get out of the markets and hide out in cash, it is.

http://www.nytimes.com/2013/03/31/opinion/sunday/sundown-in-america.html?pagewanted=1&_r=1&ref=opinion
_____________________________________________________________________________________________________________________________________________________
   Hit Men, Jackals and the Truth

This man John Perkins tells his personal story after deciding to risk it at the expense of possibly being silenced. He was a deep operative for government that went into countries to try to corrupt the leaders so that America's corporations could follow by having unlimited ability to build and expand their economies, only to cause the country to default on it's debt so these corporations and their political cronies in our government could take over the country and its economy!

______________________________________________________________________________________________________________________________________________________

Here's my story, when I was about 25 years old and debating applying for my first credit card, after having been a born again Christian for 6 years I prayed to God before I applied, and I asked him to show me if the credit cards were a part of the beast system to come. God answered my prayer!

Needless to say, if you look to the left and see the last 3 numbers on the card that I received in the mail after applying and waiting about 6 weeks, the company was based in Delaware and it was incorporated from over in the UK. What do you suppose God was trying to tell me?
Update, I have since felt that The book of Revelation verses that go with this are phenomenal. Now, let there be wisdom.

The Antichrist will cause both great and small to receive a mark in their right hands or in their foreheads.
Revelation 13:16 And he causeth all, both small and great, rich and poor, free and bond, to receive a mark in their right hand, or in their foreheads: 17 And that no man might buy or sell, save he that had the mark, or the name of the beast, or the number of his name. 18 Here is wisdom. Let him that hath understanding count the number of the beast: for it is the number of a man; and his number is Six hundred threescore and six.
What God has led me to believe is if we accept the beast system through a permanent kind of credit-or financial marking, ie. a credit card of any kind, trust me, this is not going to be the same thing in every country, or nation. I can give you an example, in Hong Kong where I am located, they have a multipurpose travel/credit card used to board buses and trains and it is also widely accepted in 7-11's, Circle-K's, Welcome grocery stores, Park & Shop grocery stores and many many others. This card in itself could easily be converted to a beast system card. Also, think about this, the majority of the people on earth are right handed, so when it says they will receive the mark in their right hands, that's the hand we most often use to scan our credit cards wherever.

Now read what revelation says about God giving us HIS own seal in our foreheads!

Revelation

7:3

 Saying, Hurt not the earth, neither the sea, nor the trees, till we have sealed the servants of our God in their foreheads.  Rev.

9:4

And it was commanded them that they should not hurt the grass of the earth, neither any green thing, neither any tree; but only those men which have not the seal of God in their foreheads.

Rev. 14:1

And I looked, and, lo, a Lamb stood on the mount Zion, and with him an hundred forty and four thousand, having his Father's name written in their foreheads.

Rev. 22:4

 And they shall see his face; and his name shall be in their foreheads.
I have saved this in my wallet since then and use it as a witness when God prompts.

Delaware
Population: 917,092    GDP: $62 billion
Tax incentives: Low taxes and essentially no requirements for creating a corporation, making it easy to set up a shell company with "no employees, no assets and, in fact, no real business to speak of," according to The New York Times.
Foreign cash: Delaware is actually home to more corporations (945,326) than people. The Delaware Division of Corporations boasts that the state is home to more than 50 percent of U.S. publicly traded companies and 64 percent of the Fortune 500.
Famous "resident": Viktor Bout, the Russian arms smuggler known as the "merchant of death," who was sentenced to 25 years in prison on terrorism charges, had two Delaware addresses, according toThe New York Times.
____________________________________________________________________________________________________________________________________________________________

BIG BROTHER IS WATCHING...what does this mean...I can tell you.
Any computer platform whether it be Google or Oracle Cloud or MSN Skye Drive, Apple's Dropbox or any public or private sector entity offering you "FREE" so called storage solutions, IS UNSAFE AND CAN BE CONFISCATED IN A HEART BEAT BY A GOVERNMENT AGENCY. In fact most storage platforms are already in cooperative agreements with big government, "BIG BROTHER," so I say think twice about using them for your storage needs. Technology is very cheap these days and if you can afford a computer, then you can afford an external hard drive storage device too, 1TB is cheap and there are cheap 8TB drives available for public purchase. Let this be a warning! The other thing people don't think about is their unconscious actions of obtaining and spreading copyrighted materials they don't own or haven't paid for. When "big brother/uncle sam" finally decides to start throwing everyone in those detention camps in the ten regions they've established in the USA, any internet offense will be sufficient charges against you to do so under the new Department of Homeland Security guidelines.

___________________________________________________________________________

Holy deal: Vatican signs US tax evasion law to rehabilitate its scandal-marred bank
Published time: June 10, 2015 14:26
Pope Francis (Reuters / Max Rossi)
The Vatican has signed its first inter-governmental deal with the US known as the Foreign Account Tax Compliance Act (FATCA), aimed at curbing offshore tax evasion and cleaning up the reputation of its scandal-plagued bank.
Under the new agreement the Holy See has agreed to automatically report information on Vatican Bank accounts held by American citizens. For a long time the bank has been accused by Italian authorities of being an offshore tax haven.
'Not to share wealth with poor is to steal': Pope slams capitalism as 'new tyranny'
More than 15,000 American are said to have accounts at the Vatican Bank, though the exact number is unknown.
"Signing the present agreement is… a further step in the Holy See's long-term strategy to ensure and promote legality, transparency and ethical behavior in the economic and financial fields," the Vatican's Secretary for the Relations with States at the Secretariat of State Paul Gallagher said in a statement published Wednesday.
The Vatican joined 62 countries which have signed FATCA agreements along with 50 others that have reached "agreements in substance." The FATCA was passed by the US Congress in 2010.
REA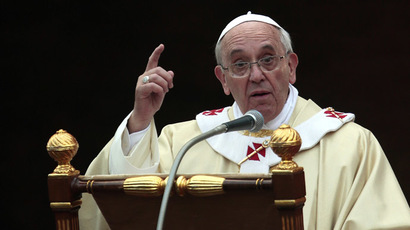 D MORE: The new American tax dictate FATCA comes into force
The US and the Holy See have signed several agreements in the past, such as exchange of information on financial crimes but those agreements were signed between agencies and not between the two governments. The Vatican recently signed a tax information-sharing agreement with Italy.
Pope Francis has been trying to reform Vatican financial structures, especially the scandal ridden Vatican bank. Last year, he replaced all the cardinals from his predecessor Pope Benedict XVI's appointments. He practically canceled the decree of Benedict to reform the bank, formerly known as the Institute for Religious Works (IOR). His team shut down many of the suspicious accounts held in the bank and asked the Promontory Financial Group to audit the institution and bring it up to international standards.

READ MORE: Two men caught with $4.1tn worth of fake bonds at Vatican Bank
In October 2013, the Vatican Bank for the first time in its 125-year history disclosed its annual financial report to the public. It then showed a total of €4.98 billion in assets and €769 million in equity funds.
Earlier in 2010, Italian police seized €23 million from an IOR account, the money was later unfrozen.

http://rt.com/business/266260-vatican-us-deal-fatca/
=======================================================================================================

Power Struggle on Reforming Vatican Bank
Gabriel Bouys/Agence France-Presse — Getty Images
The Vatican bank has for decades been the subject of dark intrigue and also has been linked to one mysterious death.
Published: March 9, 2013
VATICAN CITY — Negotiations over the Vatican's adherence to international banking standards were reaching a delicate point. During a lunch, a European official later recalled, discussion turned to the need for more openness from an institution steeped in centuries of secrecy.
A Vatican representative at the meal, annoyed by the requests for more information, shouted, "How can you ask us such questions?"
The clash came amid mounting pressure on the Vatican to clean up its bank — for decades the subject of dark intrigue and linked to one mysterious death — as part of a push by the European Union to apply common rules to all the countries and micro-states like Vatican City and Monaco that use the euro.
Those pressures continued until the very last days of Pope Benedict XVI's papacy and remain a critical issue for the cardinals now meeting to elect a new pope. As the conclave begins Tuesday, the specter of financial scandal presents a special challenge for Benedict's successor, who must modernize the Roman Catholic Church's finances or risk the Vatican's access to the global banking system, undermining its moral authority and its financial stability.
Ahead of the conclave, the cardinals were briefed on the Vatican's finances and have been debating whether a member of the Vatican hierarchy or an outsider would be better at imposing order after a papacy bedeviled by crises of governance. The battle lines are hazy, but the fight over the Vatican's finances pits different factions inside the Vatican against one another, some seeking greater transparency and others who want to preserve the institution's tradition of secrecy.
Founded in 1942 and housed in a small round tower at the foot of the Apostolic Palace, the Vatican bank generally does not give loans but manages deposits and patrimony for religious institutions, clerics and diplomats accredited to the Vatican, who are among the only depositors allowed to hold accounts there.
During the cold war, the bank was widely seen as a back channel to transfer money to the Eastern Bloc to help end Communism, and today the Vatican uses the bank to help it operate in sensitive areas like Cuba and China, Vatican experts say.
But largely because of the Vatican's reluctance to reveal its account holders to outside authorities — and especially to subject itself to scrutiny of past transactions — suspicion has swirled for years about whether some of its accounts had ties to organized crime or Italian political slush funds.
In 2011, the only time for which figures have been made available, it had 20,772 clients, 68 percent of them members of the clergy, and $8.2 billion in assets under its management. The bank has said it has around 33,000 accounts.
In recent years, Italian prosecutors have become more aggressive in investigating whether accounts held there by clerics might in fact be fronts for other interests. Last July, the Italian authorities arrested a priest on charges that he allowed a lawyer to use his Vatican bank account to commit insurance fraud.
Officials at the European Union in Brussels and agencies that monitor financial institutions say the Vatican has made significant strides in meeting norms against money-laundering, but that it still has some way to go.
Some in the Vatican are eager for change, but "you should not underestimate the resistance on issues of transparency" from tradition-bound forces, the European official said.
Under Benedict, the Vatican bank pledged to join the so-called white list of countries that meet international banking standards. In one of his final acts as pope, Benedict appointed a German aristocrat, Ernst von Freyberg, as the bank's new president.
The appointment loosened the historic grip on Vatican finances by a small and tight-knit group of Italian insiders, some of whom had fiercely resisted efforts to come under outside scrutiny. They were protective of the bank as an essentially Italian institution, which critics said was perilously close to the country's scandal-prone political and financial establishment.
Last May, the Vatican bank ousted its president, Ettore Gotti Tedeschi, a well-connected Italian banker, in a rare boardroom coup, accusing him in a public statement of incompetence. Mr. Gotti Tedeschi had come under intense scrutiny in 2010, when magistrates in Rome impounded $30 million from two external accounts used by the Vatican bank and placed him and the bank's director general, Paolo Cipriani, under investigation on charges related to money laundering. Both denied the charges.
The money was later restored to the Vatican bank, known as the Institute for Works of Religion, after the Vatican created its own Financial Intelligence Authority with a papal edict issued by Benedict in December 2010 to meet European anti-money-laundering directives.
Rachel Donadio reported from Vatican City, and Andrew Higgins from Brussels. The continuing Rome investigation is the first into the bank since the early 1980s, when Italy's Banco Ambrosiano, in which the Vatican had investments, collapsed after the disappearance of $1.3 billion in loans to companies in Latin America. Its chairman was found dead in 1982, hanging from Blackfriars Bridge in London. The Vatican bank denied wrongdoing but paid $250 million to Banco Ambrosiano's creditors.
In recent years, the Vatican has made progress but continues to lag in meeting international banking standards. Last July, a report by Moneyval, a monitoring agency under the Council of Europe, said that in the two years since it was created, the Vatican's new Financial Intelligence Authority had flagged only two suspicious transactions.
Last October, the Vatican appointed a new head of the authority, René Bruelhart, a 40-year-old Swiss lawyer who had helped take Liechtenstein, famous for its banking secrecy, off the black list of countries that do not comply with banking standards. Mr. Bruelhart's appointment, like that of Mr. von Freyberg, raised hopes of those seeking greater transparency and to open up a tradition-bound financial apparatus long dominated by Italians.
Further outside pressure on the Vatican to mend its secretive ways has come from the European Commission, the Brussels-based executive arm of the 27-nation European Union, and from rule changes brought about by the introduction of the euro in 1999.
In December 2000, the Vatican signed a monetary agreement in order to use the euro in its tiny territory and to issue coins bearing the marking Città del Vaticano as well as commemorative coins, which it sells at considerable markup to tourists and others.
But the agreement, to the dismay of officials in Brussels, included none of the commitments made by most other euro-using countries to combat money laundering. The European Commission demanded that the accord be revised.
Eventually, the Vatican signed a new deal with Brussels in December 2009, which included an unprecedented restriction on the Vatican's autonomy: a commitment to accept the jurisdiction of the Luxembourg-based European Union Court of Justice in settling disputes over the monetary deal with Europe.
"This was a big novelty, a historic step," the European official said. "For the first time in history the Vatican recognized a superior authority that is not God."
Last June, Mr. Cipriani, the bank's director general, told reporters on a rare tour of the Vatican bank that it had originally signed on to money-laundering standards monitored by Moneyval in order to continue issuing euro coins.
"We couldn't print coins with the Holy Father's image, that's why we're working on all this," he said, standing beneath a frescoed ceiling depicting "Mother Church" and answering questions submitted in advance. Security guards in dark suits stood silently on the sidelines.
The Vatican was "fully committed to the line of transparency," he said, adding, "We need to take away the veil, the shadow" that had fallen over the bank.
But the shadow grew longer. On Jan. 1, the Bank of Italy, which has placed the Vatican bank under intense scrutiny, blocked Deutsche Bank Italy from operating financial services at the Vatican, including the use of credit cards at its museums, after the Vatican failed to meet a Dec. 31 compliance deadline. The Vatican contested the move. Last month, the Vatican announced that it had found a consortium in Switzerland, which does not belong to the European Union, as a replacement.
The fact that the Vatican chose a Swiss firm to manage financial services inside the Vatican "isn't a good, transparent sign," said Carlo Marroni, a Vatican expert with the Italian business daily Il Sole 24 Ore.
But he said there had been some change. "In the past they were certainly considered a fiscal paradise," Mr. Marroni said. Today, they have improved, but are still in a gray zone. "They did a bit more than the minimum, but it's still insufficient," he said. "They took only the steps that they couldn't not take."
---
By RonPaul.com on November 14, 2012 This is a very revealing speech!
Download [PDF Transcript] – [MP3] – [MP4] – [FLV]
(right-click, then click "Save Link As")
Ron Paul: This may well be the last time I speak on the House Floor.  At the end of the year I'll leave Congress after 23 years in office over a 36 year period.  My goals in 1976 were the same as they are today:  promote peace and prosperity by a strict adherence to the principles of individual liberty.
It was my opinion, that the course the U.S. embarked on in the latter part of the 20th Century would bring us a major financial crisis and engulf us in a foreign policy that would overextend us and undermine our national security.
To achieve the goals I sought, government would have had to shrink in size and scope, reduce spending, change the monetary system, and reject the unsustainable costs of policing the world and expanding the American Empire.
The problems seemed to be overwhelming and impossible to solve, yet from my view point, just following the constraints placed on the federal government by the Constitution would have been a good place to start.

How Much Did I Accomplish?
In many ways, according to conventional wisdom, my off-and-on career in Congress, from 1976 to 2012, accomplished very little.  No named legislation, no named federal buildings or highways—thank goodness.  In spite of my efforts, the government has grown exponentially, taxes remain excessive, and the prolific increase of incomprehensible regulations continues.  Wars are constant and pursued without Congressional declaration, deficits rise to the sky, poverty is rampant and dependency on the federal government is now worse than any time in our history.
All this with minimal concerns for the deficits and unfunded liabilities that common sense tells us cannot go on much longer.  A grand, but never mentioned, bipartisan agreement allows for the well-kept secret that keeps the spending going.  One side doesn't give up one penny on military spending, the other side doesn't give up one penny on welfare spending, while both sides support the bailouts and subsidies for the banking and  corporate elite.  And the spending continues as the economy weakens and the downward spiral continues.   As the government continues fiddling around, our liberties and our wealth burn in the flames of a foreign policy that makes us less safe.
The major stumbling block to real change in Washington is the total resistance to admitting that the country is broke. This has made compromising, just to agree to increase spending, inevitable since neither side has any intention of cutting spending.
The country and the Congress will remain divisive since there's no "loot left to divvy up."
Without this recognition the spenders in Washington will continue the march toward a fiscal cliff much bigger than the one anticipated this coming January.
I have thought a lot about why those of us who believe in liberty, as a solution, have done so poorly in convincing others of its benefits.  If liberty is what we claim it is- the principle that protects all personal, social and economic decisions necessary for maximum prosperity and the best chance for peace- it should be an easy sell.  Yet, history has shown that the masses have been quite receptive to the promises of authoritarians which are rarely if ever fulfilled.

Authoritarianism vs. Liberty
If authoritarianism leads to poverty and war and less freedom for all individuals and is controlled by rich special interests, the people should be begging for liberty.  There certainly was a strong enough sentiment for more freedom at the time of our founding that motivated those who were willing to fight in the revolution against the powerful British government.
During my time in Congress the appetite for liberty has been quite weak; the understanding of its significance negligible.  Yet the good news is that compared to 1976 when I first came to Congress, the desire for more freedom and less government in 2012 is much greater and growing, especially in grassroots America. Tens of thousands of teenagers and college age students are, with great enthusiasm, welcoming the message of liberty.
I have a few thoughts as to why the people of a country like ours, once the freest and most prosperous, allowed the conditions to deteriorate to the degree that they have.
Freedom, private property, and enforceable voluntary contracts, generate wealth.  In our early history we were very much aware of this.  But in the early part of the 20th century our politicians promoted the notion that the tax and monetary systems had to change if we were to involve ourselves in excessive domestic and military spending. That is why Congress gave us the Federal Reserve and the income tax.  The majority of Americans and many government officials agreed that sacrificing some liberty was necessary to carry out what some claimed to be "progressive" ideas. Pure democracy became acceptable.
They failed to recognized that what they were doing was exactly opposite of what the colonists were seeking when they broke away from the British.
Some complain that my arguments makes no sense, since great wealth and the standard of living improved  for many Americans over the last 100 years, even with these new policies.
But the damage to the market economy, and the currency, has been insidious and steady.  It took a long time to consume our wealth, destroy the currency and undermine productivity and get our financial obligations to a point of no return. Confidence sometimes lasts longer than deserved. Most of our wealth today depends on debt.
The wealth that we enjoyed and seemed to be endless, allowed concern for the principle of a free society to be neglected.  As long as most people believed the material abundance would last forever, worrying about protecting a competitive productive economy and individual liberty seemed unnecessary.

The Age of Redistribution
This neglect ushered in an age of redistribution of wealth by government kowtowing to any and all special interests, except for those who just wanted to left alone.  That is why today money in politics far surpasses money currently going into research and development and productive entrepreneurial efforts.
The material benefits became more important than the understanding and promoting the principles of liberty and a free market.  It is good that material abundance is a result of liberty but if materialism is all that we care about, problems are guaranteed.
The crisis arrived because the illusion that wealth and prosperity would last forever has ended. Since it was based on debt and a pretense that debt can be papered over by an out-of-control fiat monetary system, it was doomed to fail.  We have ended up with a system that doesn't produce enough even to finance the debt and no fundamental understanding of why a free society is crucial to reversing these trends.
If this is not recognized, the recovery will linger for a long time.  Bigger government, more spending, more debt, more poverty for the middle class, and a more intense scramble by the elite special interests will continue.

We Need an Intellectual Awakening
Without an intellectual awakening, the turning point will be driven by economic law.  A dollar crisis will bring the current out-of-control system to its knees.
If it's not accepted that big government, fiat money, ignoring liberty, central economic planning, welfarism, and warfarism caused our crisis we can expect a continuous and dangerous march toward corporatism and even fascism with even more loss of our liberties.  Prosperity for a large middle class though will become an abstract dream.
This continuous move is no different than what we have seen in how our financial crisis of 2008 was handled.  Congress first directed, with bipartisan support, bailouts for the wealthy.  Then it was the Federal Reserve with its endless quantitative easing. If at first it doesn't succeed try again; QE1, QE2, and QE3 and with no results we try QE indefinitely—that is until it too fails.  There's a cost to all of this and let me assure you delaying the payment is no longer an option.  The rules of the market will extract its pound of flesh and it won't be pretty.
The current crisis elicits a lot of pessimism.  And the pessimism adds to less confidence in the future.  The two feed on themselves, making our situation worse.
If the underlying cause of the crisis is not understood we cannot solve our problems. The issues of warfare, welfare, deficits, inflationism, corporatism, bailouts and authoritarianism cannot be ignored.  By only expanding these policies we cannot expect good results.
Everyone claims support for freedom.  But too often it's for one's own freedom and not for others.  Too many believe that there must be limits on freedom. They argue that freedom must be directed and managed to achieve fairness and equality thus making it acceptable to curtail, through force, certain liberties.
Some decide what and whose freedoms are to be limited.  These are the politicians whose goal in life is power. Their success depends on gaining support from special interests.

No More 'isms'
The great news is the answer is not to be found in more "isms."  The answers are to be found in more liberty which cost so much less.  Under these circumstances spending goes down, wealth production goes up, and the quality of life improves.
Just this recognition—especially if we move in this direction—increases optimism which in itself is beneficial.  The follow through with sound policies are required which must be understood and supported by the people.
But there is good evidence that the generation coming of age at the present time is supportive of moving in the direction of more liberty and self-reliance. The more this change in direction and the solutions become known, the quicker will be the return of optimism.
Our job, for those of us who believe that a different system than the  one that we have  had for the  last 100 years, has driven us to this unsustainable crisis, is to be more convincing that there is a wonderful, uncomplicated, and moral system that provides the answers.  We had a taste of it in our early history. We need not give up on the notion of advancing this cause.
It worked, but we allowed our leaders to concentrate on the material abundance that freedom generates, while ignoring freedom itself.  Now we have neither, but the door is open, out of necessity, for an answer.  The answer available is based on the Constitution, individual liberty and prohibiting the use of government force to provide privileges and benefits to all special interests.
After over 100 years we face a society quite different from the one that was intended by the Founders.  In many ways their efforts to protect future generations with the Constitution from this danger has failed.  Skeptics, at the time the Constitution was written in 1787, warned us of today's possible outcome.  The insidious nature of the erosion of our liberties and the reassurance our great abundance gave us, allowed the process to evolve into the dangerous period in which we now live.

Dependency on Government Largesse
Today we face a dependency on government largesse for almost every need.  Our liberties are restricted and government operates outside the rule of law, protecting and rewarding those who buy or coerce government into satisfying their demands. Here are a few examples:
Undeclared wars are commonplace.
Welfare for the rich and poor is considered an entitlement.
The economy is overregulated, overtaxed and grossly distorted by a deeply flawed monetary system.
Debt is growing exponentially.
The Patriot Act and FISA legislation passed without much debate have resulted in a steady erosion of our 4th Amendment rights.
Tragically our government engages in preemptive war, otherwise known as aggression, with no complaints from the American people.
The drone warfare we are pursuing worldwide is destined to end badly for us as the hatred builds for innocent lives lost and the international laws flaunted. Once we are financially weakened and militarily challenged, there will be a lot resentment thrown our way.
It's now the law of the land that the military can arrest American citizens, hold them indefinitely, without charges or a trial.
Rampant hostility toward free trade is supported by a large number in Washington.
Supporters of sanctions, currency manipulation and WTO trade retaliation, call the true free traders "isolationists."
Sanctions are used to punish countries that don't follow our orders.
Bailouts and guarantees for all kinds of misbehavior are routine.
Central economic planning through monetary policy, regulations and legislative mandates has been an acceptable policy.

Questions
Excessive government has created such a mess it prompts many questions:
Why are sick people who use medical marijuana put in prison?
Why does the federal government restrict the drinking of raw milk?
Why can't Americans manufacture rope and other products from hemp?
Why are Americans not allowed to use gold and silver as legal tender as mandated by the Constitution?
Why is Germany concerned enough to consider repatriating their gold held by the FED for her in New York?  Is it that the trust in the U.S. and dollar supremacy beginning to wane?
Why do our political leaders believe it's unnecessary to thoroughly audit our own gold?
Why can't Americans decide which type of light bulbs they can buy?
Why is the TSA permitted to abuse the rights of any American traveling by air?
Why should there be mandatory sentences—even up to life for crimes without victims—as our drug laws require?
Why have we allowed the federal government to regulate commodes in our homes?
Why is it political suicide for anyone to criticize AIPAC ?
Why haven't we given up on the drug war since it's an obvious failure and violates the people's rights? Has nobody noticed that the authorities can't even keep drugs out of the prisons? How can making our entire society a prison solve the problem?
Why do we sacrifice so much getting needlessly involved in border disputes and civil strife around the world and ignore the root cause of the most deadly border in the world -the one between Mexico and the US?
Why does Congress willingly give up its prerogatives to the Executive Branch?
Why does changing the party in power never change policy? Could it be that the views of both parties are essentially the same?
Why did the big banks, the large corporations, and foreign banks and foreign central banks get bailed out in 2008 and the middle class lost their jobs and their homes?
Why do so many in the government and the federal officials believe that creating money out of thin air creates wealth?
Why do so many accept the deeply flawed principle that government bureaucrats and politicians can protect us from ourselves without totally destroying the principle of liberty?
Why can't people understand that war always destroys wealth and liberty?
Why is there so little concern for the Executive Order that gives the President authority to establish a "kill list," including American citizens, of those targeted for assassination?
Why is patriotism thought to be blind loyalty to the government and the politicians who run it, rather than loyalty to the principles of liberty and support for the people? Real patriotism is a willingness to challenge the government when it's wrong.
Why is it is claimed that if people won't  or can't take care of their own needs, that people in government can do it for them?
Why did we ever give the government a safe haven for initiating violence against the people?
Why do some members defend free markets, but not civil liberties?
Why do some members defend civil liberties but not free markets? Aren't they the same?
Why don't more defend both economic liberty and personal liberty?
Why are there not more individuals who seek to intellectually influence others to bring about positive changes than those who seek power to force others to obey their commands?
Why does the use of religion to support a social gospel and preemptive wars, both of which requires authoritarians to use violence, or the threat of violence, go unchallenged? Aggression and forced redistribution of wealth has nothing to do with the teachings of the world's great religions.
Why do we allow the government and the Federal Reserve to disseminate false information dealing with both economic and  foreign policy?
Why is democracy held in such high esteem when it's the enemy of the minority and makes all rights relative to the dictates of the majority?
Why should anyone be surprised that Congress has no credibility, since there's such a disconnect between what politicians say and what they do?
Is there any explanation for all the deception, the unhappiness, the fear of the future, the loss of confidence in our leaders, the distrust, the anger and frustration?   Yes there is, and there's a way to reverse these attitudes.  The negative perceptions are logical and a consequence of bad policies bringing about our problems.  Identification of the problems and recognizing the cause allow the proper changes to come easy.
Trust Yourself, Not the Government
Too many people have for too long placed too much confidence and trust in government and not enough in themselves.  Fortunately, many are now becoming aware of the seriousness of the gross mistakes of the past several decades.  The blame is shared by both political parties.  Many Americans now are demanding to hear the plain truth of things and want the demagoguing to stop.  Without this first step, solutions are impossible.
Seeking the truth and finding the answers in liberty and self-reliance promotes the optimism necessary for restoring prosperity.  The task is not that difficult if politics doesn't get in the way.
We have allowed ourselves to get into such a mess for various reasons.
Politicians deceive themselves as to how wealth is produced.  Excessive confidence is placed in the judgment of politicians and bureaucrats.  This replaces the confidence in a free society.  Too many in high places of authority became convinced that only they,   armed with arbitrary government power, can bring about fairness, while facilitating wealth production.  This always proves to be a utopian dream and destroys wealth and liberty.  It impoverishes the people and rewards the special interests who end up controlling both political parties.
It's no surprise then that much of what goes on in Washington is driven by aggressive partisanship and power seeking, with philosophic differences being minor.

Economic Ignorance
Economic ignorance is commonplace.  Keynesianism continues to thrive, although today it is facing healthy and enthusiastic rebuttals.  Believers in military Keynesianism and domestic Keynesianism continue to desperately promote their failed policies, as the economy languishes in a deep slumber.
Supporters of all government edicts use humanitarian arguments to justify them.
Humanitarian arguments are always used to justify government mandates related to the economy, monetary policy, foreign policy, and personal liberty.  This is on purpose to make it more difficult to challenge.  But, initiating violence for humanitarian reasons is still violence.  Good intentions are no excuse and are just as harmful as when people use force with bad intentions.  The results are always negative.
The immoral use of force is the source of man's political problems.  Sadly, many religious groups, secular organizations, and psychopathic authoritarians endorse government initiated force to change the world.  Even when the desired goals are well-intentioned—or especially when well-intentioned—the results are dismal.  The good results sought never materialize.  The new problems created require even more government force as a solution.  The net result is institutionalizing government initiated violence and morally justifying it on humanitarian grounds.
This is the same fundamental reason our government  uses force  for invading other countries at will, central economic planning at home, and the regulation of personal liberty and habits of our citizens.
It is rather strange, that unless one has a criminal mind and no respect for other people and their property, no one claims it's permissible to go into one's neighbor's house and tell them how to behave, what they can eat, smoke and drink or how to spend their money.
Yet, rarely is it asked why it is morally acceptable that a stranger with a badge and a gun can do the same thing in the name of law and order.  Any resistance is met with brute force, fines, taxes, arrests, and even imprisonment. This is done more frequently every day without a proper search warrant.

No Government Monopoly over Initiating Violence
Restraining aggressive behavior is one thing, but legalizing a government monopoly for initiating aggression can only lead to exhausting liberty associated with chaos, anger and the breakdown of civil society.  Permitting such authority and expecting saintly behavior from the bureaucrats and the politicians is a pipe dream.  We now have a standing army of armed bureaucrats in the TSA, CIA, FBI, Fish and Wildlife, FEMA, IRS, Corp of Engineers, etc. numbering over 100,000.  Citizens are guilty until proven innocent in the unconstitutional administrative courts.
Government in a free society should have no authority to meddle in social activities or the economic transactions of individuals. Nor should government meddle in the affairs of other nations. All things peaceful, even when controversial, should be permitted.
We must reject the notion of prior restraint in economic activity just we do in the area of free speech and religious liberty. But even in these areas government is starting to use a backdoor approach of political correctness to regulate speech-a dangerous trend. Since 9/11 monitoring speech on the internet is now a problem since warrants are no longer required.

The Proliferation of Federal Crimes
The Constitution established four federal crimes.  Today the experts can't even agree on how many federal crimes are now on the books—they number into the thousands.  No one person can comprehend the enormity of the legal system—especially the tax code.  Due to the ill-advised drug war and the endless federal expansion of the criminal code we have over 6 million people under correctional suspension, more than the Soviets ever had, and more than any other nation today, including China.  I don't understand the complacency of the Congress and the willingness to continue their obsession with passing more Federal laws.  Mandatory sentencing laws associated with drug laws have compounded our prison problems.
The federal register is now 75,000 pages long and the tax code has 72,000 pages, and expands every year.  When will the people start shouting, "enough is enough," and demand Congress cease and desist.

Achieving Liberty
Liberty can only be achieved when government is denied the aggressive use of force.  If one seeks liberty, a precise type of government is needed.  To achieve it, more than lip service is required.
Two choices are available.
A government designed to protect liberty—a natural right—as its sole objective.  The people are expected to care for themselves and reject the use of any force for interfering with another person's liberty.  Government is given a strictly limited authority to enforce contracts, property ownership, settle disputes, and defend against foreign aggression.
A government that pretends to protect liberty but is granted power to arbitrarily use force over the people and foreign nations.  Though the grant of power many times is meant to be small and limited, it inevitably metastasizes into an omnipotent political cancer.  This is the problem for which the world has suffered throughout the ages.  Though meant to be limited it nevertheless is a 100% sacrifice of a principle that would-be-tyrants find irresistible.  It is used vigorously—though incrementally and insidiously.  Granting power to government officials always proves the adage that:  "power corrupts."
Once government gets a limited concession for the use of force to mold people habits and plan the economy, it causes a steady move toward tyrannical government.  Only a revolutionary spirit can reverse the process and deny to the government this arbitrary use of aggression.  There's no in-between.  Sacrificing a little liberty for imaginary safety always ends badly.
Today's mess is a result of Americans accepting option #2, even though the Founders attempted to give us Option #1.
The results are not good.  As our liberties have been eroded our wealth has been consumed.  The wealth we see today is based on debt and a foolish willingness on the part of foreigners to take our dollars for goods and services. They then loan them back to us to perpetuate our debt system.  It's amazing that it has worked for this long but the impasse in Washington, in solving our problems indicate that many are starting to understand the seriousness of the world -wide debt crisis and the dangers we face. The longer this process continues the harsher the outcome will be.

The Financial Crisis Is a Moral Crisis
Many are now acknowledging that a financial crisis looms but few understand it's, in reality, a moral crisis.  It's the moral crisis that has allowed our liberties to be undermined and permits the exponential growth of illegal government power.  Without a clear understanding of the nature of the crisis it will be difficult to prevent a steady march toward tyranny and the poverty that will accompany it.
Ultimately, the people have to decide which form of government they want; option #1 or option #2.  There is no other choice.  Claiming there is a choice of a "little" tyranny is like describing pregnancy as a "touch of pregnancy."  It is a myth to believe that a mixture of free markets and government central economic planning is a worthy compromise.  What we see today is a result of that type of thinking.  And the results speak for themselves.

A Culture of Violence
American now suffers from a culture of violence.  It's easy to reject the initiation of violence against one's neighbor but it's ironic that the people arbitrarily and freely anoint government officials with monopoly power to initiate violence against the American people—practically at will.
Because it's the government that initiates force, most people accept it as being legitimate.  Those who exert the force have no sense of guilt.  It is believed by too many that governments are morally justified in initiating force supposedly to "do good."  They incorrectly believe that this authority has come from the "consent of the people."  The minority, or victims of government violence never consented to suffer the abuse of government mandates, even when dictated by the majority.  Victims of TSA excesses never consented to this abuse.
This attitude has given us a policy of initiating war to "do good," as well. It is claimed that war, to prevent war for noble purposes, is justified.  This is similar to what we were once told that:  "destroying a village to save a village" was justified.  It was said by a US Secretary of State that the loss of 500,000 Iraqis, mostly children, in the 1990s, as a result of American bombs and sanctions, was "worth it" to achieve the "good" we brought to the Iraqi people.  And look at the mess that Iraq is in today.
Government use of force to mold social and economic behavior at home and abroad has justified individuals using force on their own terms.  The fact that violence by government is seen as morally justified, is the reason why violence will increase when the big financial crisis hits and becomes a political crisis as well.
First, we recognize that individuals shouldn't initiate violence, then we give the authority to government.   Eventually, the immoral use of government violence, when things goes badly, will be used to justify an individual's "right" to do the same thing. Neither the government nor individuals have the moral right to initiate violence against another yet we are moving toward the day when both will claim this authority.  If this cycle is not reversed society will break down.
When needs are pressing, conditions deteriorate and rights become relative to the demands and the whims of the majority.  It's then not a great leap for individuals to take it upon themselves to use violence to get what they claim is theirs.  As the economy deteriorates and the wealth discrepancies increase—as are already occurring— violence increases as those in need take it in their own hands to get what they believe is theirs.  They will not wait for a government rescue program.
When government officials wield power over others to bail out the special interests, even with disastrous results to the average citizen, they feel no guilt for the harm they do. Those who take us into undeclared wars with many casualties resulting, never lose sleep over the death and destruction their bad decisions caused. They are convinced that what they do is morally justified, and the fact that many suffer   just can't be helped.
When the street criminals do the same thing, they too have no remorse, believing they are only taking what is rightfully theirs.  All moral standards become relative.  Whether it's bailouts, privileges, government subsidies or benefits for some from inflating a currency, it's all part of a process justified by a philosophy of forced redistribution of wealth.  Violence, or a threat of such, is the instrument required and unfortunately is of little concern of most members of Congress.
Some argue it's only a matter of "fairness" that those in need are cared for. There are two problems with this. First, the principle is used to provide a greater amount of benefits to the rich than the poor. Second, no one seems to be concerned about whether or not it's fair to those who end up paying for the benefits. The costs are usually placed on the backs of the middle class and are hidden from the public eye. Too many people believe government handouts are free, like printing money out of thin air, and there is no cost. That deception is coming to an end. The bills are coming due and that's what the economic slowdown is all about.
Sadly, we have become accustomed to living with the illegitimate use of force by government.  It is the tool for telling the people how to live, what to eat and drink, what to read and how to spend their money.
To develop a truly free society, the issue of initiating force must be understood and rejected.  Granting to government even a small amount of force is a dangerous concession.

Limiting Government Excesses vs. a Virtuous Moral People
Our Constitution, which was intended to limit government power and abuse, has failed.  The Founders warned that a free society depends on a virtuous and moral people.  The current crisis reflects that their concerns were justified.
Most politicians and pundits are aware of the problems we face but spend all their time in trying to reform government.  The sad part is that the suggested reforms almost always lead to less freedom and the importance of a virtuous and moral people is either ignored, or not understood. The new reforms serve only to further undermine liberty.  The compounding effect has given us this steady erosion of liberty and the massive expansion of debt.  The real question is: if it is liberty we seek, should most of the emphasis be placed on government reform or trying to understand what "a virtuous and moral people" means and how to promote it. The Constitution has not prevented the people from demanding handouts for both rich and poor in their efforts to reform the government, while ignoring the principles of a free society. All branches of our government today are controlled by individuals who use their power to undermine liberty and enhance the welfare/warfare state-and frequently their own wealth and power.
If the people are unhappy with the government performance it must be recognized that government is merely a reflection of an immoral society that rejected a moral government of constitutional limitations of power and love of freedom.
If this is the problem all the tinkering with thousands of pages of new laws and regulations will do nothing to solve the problem.
It is self-evident that our freedoms have been severely limited and the apparent prosperity we still have, is nothing more than leftover wealth from a previous time.  This fictitious wealth based on debt and benefits from a false trust in our currency and credit, will play havoc with our society when the bills come due.  This means that the full consequence of our lost liberties is yet to be felt.
But that illusion is now ending.  Reversing a downward spiral depends on accepting a new approach.
Expect the rapidly expanding homeschooling movement to play a significant role in the revolutionary reforms needed to build a free society with Constitutional protections. We cannot expect a Federal government controlled school system to provide the intellectual ammunition to combat the dangerous growth of government that threatens our liberties.
The internet will provide the alternative to the government/media complex that controls the news and most political propaganda. This is why it's essential that the internet remains free of government regulation.
Many of our religious institutions and secular organizations support greater dependency on the state by supporting war, welfare and corporatism and ignore the need for a virtuous people.
I never believed that the world or our country could be made more free by politicians, if the people had no desire for freedom.
Under the current circumstances the most we can hope to achieve in the political process is to use it as a podium to reach the people to alert them of the nature of the crisis and the importance of their need to assume responsibility for themselves, if it is liberty that they truly seek.  Without this, a constitutionally protected free society is impossible.
If this is true, our individual goal in life ought to be for us to seek virtue and excellence and recognize that self-esteem and happiness only comes from using one's natural ability, in the most productive manner possible, according to one's own talents.
Productivity and creativity are the true source of personal satisfaction. Freedom, and not dependency, provides the environment needed to achieve these goals. Government cannot do this for us; it only gets in the way. When the government gets involved, the goal becomes a bailout or a subsidy and these cannot provide a sense of  personal achievement.
Achieving legislative power and political influence should not be our goal. Most of the change, if it is to come, will not come from the politicians, but rather from individuals, family, friends, intellectual leaders and our religious institutions.  The solution can only come from rejecting the use of coercion, compulsion, government commands, and aggressive force, to mold social and economic behavior.  Without accepting these restraints, inevitably the consensus will be to allow the government to mandate economic equality and obedience to the politicians who gain power and promote an environment that smothers the freedoms of everyone. It is then that the responsible individuals who seek excellence and self-esteem by being self-reliance and productive, become the true victims.

Conclusion                                                                                                                                                    
What are the greatest dangers that the American people face today and impede the goal of a free society? There are five.
1. The continuous attack on our civil liberties which threatens the rule of law and our ability to resist the onrush of tyranny.               
2. Violent anti-Americanism that has engulfed the world. Because the phenomenon of "blow-back" is not understood or denied, our foreign policy is destined to keep us involved in many wars that we have no business being in. National bankruptcy and a greater threat to our national security will result.                                                         
3. The ease in which we go to war, without a declaration by Congress, but accepting international authority from the UN or NATO even for preemptive wars, otherwise known as aggression.                                        
4. A financial political crisis as a consequence of excessive debt, unfunded liabilities, spending, bailouts, and gross discrepancy in wealth distribution going from the middle class to the rich. The danger of central economic planning, by the Federal Reserve must be understood.   

5. World government taking over  local and US sovereignty by getting involved in the issues of war, welfare, trade, banking,  a world currency, taxes, property ownership, and private ownership of guns.

Happily, there is an answer for these very dangerous trends.                                                     
What a wonderful world it would be if everyone accepted the simple moral premise of rejecting all acts of aggression.  The retort to such a suggestion is always:  it's too simplistic, too idealistic, impractical, naïve, utopian, dangerous, and unrealistic to strive for such an ideal.
The answer to that is that for thousands of years the acceptance of government force, to rule over the people, at the sacrifice of liberty, was considered moral and the only available option for achieving peace and prosperity.
What could be more utopian than that myth—considering the results especially looking at the state sponsored killing, by nearly every government during the 20th Century, estimated to be in the hundreds of millions.  It's time to reconsider this grant of authority to the state.
No good has ever come from granting monopoly power to the state to use aggression against the people to arbitrarily mold human behavior.  Such power, when left unchecked, becomes the seed of an ugly tyranny.  This method of governance has been adequately tested, and the results are in: reality dictates we try liberty.
The idealism of non-aggression and rejecting all offensive use of force should be tried.  The idealism of government sanctioned violence has been abused throughout history and is the primary source of poverty and war.  The theory of a society being based on individual freedom has been around for a long time.  It's time to take a bold step and actually permit it by advancing this cause, rather than taking a step backwards as some would like us to do.
Today the principle of habeas corpus, established when King John signed the Magna Carta in 1215, is under attack. There's every reason to believe that a renewed effort with the use of the internet that we can instead advance the cause of liberty by spreading an uncensored message that will serve to rein in government authority and challenge the obsession with war and welfare.
What I'm talking about is a system of government guided by the moral principles of peace and tolerance.
The Founders were convinced that a free society could not exist without a moral people.  Just writing rules won't work if the people choose to ignore them.  Today the rule of law written in the Constitution has little meaning for most Americans, especially those who work in Washington DC.
Benjamin Franklin claimed "only a virtuous people are capable of freedom."  John Adams concurred:  "Our Constitution was made for a moral and religious people.  It is wholly inadequate to the government of any other."
A moral people must reject all violence in an effort to mold people's beliefs or habits.
A society that boos or ridicules the Golden Rule is not a moral society.  All great religions endorse the Golden Rule.  The same moral standards that individuals are required to follow should apply to all government officials.  They cannot be exempt.
The ultimate solution is not in the hands of the government.
The solution falls on each and every individual, with guidance from family, friends and community.
The #1 responsibility for each of us is to change ourselves with hope that others will follow.  This is of greater importance than working on changing the government; that is secondary to promoting a virtuous society.  If we can achieve this, then the government will change.
It doesn't mean that political action or holding office has no value. At times it does nudge policy in the right direction. But what is true is that when seeking office is done for personal aggrandizement, money or power, it becomes useless if not harmful. When political action is taken for the right reasons it's easy to understand why compromise should be avoided. It also becomes clear why progress is best achieved by working with coalitions, which bring people together, without anyone sacrificing his principles.
Political action, to be truly beneficial, must be directed toward changing the hearts and minds of the people, recognizing that it's the virtue and morality of the people that allow liberty to flourish.
The Constitution or more laws per se, have no value if the people's attitudes aren't changed.
To achieve liberty and peace, two powerful human emotions have to be overcome.  Number one is "envy" which leads to hate and class warfare.  Number two is "intolerance" which leads to bigoted and judgmental policies.  These emotions must be replaced with a much better understanding of love, compassion, tolerance and free market economics. Freedom, when understood, brings people together. When tried, freedom is popular.
The problem we have faced over the years has been that economic interventionists are swayed by envy, whereas social interventionists are swayed by intolerance of habits and lifestyles. The misunderstanding that tolerance is an endorsement of certain activities, motivates many to legislate moral standards which should only be set by individuals making their own choices. Both sides use force to deal with these misplaced emotions. Both are authoritarians. Neither endorses voluntarism.  Both views ought to be rejected.
I have come to one firm conviction after these many years of trying to figure out "the plain truth of things."  The best chance for achieving peace and prosperity, for the maximum number of people world-wide, is to pursue the cause of LIBERTY.
If you find this to be a worthwhile message, spread it throughout the land. 
__________________________________________________________________________________________________________________________________________________________

Breaking The Silence video
http://topdocumentaryfilms.com/breaking-the-silence/
This video brings out the truths about the US and British Governments, many injustices and wickedness on a massive scale.
The epitome of corruption!

__________________________________________________________________________________________________________________________________________________________

THE NEW RULERS OF THE WORLD
YOU GOT TO SEE THIS VIDEO, INDONESIAN WORKERS WORKING 36 HOURS IN A SWEAT SHOP TO MAKE GAP AND OLD NAVY CLOTHES AND MORE...        

Mass murders by big business from America...  involved are the IMF and World Bank ...  The epitome of corruption!                                                                                                
http://topdocumentaryfilms.com/the-new-rulers-of-the-world/
December 19th, 2012 - 53 rev.