~~~~~~~~~~~~~~~~~~~~~~~~~~~~~~~~~~~~~~~~~~~~~~~~~~~~~~~~~~~~~
~~~~~~~~~~~~~~~~~~~~~~~~~~~~~~~~~~~~~~~~~~~~~~~~~~~~~~~~~~~~~~~~~~~~~~~~~~~~
Trump may invoke the Fourteenth Amendment to strip Electoral College votes from states engaged in an illegal INSURRECTION against our republic.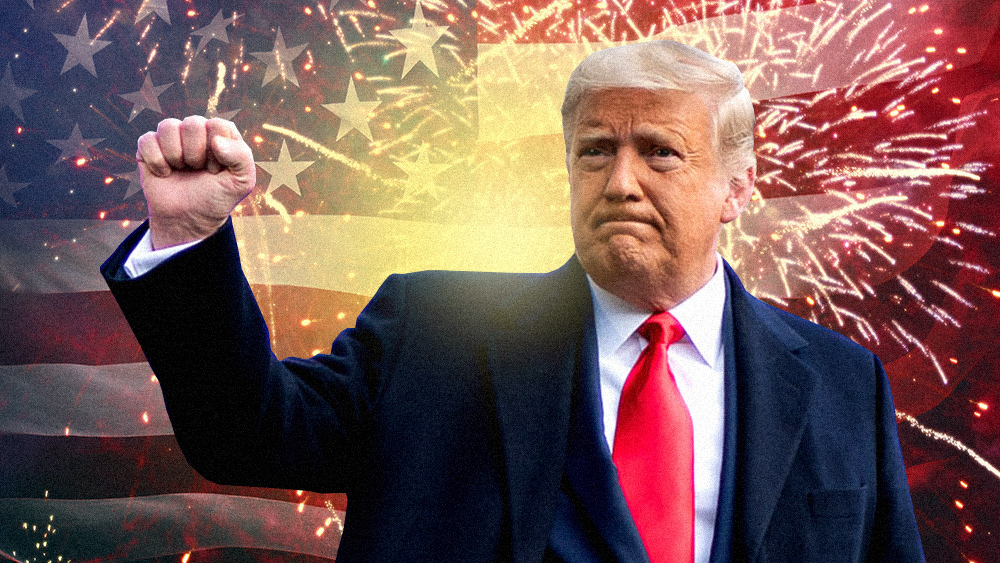 Two months ago, I detailed Trump's powers under the Fourteenth Amendment, which grants the President the power to declare an illegal insurrection against the United States of America and strip Electoral College votes from states which are engaged in a coordinated insurrection. The blatant, brazen vote stuffing fraud now taking place in Wisconsin, Michigan, Pennsylvania and other states reveals a pattern of criminal insurrection taking place via organized vote fraud. This is a form of criminal insurrection against the United States of America. As I wrote in September: The Fourteenth Amendment — see the full text here — speaks directly to the powers of the federal government in dealing with officials, individuals and states that are engaged in "rebellion" against the United States of America.

Specifically, the Fourteenth Amendment grants the U.S. President the power to: Arrest and indefinitely hold all public officials — including mayors, governors, state legislators, federal judges and law enforcement officials — who support "rebellion" against the United States or who have "given aid or comfort" to the enemies of America. (Section 3)
Eliminate House of Representatives positions for California and other states which are engaged in supporting Big Tech censorship platforms that are supporting rebellion against the United States of America and "abridging" the right of voting-aged citizens to participate in elections (via censorship). This implies that Electoral College votes would also be proportionally reduced in these states. (Section 2) It would also apply to states like Oregon which are reportedly funding "war encampment" installations that house insurrectionists who are unleashed each night to attack federal buildings and federal law enforcement officers.
Eliminate all federal financial support for cities and states which are engaged in "insurrection or rebellion" against the United States. Section 3 specifically states that all such claims of federal money obligations to the states "shall be held illegal and void." (Section 4) In essence, the Fourteenth Amendment grants American citizens "equal protection" under law, but for public officials or states which are engaged in "insurrection or rebellion" against the United States, those equal protections are revoked. The Democrats already know all this, which is why they are pursuing a plan of election chaos, hoping to throw the entire election process into mass confusion, from which they plan to attempt an illegal coup to eliminate Trump from office and claim political power over the nation.

If California is protecting Big Tech's politically targeted censorship of Americans, then California's Electoral College votes can be revoked What the Fourteenth Amendment clearly says is that when states are engaged in open rebellion against the Constitution and the United States of America, they can be declared to be "insurrectionist" states and blocked from having their Electoral College votes count. The president's power to declare this insurrection and remove states from the Electoral College system is directly described in the Fourteenth Amendment, Section 2: [W]hen the right to vote at any election for the choice of electors for President and Vice-President of the United States, Representatives in Congress, the Executive and Judicial officers of a State, or the members of the Legislature thereof, is denied to any of the male inhabitants of such State, being twenty-one years of age, and citizens of the United States, or in any way abridged, except for participation in rebellion, or other crime, the basis of representation therein shall be reduced in the proportion which the number of such male citizens shall bear to the whole number of male citizens twenty-one years of age in such State.

In other words, by committing ballot fraud and supporting nationwide censorship via Big Tech, states like California, Wisconsin, Michigan, New York, Illinois and others have "abridged" the right of people to vote. Voting in a fair and free election requires access to fair and free information, and that's exactly what Big Tech censorship has denied the American people. Furthermore, Section 3 of the Fourteenth Amendment allows the president to remove from public office any public official or member of Congress who has violated their sworn oath to protect and defend the U.S. Constitution. As stated in Sec. 3: No Person shall be a Senator or Representative in Congress, or elector of President and Vice-President, or hold any office, civil or military, under the United States, or under any State, who, having previously taken an oath, as a member of Congress, or as an officer of the United States, or as a member of any State legislature, or as an executive or judicial officer of any State, to support the Constitution of the United States, shall have engaged in insurrection or rebellion against the same, or given aid or comfort to the enemies thereof.

It's time for President Trump to declare an insurrection / rebellion to be under way in the United States, call for the arrest of Big Tech CEOs like Jack Dorsey, and remove from public office all traitors in the House and Senate (as well as mayors and governors) who are enemies of the United States Constitution. These powers are clearly described in the Fourteenth Amendment, and it seems history has brought us to this moment where President Donald J. Trump must invoke it to save the Republic. We cannot sit back and allow blatant, illegal, coordinated vote fraud to steal this nation. Joe Biden publicly bragged about having, "the most extensive voter fraud organization" in the history of American politics. That is an admission of felony crimes against the United States of America.
~~~~~~~~~~~~~~~~~~~~~~~~~~~~~~~~~~~~~~~~~~~~~~~~~~~~~~~~~~~~~~~~~~~~~~~~~~~~
With election rigging via mail-in ballots, the real purpose of the COVID bio-weapon now becomes clear
Sunday, November 08, 2020 by: Mike Adams 
(Natural News) It's now abundantly clear that the real purpose of the engineered COVID-19 bio-weapon was to allow Democrats to steal the election via mail-in ballot fraud.

By deploying the coronavirus weapon in China and allowing it to spread globally (thanks to the WHO and left-wing media calling Trump a "racist" for trying to close flights from China), the globalists were able to engineer long-duration lockdowns across America in defiance of medical or scientific justification.

The real purpose of these lockdowns was three-fold:
Crush the domestic economy and blame Trump for poor economic performance.
Cancel in-person voting and justify mail-in ballots, allowing massive election fraud by Democrats.
Keep children home from school, allowing them to vote by using the mail-in ballots that were sent to them by the Dems. (Yes, children were filling out ballots and voting for Biden.)

The fake news media's role in all this was to counter the truth at every level with lies and propaganda:
To falsely claim the Wuhan coronavirus was "natural" and came from bats rather than being engineered as a weapon.
To push for lockdowns all the way through the election by dishonestly reporting positive coronavirus tests as "cases" in order to claim the pandemic was still a huge threat. (Have you noticed how quickly the pandemic disappeared once the media proclaimed Joe Biden the winner?)
Run fake polls in favor of Joe Biden to support the election rigging that they knew was about to take place. The fake polls were necessary to align with the rigged results which required Dems to manufacture hundreds of thousands of Joe Biden votes in key swing states.
Call for Big Tech to censor all pro-Trump channels, voices and news organizations in order to control the narrative and silence any criticism of the Biden crime family.

Big Tech's role in all this, of course, was to carry out the censorship and do the bidding of communist China, making sure Biden — whose entire family is on China's payroll — "wins" the election no matter what. Even now, anyone who posts truthful, factual information about voting irregularities is silenced by Twitter and Facebook.
So far 450,000 fraudulent ballots have been identified in swing states, with more to come

Attorney Sidney Powell has just made a huge declaration about the rigged votes, appearing with Maria Bartiromo on Sunday Morning Futures and saying:

There has been a massive and coordinated effort to steal this election from We The People of the United States of America to de-legitimize and destroy votes for Donald Trump. To manufacture votes for Joe Biden. They've done it in every way imaginable, from having dead people vote in record numbers, to absolutely fraudulently creating ballots that exist only for voting for Biden. We've identified over 450,000 ballots that miraculously only have a vote for Joe Biden on them and no other candidate. If you look at Florida where things were done right you can see that that is how the rest of the country should have gone. But they also used an algorithm to calculate the number of votes they would need to flip. And they used computers to flip those votes from Trump to Biden and from other Republican candidates to their competitors also.

In other words, there were 450,000 ballots were the only vote was for Joe Biden and no one else down ballot.

Yesterday, Bill Gates congratulated Joe Biden for his "win," since Bill Gates can't wait for a President Biden to declare mandatory vaccines, mandatory masks and mandatory lockdowns.

The COVID plandemic played a key role in all this, even in suppressing Trump rallies and stripping away personal freedoms from the American people.

No wonder Barack Obama directed Dr. Fauci to funnel NIH money into the Wuhan Virology Institute to help build this bioweapon. It was created from the very beginning to be a weapon deployed against America (and the American people) in order to allow the treasonous, criminal Democrats to steal the 2020 election.

Now the question becomes: Will the American people allow this treason to succeed?

Hell no, we say. Fight for Trump like your life depended on it… because it does. If Biden becomes President, America falls to the globalists and the communists, and even those Americans who supported Biden will soon find their own heads on the chopping block.

Listen to my new podcast: President Trump, keep fighting… we are with you!
~~~~~~~~~~~~~~~~~~~~~~~~~~~~~~~~~~~~~~~~~~~~~~~~~~~~~~~~~~~~~~~~~~~~~~~~~~~~~~~

(Natural News) As a guest on InfoWars' War Room with Owen Shroyer today, intelligence expert Steve Pieczenik declared that the 2020 election was set up by Trump's people as a "sophisticated sting operation" to trap the Democrats and the Biden crime family in irrefutable criminal fraud. The original video is found at this Banned.video link. It has also been re-posted to Brighteon.com (see below).
Pieczenik is not working for the federal government, he explains, and what he describes leaves many questions and raises some doubts, such as the question of how such a large operation could have been kept secret from the Democrats all this time. Nevertheless, if this is true, it means that Owen Shroyer, InfoWars and Steve Pieczenik just broke what is arguably the biggest news story in at least a century, dwarfing the significance of anything from the Washington Post and the Nixon administration.
Disclaimer: We have not yet been able to independent verify the claims you see below. We are merely reporting on what Dr. Pieczenik is saying, as these claims are newsworthy and incredibly important. We are in the process of investigating further.
UPDATE: InfoWars host David Knight is now calling Steve Pieczenik a "CIA shill" and claims Pieczenik comes onto shows in order to "trap" hosts like Owen Shroyer in disinformation honey pots. In essence, Knight says Pieczenik is a liar who is fabricating this whole thing. See the video here, from the official David Knight Show channel on Brighteon.com:
Associated video: (Biden confessing to Vote rigging)  https://www.brighteon.com/b9594116-7d7f-45f6-852c-b63b780c3738

Associated video: (David Knight Show) https://www.brighteon.com/b0e8e64c-f7c6-40e2-b4f7-12fb4f0fd9ac

Associated video: (Sting Operation video) https://www.brighteon.com/0fda65dc-cdd0-4a22-94c6-8cd95885f7ed
Associated video: (Shocking Information Shown) https://www.brighteon.com/0e9959b8-cb6b-4639-9c47-a6bf9559a467

Original story continues:
Among the seemingly incredible claims made by Pieczenik include the following:
The ballots used in the election were printed by the Department of Homeland Security.
Every legitimate ballot across America was watermarked with QFS blockchain encryption codes.
Trump was fully aware of the sting operation and is still allowing the Dems to dig themselves deeper into their election fraud.
The sophisticated sting operation was intended to catch and expose the massive vote fraud of the Democrats.
Everything you're seeing right now with the ballot fraud was completely expected by Trump's people.
"Thousands and thousands of National Guard [troops]" have been sent to 12 states right now, to assist in securing the legitimate ballots and throwing out the fake ballots printed up by Democrats as part of their fraud operation.
This sting will expose the entire Biden family and get them all convicted and sent to prison.
"We watermarked all the ballots with QFS blockchain," and sent 20,000 or more National Guard troops to the ballot centers.
The few members of the media who were allowed to be read in on this operation were able to keep it secret all this time, and Pieczenik thanks them for doing so.
"This has been a set up by Trump for a long, long time," he says. "This is our counter-coup against the Bidens."
Arrests are coming right away. "As of tomorrow," he says, and it will continue for a long time to come.
"This is the biggest sting operation" in the history of America.
See the interview on Brighteon.com here: Brighteon.com/0fda65dc-cdd0-4a22-94c6-8cd95885f7ed
Do not forget that Joe Biden recently admitted, on camera, that the Democrats have, "the most extensive voter fraud organization" in the history of American politics. You can see him admitting this here:
Right there, Joe Biden openly admitted to the nationwide vote fraud, just as he also openly admitted to withholding a billion dollars from Ukraine in order to get prosecutors fired who were looking into the Burisma scandals that involved kickbacks to his son, Hunter.
Shockingly, Joe Biden thinks Democrats are so untouchable that he can publicly admit to almost any crime imaginable, including nationwide vote fraud.
In further researching this story, we came across another piece of this rumor which needs to be considered. It isn't yet authenticated, and it might be nothing but rumor or speculation, but various online sources are claiming to have behind-the-scenes access to press releases that aren't yet available to the public. According to one rumor, shown below, DHS has secretly announced an "election audit sting" that claims "80% of the ballots have failed ballot integrity checks."
As you read this, please note that we could not authenticate this document or its source, and we currently only place it in the "rumor" category. It might be disinformation thrown around the 'net to cloud the election outcome and give patriots false hope:
Supporting the possibility of all this is a November, 2019 story from TheHill.com entitled, "DHS cyber agency invests in election auditing tool to secure 2020 elections." This story, which was read by almost no one until now, explains:
The Department of Homeland Security's (DHS) cybersecurity agency announced Thursday it would partner with election officials and private sector groups to develop an election auditing tool that can be used to help ensure the accuracy of votes in 2020.
That sounds strikingly similar to what Steve Pieczenik is describing in his video interview with Owen Shroyer.
In related news, Trump addressed the nation earlier today and detailed some of the massive voting fraud that has so far been witnessed across the country:
The bottom line: If Pieczenik is correct, we are about to see the Dems completely destroyed and thrown in prison for a long, long time. Let's hope he's correct, because if this doesn't pan out, a whole lot of patriots are going to be extremely angry at being misled about this "sting operation."

~~~~~~~~~~~~~~~~~~~~~~~~~~~~~~~~~~~~~~~~~~~~~~~~~~~~~~~~~~~~~~~~~~~~~~~~~~~~~~~~~~~~~~~
DHS cyber agency invests in election auditing tool to secure 2020 elections
By Maggie Miller -

11/21/19 05:23 PM EST
The Department of Homeland Security's (DHS) cybersecurity agency announced Thursday it would partner with election officials and private sector groups to develop an election auditing tool that can be used to help ensure the accuracy of votes in 2020.
DHS's Cybersecurity and Infrastructure Security Agency (CISA) is partnering with non-profit group VotingWorks on an open-source software tool known as Arlo, which is provided to state and local election officials for free.
According to CISA, Arlo conducts an audit of votes by selecting how many ballots and which ballots to audit and comparing the audited votes to the original count.
The tool has already been used to conduct post-election audits across the country, including during the recent 2019 elections. Election officials in Pennsylvania, Michigan, Virginia, Ohio and Georgia have signed on to partner with CISA on Arlo, with more officials expected to join.
"Heading into 2020, we're exploring all possible ways that we can support state and local election officials while also ensuring that Americans across the country can confidently cast their votes," CISA Director Christopher Krebs said in a statement.
Krebs added that "At a time when we know foreign actors are attempting to interfere and cast doubt on our democratic processes, it's incredibly important elections are secure, resilient, and transparent."
Use of post-election audits have been widely recommended by experts as a major step to secure elections, particularly in the wake of attempted Russian interference in 2016.
The use of audits was a step recommended by the Senate Intelligence Committee to secure elections in volume one of its bipartisan report on Russian interference efforts in 2016. 
"Statistically sound audits may be the simplest and most direct way to ensure confidence in the integrity of the vote," the committee wrote. "States should begin to implement audits of election results."
https://thehill.com/policy/cybersecurity/471577-dhs-cyber-agency-invests-in-election-auditing-tool-to-secure-2020
~~~~~~~~~~~~~~~~~~~~~~~~~~~~~~~~~~~~~~~~~~~~~~~~~~~~~~~~~~~~~~~~~~~~~~~~~~~~~~~~~~~~
RED ALERT: Dems collude with CIA to launch intelligence operation that ALTERS voting machine results in Pennsylvania and other swing states
By healthranger // 2020-11-01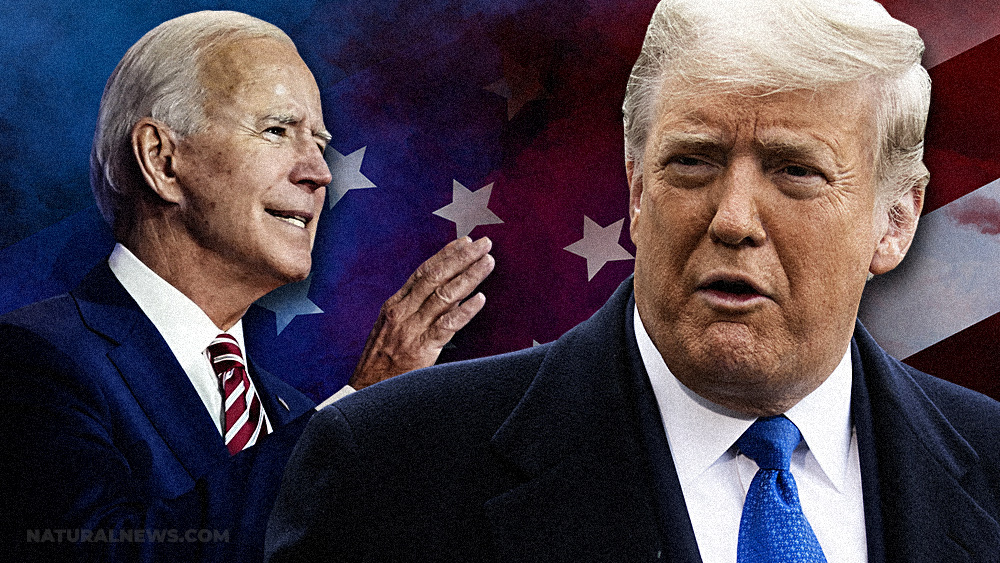 Dave Janda of Operation Freedom (www.DaveJanda.com) has unleashed a bombshell story with huge implications for Tuesday's elections. Janda's guest in his latest broadcast is a former high-level intelligence official (Lt. Gen. Tom McInerney) who warns that the Dems and the CIA have put in place a mechanism which can alter the voting results of electronic voting machines in key swing states (like Pennsylvania) that will determine the outcome of the election.

This covert technology is called Operation Scorecard, and it was built by the CIA to surreptitiously steal elections in targeted countries. Now, that technology is being turned against the United States of America and is about to be activated on Tuesday to steal the election for Biden, explains Janda's guest. OmegaManRadio, a pro-liberty, pro-Christian podcast channel, has reposted portions of the Dave Janda interview at this link on Soundcloud.com. Start listening around the 20 minute mark to hear the bombshell segments.

As McInerney explains in the video, after the closing of polls in Pennsylvania and other swing states, the voting machines will be intercepted and then altered using complex algorithms to alter the votes in a way that evades detection, handing a victory to the pre-designated "winner" (Joe Biden). In the interview, he explains that a covert app called "Scorecard" steals votes by making sure Democrats always stay about 3% ahead of their Republican rivals. "Scorecard steals the elections by tampering with the computers at the transfer points," he adds. This also explains why Joe Biden recently said, with great clarity, "We have put together I think the most extensive and inclusive voter fraud organization in the history of American politics."

Here's the video of Biden bragging about the massive voter fraud system that's being used to try to to steal the election for him: This might also help explain why Joe Biden told voters at a recent (small) rally that he didn't "need their vote" to become President, and why Nancy Pelosi says Biden will win no matter what the votes say on Nov. 3rd. The deep state has a plan in place to steal this election by altering votes in key swing states. And if Trump challenges the fraud, he will be condemned for "refusing to accept the outcome" of the rigged election.

This is the narrative trap that has been set by the treasonous mainstream media. Keep in mind that just over the last two days, Trump campaign officials were asking for detailed information about how voting machines are handled in Pennsylvania. According to the anti-Trump Washington Post (a deep state propaganda mouthpiece): ...the Trump campaign asked officials in Cumberland County for the names of people who transport ballots and voting machines once polls close, the names of people who have access to the ballots afterward, and the precise locations where the ballots are stored, including room numbers.

It seems that Trump's people are already aware that Dems are working to fraudulently steal this election by altering votes in Pennsylvania, and they're trying to stop it. Be aware that unless Trump receives an overwhelming wave of votes on Tuesday -- beyond the margin of Democrat fraud -- the Dems have a mechanism in place to steal the election, condemn Trump for challenging the vote theft, and seizing control of the White House from this day forward. Spread this story far and wide. Everything is now at stake.
~~~~~~~~~~~~~~~~~~~~~~~~~~~~~~~~~~~~~~~~~~~~~~~~~~~~~~~~~~~~~~~~~~~~~~~~~~~~~~~~~~~~~

Confessions of a voter fraud: I was a master at fixing mail-in ballot
August 29, 2020 | 5:24pm | Updated
A top Democratic operative says voter fraud, especially with mail-in ballots, is no myth. And he knows this because he's been doing it, on a grand scale, for decades.
Mail-in ballots have become the latest flashpoint in the 2020 elections. While President Trump and the GOP warn of widespread manipulation of the absentee vote that will swell with COVID polling restrictions, many Democrats and their media allies have dismissed such concerns as unfounded.
But the political insider, who spoke on condition of anonymity because he fears prosecution, said fraud is more the rule than the exception. His dirty work has taken him through the weeds of municipal and federal elections in Paterson, Atlantic City, Camden, Newark, Hoboken and Hudson County and his fingerprints can be found in local legislative, mayoral and congressional races across the Garden State. Some of the biggest names and highest office holders in New Jersey have benefited from his tricks, according to campaign records The Post reviewed.
"An election that is swayed by 500 votes, 1,000 votes — it can make a difference," the tipster said. "It could be enough to flip states."
The whisteblower — whose identity, rap sheet and long history working as a consultant to various campaigns were confirmed by The Post — says he not only changed ballots himself over the years, but led teams of fraudsters and mentored at least 20 operatives in New Jersey, New York and Pennsylvania — a critical 2020 swing state.
"There is no race in New Jersey — from city council to United States Senate — that we haven't worked on," the tipster said. "I worked on a fire commissioner's race in Burlington County. The smaller the race, the easier it is to do."
A Bernie Sanders die-hard with no horse in the presidential race, he said he felt compelled to come forward in the hope that states would act now to fix the glaring security problems present in mail-in ballots.
"This is a real thing," he said. "And there is going to be a f–king war coming November 3rd over this stuff … If they knew how the sausage was made, they could fix it."
Mail-in voting can be complicated — tough enough that 84,000 New Yorkers had their mailed votes thrown out in the June 23 Democratic presidential primary for incorrectly filling them out.
But for political pros, they're a piece of cake. In New Jersey, for example, it begins with a blank mail-in ballot delivered to a registered voter in a large envelope. Inside the packet is a return envelope, a "certificate of mail in voter" which the voter must sign, and the ballot itself.
That's when the election-rigger springs into action.
Phony ballots 
The ballot has no specific security features — like a stamp or a watermark — so the insider said he would just make his own ballots.
"I just put [the ballot] through the copy machine and it comes out the same way," the insider said.
But the return envelopes are "more secure than the ballot. You could never recreate the envelope," he said. So they had to be collected from real voters.
Bloomberg via Getty Images
He would have his operatives fan out, going house to house, convincing voters to let them mail completed ballots on their behalf as a public service. The fraudster and his minions would then take the sealed envelopes home and hold them over boiling water.
"You have to steam it to loosen the glue," said the insider.
He then would remove the real ballot, place the counterfeit ballot inside the signed certificate, and reseal the envelope.
"Five minutes per ballot tops," said the insider.
The insider said he took care not to stuff the fake ballots into just a few public mailboxes, but sprinkle them around town. That way he avoided the attention that foiled a sloppy voter-fraud operation in a Paterson, NJ, city council race this year, where 900 ballots were found in just three mailboxes.
"If they had spread them in all different mailboxes, nothing would have happened," the insider said.
Inside jobs
The tipster said sometimes postal employees are in on the scam.
"You have a postman who is a rabid anti-Trump guy and he's working in Bedminster or some Republican stronghold … He can take those [filled-out] ballots, and knowing 95% are going to a Republican, he can just throw those in the garbage."
In some cases, mail carriers were members of his "work crew," and would sift ballots from the mail and hand them over to the operative.
In 2017, more than 500 mail-in ballots in New York City never arrived to the Board of Elections for races that November — leaving hundreds disenfranchised. They eventually were discovered in April 2018. "For some undetermined reason, some baskets of mail that were bound to the New York City Board of Elections were put off to the side at the Brooklyn processing facility," city elections boss Michael Ryan said at the time of discovery.
Nursing homes 
Hitting up assisted-living facilities and "helping" the elderly fill out their absentee ballots was a gold mine of votes, the insider said.
"There are nursing homes where the nurse is actually a paid operative. And they go room by room by room to these old people who still want to feel like they're relevant," said the whistleblower. "[They] literally fill it out for them."
The insider pointed to former Jersey City Mayor Gerald McCann, who was sued in 2007 after a razor-thin victory for a local school board seat for allegedly tricking "incompetent … and ill" residents of nursing homes into casting ballots for him. McCann denied it, though he did admit to assisting some nursing home residents with absentee ballot applications.
Voter impersonation 
When all else failed, the insider would send operatives to vote live in polling stations, particularly in states like New Jersey and New York that do not require voter ID. Pennsylvania, also for the most part, does not.
The best targets were registered voters who routinely skip presidential or municipal elections — information which is publicly available.
"You fill out these index cards with that person's name and district and you go around the city and say, 'You're going to be him, you're going to be him,'" the insider said of how he dispatched his teams of dirty-tricksters.
At the polling place, the fake voter would sign in, "get on line and … vote," the insider said. The impostors would simply recreate the signature that already appears in the voter roll as best they could. In the rare instance that a real voter had already signed in and cast a ballot, the impersonator would just chalk it up to an innocent mistake and bolt.
Bribing voters 
The tipster said New Jersey homeless shelters offered a nearly inexhaustible pool of reliable — buyable — voters.
"They get to register where they live in and they go to the polls and vote," he said, laughing at the roughly $174 per vote Mike Bloomberg spent to win his third mayoral term. He said he could have delivered the same result at a 70 percent discount — like when Frank "Pupie" Raia, a real estate developer and Hoboken nabob, was convicted last year on federal charges for paying low-income residents 50 bucks a pop to vote how he wanted during a 2013 municipal election.
Organizationally, the tipster said, his voter-fraud schemes in the Garden State and elsewhere resembled Mafia organizations, with a boss (usually the campaign manager) handing off the day-to-day managing of the mob soldiers to the underboss (him). The actual candidate was usually kept in the dark deliberately so they could maintain "plausible deniability."
With mail-in ballots, partisans from both parties hash out and count ballots at the local board of elections — debating which ballots make the cut and which need to be thrown out because of irregularities.
The insider said any ballots offered up by him or his operation would come with a bent corner along the voter certificate — which contains the voter signature — so Democratic Board of Election counters would know the fix was in and not to object.
"It doesn't stay bent, but you can tell it's been bent," the tipster said. "Until the [certificate] is approved, the ballot doesn't matter. They don't get to see the ballot unless they approve the [certificate.]"
"I invented bending corners," the insider boasted, saying once the fixed ballots were mixed in with the normal ones, the bed was made. "Once a ballot is opened, it's an anonymous ballot."  
While federal law warns of prison sentences of up to five years, busted voter frauds have seen far less punishment. While in 2018 a Texas woman was sentenced to five years, an Arizona man busted for voting twice in the mail was given just three years' probation. A study by the conservative Heritage Foundation found more than 1,000 instances of documented voter fraud in the United States, almost all of which occurred over the last 20 years.
"There is nothing new about these techniques," said Hans von Spakovsky, a senior legal fellow at Heritage who manages their election law reform initiative. "Everything he's talking about is perfectly possible."
The city Board of Elections declined to answer Post questions on ballot security.
https://nypost.com/2020/08/29/political-insider-explains-voter-fraud-with-mail-in-ballots/?fbclid=IwAR0JaFJDQVsbkiy3U-Lznw5yX5U5AfJ8vpOQje3Zsw-gla4KHh9svf80Jvo
~~~~~~~~~~~~~~~~~~~~~~~~~~~~~~~~~~~~~~~~~~~~~~~~~~~~~~~~~~~~~~~~~~~~~
(UPDATE: Mistake Points to Data Error) Very Odd: Michigan Found Over 100,000 Ballots and Every Single One Has Joe Biden's Name on It
By
Brandon Morse
| Nov 04, 2020 10:30 AM ET
UPDATE: According to Drew McCoy, a spokesperson for Decision Desk HQ, this number was an error made on their part and not intentional voter fraud.
"It was a simple error from a file created by the state that we ingested," McCoy said.

"The state noticed the error and produced an updated count," McCoy explained. "Once they did, we updated the count accordingly. This happens on election night, and we expect other vote tabulators in (Michigan) experienced this error and corrected in real-time like we did."


Decision Desk HQ has reported that the errors have been corrected.

Michigan was set to be a state that went to Trump but miraculously, a bunch of early votes was found and every one of them was a ballot with Joe Biden's name on it.

When I say "every one of them" I mean every single one. Not one of these ballots had a Trump vote on them.

Welcome to the People's Democratic Republic of Michiganzuela where, mysteriously, every single mail-in vote of the 100,000+ that was counted all went to Joe Biden! pic.twitter.com/cJbuD8mUN2

— Brandon Morse (@TheBrandonMorse) November 4, 2020

This kind of thing is far from normal and is worth investigating. Twitter users also found this to be so unlikely as to be completely unbelievable.

So while everyone was asleep and after everyone went home, Democrats in Michigan magically found a trove of 138,339 votes, and all 138,339 of those "votes" magically went to Biden?