THIS IS A MUST WATCH PRIMER TO THIS PAGE!
Click on the links, not the pictures!

~~~~~~~~~~~~~~~~~~~~~~~~~
This is the most up to date video the globalists

"DON'T WANT YOU TO SEE"

so make sure you watch it and send it far and wide!
~~~~~~~~~~~~~~~~~~~~~~~~~~~~~~~
Big Pharma, Genocide, Religion & Spiritual Practice, War

7 Patented Poisons in CV19 Injections – Karen Kingston
https://forbiddenknowledgetv.net/7-patented-poisons-in-cv19-injections-karen-kingston/

~~~~~~~~~~~~~~~~~~~~~~~~~~~~~~~~~~

click on the link, not the picture!
https://rumble.com/vvh8tb-the-great-reset-maajid-nawaz-blows-joe-rogans-mind-explaining-klaus-schwabs.html?mref=6zof&mc=dgip3&utm_source=newsletter&utm_medium=email&utm_campaign=Thrivetime+Show%3A+Business+School+without+the+BS&ep=2

~~~~~~~~~~~~~~~~~~~~~~~~~~~~~~~~~~~~~~

https://rumble.com/vdxnux-msom-featuring-dr.-mikovits-northrup-madej-nass-fauci-the-fraud-beware-the-.html?mref=6zof&mrefc=2

Rumble — 2/17/2021 | 7:00 PM | MSOM | Featuring Dr. Mikovits, Northrup, Madej, Nass "Fauci the fraud beware the vaccine"
~~~~~~~~~~~~~~~~~~~~~~~~~~~~~~~~~~~~~~~~~~~~~~~~~~~~~~~~
~~~~~~~~~~~~~~~~~~~~~~~~~~~~~~~~~~~~~~
THIS IS A MUST WATCH!

~~~~~~~~~~~~~~~~~~~~~~~~~~~~~~~~~~~~~~~~

~~~~~~~~~~~~~~~~~~~~~~~~~~~~~~~~~~~~
Ok friends, I had to look for this because I had posted it in social media, but at the time didn't think to post it here! Here is a video of the proof that the mRNA vaccines totally corrupt the blood cells in our bodies!
Just below is a full size picture of healthy whole blood cells on the left, and mutilated vaccinated blood cells on the right!

C
lick on the link below to watch the video!
~~~~~~~~~~~~~~~~~~~~~~~~~~~~~~~~~~~~~~

Dr Andrew Wakefield: This Is Not A Vaccine

It Is An Irreversible Genetic Modification - PLEASE SHARE
https://www.bitchute.com/video/eastUGIO7EgY/

~~~~~~~~~~~~~~~~~~~~~~~~~~~~~~~~~~~~~~~~


Data and news as of August 18th 2021
Explosive Vaxx Data LEAKED | Urgent WARNING Issued by Dr. Jane Ruby
Thrivetime Show: Business School without the BS
Published

August 17, 2021
Due to the nature of Google platform, you'll have to click on the link to the video and watch it right in the Rumble platform!

~~~~~~~~~~~~~~~~~~~~~~~~~~~~~~~~~~~~
We've Never Seen Vaccine Injuries on This Scale — Why Are Regulatory Agencies Hiding COVID Vaccine Safety Signals?
In under a year, more than 500,000 post-COVID vaccine injuries have been reported to VAERS — nearly a third of all reports accumulated over the system's entire three-decade lifespan — yet regulatory agencies remain silent.
A few months before the first COVID-19 vaccines received Emergency Use Authorization (EUA) in late 2020, a global vaccine safety expert cautioned the rushed circumstances made it essential to "get [safety monitoring] right" by "intensively" and "robustly" scrutinizing adverse events following the experimental rollout.
As this expert stated, "Deploying any new vaccine based on data from expedited clinical trials into a population without a functioning safety monitoring system in place is reckless and irresponsible given the tools that are available."
Moreover, she added, any investments needed to beef up safety monitoring would be "inexpensive in comparison" to the massive funding allocated to COVID-19 vaccine development and scale-up.
In theory, the U.S. has had a national vaccine safety monitoring system in place since 1990 — the Vaccine Adverse Event Reporting System (VAERS) — intended to function as an "early warning system."
VAERS and its U.S. Food and Drug Administration (FDA) counterpart FAERS (FDA Adverse Event Reporting System) constitute the principal data sources that regulators rely on when pulling drugs or vaccines from the market for safety reasons.
Not only has VAERS never lived up to its promise, but there can be little doubt its glaring failures are largely, and malignantly, by design.
For example, when a government-commissioned study highlighted VAERS inadequacies in 2010 — estimating more than 99% of vaccine adverse reactions were going unreported and that one of every 39 doses of vaccine administered was linked to adverse events corroborated in vaccine package inserts — the Centers for Disease Control and Prevention (CDC) simply shut the project down.
Now, in less than a year, more than half a million reports of injuries have flooded into VAERS following experimental COVID jabs, including thousands of deaths. Yet a deafening regulatory silence has greeted this record-setting volume of adverse reactions, which accounts for nearly a third of all reports accumulated by VAERS over its entire three-decade lifespan.
How is the absence of "early warning system" alarm bells possible? In a recent commentary, "Defining Away Vaccine Safety Signals," an experienced statistician suggested not only have safety experts' admonitions to get COVID vaccine safety monitoring "right" not been heeded, but CDC and other public health agencies have taken steps to intentionally hide safety signals.
It's all in the algorithm
Statistician Mathew Crawford's various articles have a humble aim: to "lay out the tools for how to think about difficult problems" that he suspects "many people are highly confused about."
In the matter of COVID vaccine safety signals, Crawford performs a valuable service by competently scrutinizing the VAERS "Standard Operating Procedures for COVID-19," which, he notes, CDC published "without much fanfare" on Jan. 29.
Specifically, Crawford dissects a key data-mining tool outlined by CDC in the Jan. 29 document. The tool, called a "proportional reporting ratio" (PRR), assesses one vaccine against another — comparing "the proportion of a specific AE [adverse event] following a specific vaccine versus the proportion of the same AE following receipt of another vaccine."
So far, so good — except rather than doing the job it is professed to do, the PRR instead appears to be shockingly impervious to safety signals.
Even for those with no statistical background, Crawford's bottom-line conclusion could not be plainer:
"[O]ne vaccine that kills and cripples 20 or 50 or 1,000 times as much as a very safe vaccine will show the same PRR … and no safety signal will be identified by the CDC. By design … [E]ven if I take a cell … and plug in some enormous number like 1500, there is still no safety signal as per CDC definitions." [Emphasis in original]
As Crawford points out, these undeniable mathematical patterns cannot help but raise suspicions that the PRR function is designed to "establish an illusion of safety" and provide "a reason to ignore the true signs of danger."
Initially, Crawford was willing to entertain the possibility that incompetence, rather than malevolence, might explain his findings — but he quickly rejected this explanation, in large part because the mathematical defect is so brazenly obvious that even a "middling programmer without the fundamental mathematical training" would notice it.
In Crawford's words, "There is a pride among geeks in identifying subtle mathematical or logical flaws in a system, and this is not subtle at all."
According to Crawford, this leads to some stark implications:
"At some point, when the potential for conflicts of interest are high and the point of failure is fundamental to the task of those doing the job, incompetence should no longer be differentiated from criminal intent."
The imploding safety narrative
Statistical tricks (and conflicts of interest) are not new to the vaccine or pharmaceutical industries, which have used them for decades to successfully mask the "chasm between vaccine rhetoric and reality."
Even when drug warning systems seem to "work," the lag time between reports of harm and regulatory action is, on average, 20 years.
In that light — with FDA speeding toward full approval of the Pfizer injection, Moderna gaining fast-track designation to test other experimental mRNA vaccines in children and adults and CDC benignly maintaining that the results of COVID vaccine safety monitoring are "reassuring" — it is not hard to be discouraged about the agencies' continued ability to get away with misusing and abusing safety data from VAERS and other sources.
However, the safety narrative started imploding in a big way in late 2019, when the world's top vaccine experts gathered at the World Health Organization and admitted, almost to a person, that vaccines are sometimes fatal and that safety monitoring is failing to capture the dangers.
COVID may have provided these worried experts with a temporary and convenient reprieve, but more and more people recognize that the premise that vaccine adverse events are "one in a million" is an utter fiction.
With injuries from COVID vaccines occurring on an unprecedented scale — and credible doctors and scientists issuing urgent warnings about short-term and longer-term damage — it may become increasingly difficult for the vaccine establishment to shove its problems under the statistical carpet.
In 1976, public health authorities were forced to halt their rollout of a rapidly mobilized swine flu vaccine, after a spate of negative publicity and some 4,000 serious adverse events — including Guillain-Barré syndrome and death — became impossible to ignore. This "medical debacle," now widely acknowledged as such, became the focus of a 1979 episode of 60 Minutes.
With more than half a million COVID vaccine injuries now reported to VAERS alone, and many more reported around the world, current events dwarf the 1976 "debacle."
Unfortunately, with 60 Minutes and its media ilk having abdicated their investigatory role, it is now more difficult to generate the kind of widespread attention to harm that typically mobilizes the public.
Last September, the global vaccine expert quoted above, Helen Petousis-Harris, Ph.D., wrote that failure to assess COVID vaccines for safety "to our full ability" would be fundamentally "wrong."
Without corporate media support, many individuals and organizations are therefore holding unethical government officials' and profiteering corporate executives' feet to the fire.
They recognize, as the nonprofit Stand for Health Freedom recently noted, that the matter of data is not inconsequential: "The COVID pandemic is built on data," and data are driving policies that are "changing the structure of our society."
https://childrenshealthdefense.org/defender/vaccine-injuries-regulatory-agencies-hiding-covid-safety-data/?utm_source=salsa&eType=EmailBlastContent&eId=736ed55c-1837-43b8-95c6-9ed1d9d01cc8

~~~~~~~~~~~~~~~~~~~~~~~~~~~~~~~~~~

Pfizer documents reveal variety of vaccine side effects
12 Dec, 2021 21:17

/ Updated 2 days ago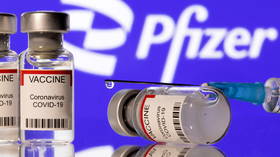 Documents released by the Food and Drug Administration (FDA) reveal that drugmaker Pfizer recorded nearly 160,000 adverse reactions to its Covid-19 vaccine in the initial months of its rollout.
The documents were obtained by a group of doctors, professors, and journalists calling themselves Public Health and Medical Professionals for Transparency, who filed a Freedom of Information Act (FOIA) request with the FDA for their release.
The first tranche of documents reveal that, as of February 2021, when Pfizer's shot was being rolled out worldwide on an emergency basis, the drugmaker had compiled more than 42,000 case reports detailing nearly 160,000 adverse reactions to the jab.
These reactions ranged from the mild to the severe, and 1,223 were fatal. The majority of these case reports involved people aged between 31 and 50 in the United States.
More than 25,000 nervous system disorders were reported, along with 17,000 musculoskeletal and connective tissue disorders and 14,000 gastrointestinal disorders. A range of different autoimmune conditions were reported, along with some peculiar maladies, including 270 "spontaneous abortions," and incidences of herpes, epilepsy, heart failure and strokes, among thousands of others.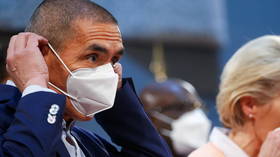 READ MORE: BioNTech CEO replies to claims he refused vaccination
These side effects were previously known, and have all been logged on the Centers for Disease Control and Prevention's Vaccine Adverse Event Reporting System (VAERS) database, which as of Sunday has tracked 3,300 deaths following vaccination with Pfizer's vaccine, a figure broadly in keeping with the company's own data.
Critics say that some of these deaths cannot be conclusively linked to vaccination, while others argue that the true number of deaths and adverse effects is underreported.
Critically, Pfizer's documents were used by the FDA to declare the company's jab safe, which it did for Americans aged 16 and older in August. It has since been approved for children as young as five, and booster doses for people aged 16 and up were approved last week.
The FDA says it may take until 2096 to release all 451,000 pages it used to approve Pfizer's vaccine.
In the face of the more transmissible and apparently more vaccine-resistant Omicron strain of the coronavirus, the US government has continued to tout vaccination as key to defeating Covid-19. So too has Pfizer CEO Albert Bourla, who said on Wednesday that a fourth shot of his company's vaccine may be needed to keep immunity levels up.
With one South African study showing Pfizer's vaccine up to 40 times less effective against Omicron than previous variants, the company says it could have an Omicron-specific vaccine on the market by March 2022.
https://www.rt.com/usa/543001-pfizer-vaccine-side-effects/
~~~~~~~~~~~~~~~~~~~~~~~~~~~~~~~~~~~~~~~~~~~~~~~~~~~~~~~~~
SEE ALSO MY PAGE ON BIG PHARMA HERE:
~~~~~~~~~~~~~~~~~~~~~~~~~~~~~~~~~~~~~~~~~~~~~~~~~~~~~
Here is the genocidal (bioweapon/vaccine) makers mandate to legally kill and mame people without accountability!
42 U.S. Code § 300aa–22 - Standards of responsibility
(b)
Unavoidable adverse side effects; warnings
(1)
No vaccine manufacturer shall be liable in a civil action for damages arising from a vaccine-related injury or death associated with the administration of a vaccine after

October 1, 1988

, if the injury or death resulted from side effects that were unavoidable even though the vaccine was properly prepared and was accompanied by proper directions and warnings.
(2)
For purposes of paragraph (1), a vaccine shall be presumed to be accompanied by proper directions and warnings if the vaccine manufacturer shows that it complied in all material respects with all requirements under the Federal Food, Drug, and Cosmetic Act [21 U.S.C. 301 et seq.] and section 262 of this title (including regulations issued under such provisions) applicable to the vaccine and related to vaccine-related injury or death for which the civil action was brought unless the plaintiff shows—
(B)
by clear and convincing evidence that the manufacturer failed to exercise due care notwithstanding its compliance with such Act and section (and regulations issued under such provisions).
(c)
Direct warnings
No vaccine manufacturer shall be liable in a civil action for damages arising from a vaccine-related injury or death associated with the administration of a vaccine after October 1, 1988, solely due to the manufacturer's failure to provide direct warnings to the injured party (or the injured party's legal representative) of the potential dangers resulting from the administration of the vaccine manufactured by the manufacturer.
(d)
Construction
The standards of responsibility prescribed by this section are not to be construed as authorizing a person who brought a civil action for damages against a vaccine manufacturer for a vaccine-related injury or death in which damages were denied or which was dismissed with prejudice to bring a new civil action against such manufacturer for such injury or death.
(e)
Preemption
No State may establish or enforce a law which prohibits an individual from bringing a civil action against a vaccine manufacturer for damages for a vaccine-related injury or death if such civil action is not barred by this part.
(July 1, 1944, ch. 373, title XXI, § 2122, as added Pub. L. 99–660, title III, § 311(a),

Nov. 14, 1986

, 100 Stat. 3773; amended Pub. L. 100–203, title IV, § 4302(b)(1),

Dec. 22, 1987

, 101 Stat. 1330–221.)
H.R.5546 - National Childhood Vaccine Injury Act of 1986
99th Congress (1985-1986)
PREP Act Immunity from Liability for COVID-19 Vaccinators
Just a snippet of the wording:

In order to expand the workforce available and authorized to administer COVID-19 vaccines, the Public Readiness and Emergency Preparedness Act (PREP Act) provides immunity to qualified individuals.​
Countermeasures Injury Compensation Program (CICP)
What is: Countermeasures Injury Compensation Program
Sep 18, 2014                  
The Countermeasures Injury Compensation Program (CICP) was created so that in the unlikely event you experience a serious injury from a covered countermeasure, you may be considered for benefits.
What is a countermeasure?
A countermeasure is a vaccination, medication, device, or other item recommended to diagnose, prevent or treat a declared pandemic, epidemic or security threat. On the rare chance you suffered a serious injury, or the death of a loved one, from the administration or use of a covered countermeasure, you may qualify for benefits.
Federal declarations issued by the Secretary of the U.S. Department of Health and Human Services specify the countermeasures covered by the Program. Please review the "Covered Countermeasures" section of a declaration to determine the types of medical countermeasures that are covered by the CICP. Declarations have been issued for medical countermeasures against the following.
COVID-19
Marburg
Ebola
Nerve Agents and Certain Insecticides (Organophophorus and/or Carbamate)
Zika
Pandemic Influenza
Anthrax
Acute Radiation Syndrome
Botulinum Toxin
Smallpox
What are the differences between the Countermeasures Injury Compensation Program (CICP) and the National Vaccine Injury Compensation Program (VICP)?
The differences are included in the comparison of the CICP to the VICP.
Does the CICP cover the seasonal flu vaccines?
The CICP does not cover seasonal influenza vaccines.
If you received the seasonal influenza vaccine or other vaccines such as tetanus or the human papillomavirus vaccine and think that you had an adverse reaction from one or a combination of these covered vaccines, contact the National Vaccine Injury Compensation Program (VICP).
Frequently Asked Questions: CICP
Will the CICP provide compensation to individuals injured by COVID-19 vaccines?
View the response on the FAQ page.
For other Frequently Asked Questions, please see:
Additional Links
Coronavirus (COVID-19)
U.S. Government information about Coronavirus (COVID-19)
Pandemic Influenza
U.S. Government avian and pandemic flu information
National Vaccine Injury Compensation Program
Provides compensation to individuals found to be injured by or have died from certain vaccines
Defense Health Agency Immunization Healthcare Branch (DHA-IHB)
Vaccine information and resources for the U.S. Department of Defense
Contact Us - CICP
Health Resources and Services Administration, Countermeasures Injury Compensation Program, 5600 Fishers Lane, 08N146B, Rockville, MD 20857
cicp@hrsa.gov
1-855-266-2427 (1-855-266-CICP)
For your security, please do not send any personal information (Social Security Number, medical, legal, or financial documents, etc.) by email to the Program.
Please call the above number and you will receive information on sending emails safely and securely.
~~~~~~~~~~~~~~~~~~~~~~~~~~~~~~~~~~~~~~~

~~~~~~~~~~~~~~~~~~~~~~~~~~~~~~~~~~~~~~~~~~~~~~~~~~~~~~~~~~
At Least 9,245 Americans Tested Positive for COVID-19 After Vaccination; 132 Dead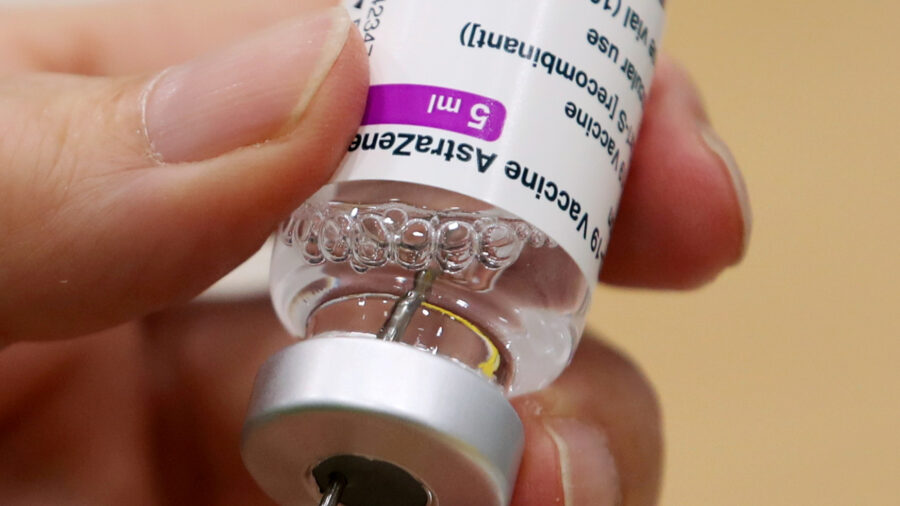 A medical worker prepares a dose of Oxford/AstraZeneca's COVID-19 vaccine at a vaccination center in Antwerp, Belgium, on March 18, 2021. (Yves Herman/Reuters)
The number of documented so-called breakthrough COVID-19 cases has climbed above 9,000, according to the Centers for Disease Control and Prevention.
As of April 16, 9,245 people tested positive for COVID-19 at least two weeks after getting their final COVID-19 vaccine, the health agency reported.
About 9 percent, or 835, required hospitalization, and 132 died.
Of the hospitalized patients, 241 were said to be asymptomatic or having an illness not related to COVID-19, and 20 of the deaths were reported as asymptomatic or not related to the disease, which is caused by the CCP (Chinese Communist Party) virus.
The numbers are from 46 U.S. states and territories. It's not clear which four states are not submitting the breakthrough case figures to the agency, which is known as the CDC.
The numbers are an undercount because the CDC's surveillance system is passive and relies on voluntary reporting from state health departments. Additionally, not all breakthrough cases will be identified because of a lack of testing.
"These surveillance data are a snapshot and help identify patterns and look for signals among vaccine breakthrough cases. As CDC and state health departments shift to focus only on investigating vaccine breakthrough cases that result in hospitalization or death, those data will be regularly updated and posted every Friday," the agency said in a statement.
A breakthrough case means a person gets COVID-19 despite being vaccinated and having two or more weeks elapse since their final dose. Two of the three vaccines authorized for use in the United States require two doses.
The CDC says vaccines are still effective, noting that the breakthrough cases represent a small number of those who have been vaccinated.
Clinical trials reviewed by drug regulators showed Pfizer's vaccine to be 95 percent effective in preventing infection by the CCP virus, Moderna's to be 94 percent effective, and Johnson & Johnson's to be 66.9 percent effective.
The Johnson & Johnson shot was tested after variants began circulating, unlike the others.
As of April 30, over 100 million Americans have been fully vaccinated against the CCP virus. Fully vaccinated means getting two doses of the Pfizer or Moderna jab or the single-shot Johnson & Johnson vaccine.
Also on Friday, the number of adverse events reported to the passive Vaccine Adverse Event Reporting System (VAERS) was updated, reaching over 133,000.
The system, which federal authorities encourage people to submit reports to, now has reports of 3,607 post-vaccination deaths.
There were also 2,527 recorded life-threatening cases, over 1,600 cases of permanent disability, and nearly 8,500 cases where patients required hospitalization.
The CDC says on its website that "VAERS has not detected patterns in cause of death that would indicate a safety problem with COVID-19 vaccines."
Agency physicians, along with regulators from the Food and Drug Administration, review each case report of death.
"A review of available clinical information including death certificates, autopsy, and medical records revealed no evidence that vaccination contributed to patient deaths," the CDC said in an April 27 statement.
From The Epoch Times

https://www.ntd.com/at-least-9245-americans-tested-positive-for-covid-19-after-vaccination-132-dead_606410.html?utm_source=newsletter&utm_medium=email&utm_campaign=2021-04-30
~~~~~~~~~~~~~~~~~~~~~~~~~~~~~~~~~~~~~~~~~~~~~~~~~~~~~~
Significant Jump This Week in Reported Injuries, Deaths After COVID Vaccine
VAERS data released today showed 118,902 reports of adverse events following COVID vaccines, including 3,544 deaths and 12,619 serious injuries between Dec. 14, 2020 and April 23, 2021.
The Defender is experiencing censorship on many social channels. Be sure to stay in touch with the news that matters by subscribing to our top news of the day. It's free.
Data released today by the Centers for Disease Control and Prevention (CDC) on the number of injuries and deaths reported to the Vaccine Adverse Event Reporting System (VAERS) following COVID vaccines showed a significant jump in reports of injuries and deaths compared with last week's numbers.
VAERS is the primary government-funded system for reporting adverse vaccine reactions in the U.S. Reports submitted to VAERS require further investigation before a causal relationship can be confirmed.
Every Friday, VAERS makes public all vaccine injury reports received as of a specified date, usually about a week prior to the release date. Today's data show that between Dec. 14, 2020 and April 23, a total of 118,902 total adverse events were reported to VAERS, including 3,544 deaths — an increase of 358 over the previous week — and 12,619 serious injuries, up 2,467 since last week.
In the U.S., 222.3 million COVID vaccine doses had been administered as of April 23. This includes 97 million doses of Moderna's vaccine, 117 million doses of Pfizer and 8 million doses of the Johnson &Johnson (J&J) COVID vaccine.
Of the 3,544 deaths reported as of April 23, 25% occurred within 48 hours of vaccination, 17% occurred within 24 hours and 40% occurred in people who became ill within 48 hours of being vaccinated.
This week's data included three reports of deaths among teens under age 18, including two 15-year-olds and one 16-year-old who died unexpectedly from a blood clot 11 days after receiving her first Pfizer dose.
A 15-year-old female died of cardiac arrest after receiving the second dose of the Moderna vaccine, and a 15-year-old male died of cardiac failure two days after receiving the Pfizer vaccine.
This week's VAERS data show:
CDC ignores The Defender, no response after 53 days
According to the CDC website, "the CDC follows up on any report of death to request additional information and learn more about what occurred and to determine whether the death was a result of the vaccine or unrelated."
The Defender reached out to the CDC on March 8 with a written list of questions about reported deaths and injuries related to COVID vaccines, the status of ongoing investigations reported in the media, if autopsies are being done, the standard for determining whether an injury is causally connected to a vaccine, and education initiatives to encourage and facilitate proper and accurate reporting.
We made numerous attempts to contact the CDC via phone and email. As of April 30, 53 days after our initial inquiry, we still have yet to receive answers to our questions.
First 'acknowledged' case of J&J blood clots in a male
On April 27, The Defender reported a 30-year-old California man was hospitalized with blood clots after receiving J&J's COVID vaccine. It is the first time U.S. public health officials have specifically acknowledged "vaccine-induced thrombotic thrombocytopenia syndrome" in a male who received J&J's shot.
The news came days after an independent advisory panel for the CDC on April 23 voted 10 to 4 to recommend the continued use of the J&J vaccine with no restrictions after acknowledging a "possible link" between the vaccine and rare blood clotting disorders, mostly in young people. The panel concluded the benefits of the vaccine outweigh the risks.
Children's Health Defense queried the VAERS data for a series of adverse events associated with the formation of clotting disorders and other related conditions. VAERS yielded a total of 1,845 reports for all three vaccines from Dec. 14, 2020, through April 23.
Of the 1,845 cases reported, there were 655 reports attributed to Pfizer, 577 reports to Moderna and 608 reports to J&J — an increase of 448 J&J-related cases in just one week. U.S. health officials only acknowledged 15 blood clot cases associated with the J&J vaccine at the April 23 meeting.
Children as young as 6 months in COVID vaccine trials
On April 27, ABC News reported children as young as 6 months old are now in COVID vaccine trials. Dr. Zinaida Good, research fellow and immunologist at the Stanford Medicine Cancer Center, enrolled both her sons in Stanford Hospital's Pfizer trial. Good said she and her husband are confident in the safety of the vaccine.
"It would be wonderful if we knew how to communicate better the benefits of the vaccine and its safety. The data is very clear," Good said. "Those who get vaccines like this, mRNA vaccines, at least they are protected and they don't really have any real side effects, not any real long-term consequences."
Dr. Angelica Lacour's 3-year-old daughter, Eloise, is also participating in the trial for young children. Lacour said she was told about potential side effects. "They said that it's incredibly rare, but anyone can have an anaphylactic reaction to it. But it's so rare they couldn't even give us an example," Lacour said. "So [side effects were] not something I was very concerned about."
It is unknown whether Pfizer informed parents of potential side effects beyond just "anaphylaxis." According to VAERS data, 45,508 of the 118,902 total reported adverse events were attributed to Pfizer's vaccine. Of those 45,508 adverse events, 13,116 were related to anaphylactic reactions.
Possible link between Pfizer vaccine and heart inflammation
The Defender reported April 26 on details leaked from an Israeli Health Ministry report that raised concerns among experts about a possible link between the Pfizer vaccine and myocarditis.
The preliminary report found 62 cases of myocarditis, including two deaths, in people who received the Pfizer vaccine. Fifty-six of the cases occurred after the second dose of the vaccine, and 55 cases occurred in men — most between the ages of 18 and 30.
Israel's pandemic response coordinator, Nachman Ash, confirmed "tens of incidents" of myocarditis occurred in vaccinated people, primarily after the second dose, but emphasized the health ministry had yet to draw any conclusions.
Pfizer said it had not detected similar findings in the rest of the world but would look deeper into the phenomenon. Yet a search for "myocarditis" in VAERS revealed 75 cases of myocarditis, with 73% occurring in people between the ages of 17 and 44. Of the reported cases, 33 were reported after the Pfizer vaccine.
COVID vaccines and menstrual cycle disruption
Researchers this week called for clinical trials to track and document menstrual changes in vaccinated women after some women reported changes to their menstrual cycles after receiving a COVID vaccine, The Defender reported April 28.
Women have reported hemorrhagic bleeding with clots, delayed or absent periods, sudden pre-menopausal symptoms, month-long periods and heavy irregular bleeding after being vaccinated with one or both doses of a COVID vaccine.
There's no data linking COVID vaccines to changes in menstruation because clinical trials omit tracking menstrual cycles. But two Yale University experts wrote in The New York Times last week there could be a connection.
"There are many reasons vaccination could alter menstruation," wrote Alice Lu-Culligan, an M.D./Ph.D. student at Yale School of Medicine, and Dr. Randi Epstein, writer in residence at Yale School of Medicine.
"Periods involve the immune system, as the thickening and thinning of the uterine lining are facilitated by different teams of immune cells and signals moving in and out of the reproductive tract," Lu-Culligan and Epstein explained. "Vaccines are designed to ignite an immune response, and the female cycle is supported by the immune system, so it's possible vaccines could temporarily change the normal course of events."
To find out whether the COVID vaccine truly disrupts menstrual cycles, experts say there needs to be a controlled study with a placebo group. Rather than treat menstrual cycles as unimportant or too complicated, researchers should view tracking periods in future studies as a potential opportunity, Lu-Culligan and Epstein said. Clinical trials should track and document menstrual changes as they do other possible side effects.
Government considering COVID vaccine mandate for U.S. troops
President Joe Biden said today he has not ruled out requiring all U.S. troops to get the COVID vaccine after the shots win final clearance from federal regulators, but cautioned that such a decision would be a "tough call," Politico reported.
https://childrenshealthdefense.org/defender/vaers-significant-jump-reported-injuries-deaths-after-covid-vaccine/?utm_source=salsa&eType=EmailBlastContent&eId=3b9187c1-b00e-48a8-b02f-d75f9d0f636c
~~~~~~~~~~~~~~~~~~~~~~~~~~~~~~~~~~~~~~~~~~~~~~~~~~~~~~~~~~
EU Vaccine Injury Reporting System Shows More Than 330,000 Adverse Events Following COVID Vaccines
Health Impact News compiled the latest data on reports of COVID vaccine injuries and deaths in EU countries following vaccination with all four COVID vaccines approved in the EU for emergency use.
The Defender is experiencing censorship on many social channels. Be sure to stay in touch with the news that matters by subscribing to our top news of the day. It's free.
Every week The Defender publishes the latest data from the Vaccine Adverse Events Reporting System (VAERS) on injuries and deaths reported after people received one of the three COVID vaccines that have received Emergency Use Authorization in the U.S.
VAERS, which operates under the Centers for Disease Control and Prevention, is the primary government-funded system for reporting adverse vaccine reactions in the U.S. In the EU, suspected drug reactions are reported to EudraVigilance, which also tracks reports of injuries and deaths following the experimental COVID vaccines.
Health Impact News compiled the latest EudraVigilance data on reports of COVID vaccine-related injuries and deaths and found — as of April 17 — 7,766 reports of deaths and 330,218 reports of injuries following injections of the four COVID vaccines approved for emergency use in the EU: Moderna, Pfizer, AstraZeneca and Johnson & Johnson, marketed under the Janssen brand.
The Health Impact News report broke down the data by vaccine, type of injury and country.
According to the report, injury and death report totals for each vaccine were:
Pfizer-BioNTech: 4,293 deaths and 144,607 injuries
Moderna: 2,094 deaths and 15,979 injuries
AstraZeneca: 1,360 deaths and 169,386 injuries
Johnson & Johnson (Janssen): 19 deaths and 246 injuries
Cardiac and blood/lymphatic disorders were among the most commonly reported injuries.
According to its website, EudraVigilance was launched by the European Medicines Agency in 2012. Reports of suspected adverse events are submitted electronically to EudraVigilance by national medicines regulatory authorities and by pharmaceutical companies that hold marketing authorizations (licenses) for the medicines.
https://childrenshealthdefense.org/defender/eu-vaccine-injury-reporting-eudravigilance-330000-adverse-events-covid-vaccines/?utm_source=salsa&eType=EmailBlastContent&eId=3b9187c1-b00e-48a8-b02f-d75f9d0f636c
~~~~~~~~~~~~~~~~~~~~~~~~~~~~~~~~~~~~~~~~~~~~~~~~~~~~~~~~~~~
One hundred days of Biden's mask-wearing have come due, and they have failed miserably to alter the natural trajectory of the virus. The time has come for lawsuits against the demonic mandate that 2-year-olds wear masks on planes, forcing the government during legal discovery to produce a morsel of evidence that masks make a difference even with adults.
Given that COVID fascism and mask-wearing are a cult, its practitioners will never admit that the viral spread is 100% natural, seasonal, and geographical and that it will continue until every country reaches immunity. But given the terrible physical and psychological consequences of these policies, it's important for us to remind ourselves that they were all pain and zero gain.
Argentina did everything "right," according to the public health "experts." The country had one of the earliest and most draconian lockdowns, a mask mandate in place since April 14, and even forced cremation of some of those who died from the virus against the will of Jewish residents who asked for a proper burial.
Argentina, like many of the countries around the world that barely experienced any virus deaths during the first few months of the pandemic, thought that its draconian policies enabled the country to dodge the bullet. But when spring turned into summer, the population began experiencing growth in cases that later intensified, as we have seen in many countries that first escaped the virus. Argentina was praised by the liberal media for following the science and imposing a "strict COVID-19 lockdown," which "saved lives."
Given that Argentina had only one major wave, it was due for at least one more robust round, like every other country has had. The "virus is gonna virus" until populations reach herd immunity, like what happened in England and most parts of the U.S. All the places that "defeated" the virus are now having to defeat it again; all the places that did better than those hit first are now doing worse. It's all natural and has nothing to do with human intervention. Some people might have forgotten about the trajectory of cases in Argentina, but the inimitable Ian Miller is here to remind us:
The bottom line is that Argentina is a large country and could not escape the full spread of this virus, just like California, where officials erroneously thought they had defeated it through the voodoo of non-pharmaceutical interventions. Yet, as hospitals began to fill up, the Argentine government doubled down on failure, as President Alberto Fernandez declared that the previous restrictions were "insufficient." He therefore announced limited travel during nighttime hours because, of course, the virus spreads more at night. Now, watch Argentina catch up to the herd immunity level of other countries as this wave spreads undaunted by the power grabs, yet he will credit those measures for the inevitable decline in cases that always follows a sharp increase.

Then, of course, there is India. During December, as most of the world was experiencing its large winter wave of the virus, India barely had any spread after experiencing a large spread over the summer. The WSJ published an article on Dec. 30 titled, "COVID-19 was consuming India, until nearly everyone starting wearing masks." You know, because we've never seen any place in America with everyone wearing masks that suffered from the virus! NPR hailed India's success in enforcing mandates on outdoor joggers by stationing police outside to hand out fines.
Well, like every other place in the world, masks "worked" until it was time for natural seasonal spread in that given area. Yes, India, given its massive share of the world's population, had relatively few cases for the first year of the pandemic. Which is why it had the greatest spread of any country when it was time – because there was so much new ground unprotected by herd immunity for the virus to target.

Now, let's put aside the fact that much of India already had a strict mask mandate early last year and still experienced a first wave. As Ian Miller shows, India suffered a 1,400% increase in cases since the Wall Street Journal quoted Indian health officials as crediting their universal mask mandate for stopping the spread. However, they will never follow up on their drive-by reporting. In each case, the media credits periods of lack of spread to mask-wearing, but then forgets about the masks when the virus spreads with a vengeance. Then, when cases inevitably come down again, it's the masks, or perhaps more recently, the vaccines.
In reality, it's an all-natural phenomenon. In California, where the virus spread prolifically in the late fall/early winter despite the earliest lockdown and mask mandates in America, the virus had already peaked before a single vaccine was administered:
Let's now travel farther east than India, and we will discover the fact that, for whatever natural reason, the virus has barely spread for the first year. Which is why the Far East is the world's new hot spot. There are few people there with immunity.

Japan is part of the Far East surge this spring. The Japanese have been hailed for months for their "mask culture" even predating this virus. You'd be hard-pressed to find people more disciplined about wearing masks than the Japanese. Well, it "worked" until it didn't.
But we need not travel around the world to discover the obvious fact that it is natural phenomena, not human interventions, that are driving the cyclical and geographical spreads. All the experts warned that there would be catastrophe when nearly half the states got rid of their mask mandates, beginning with Texas and Mississippi two months ago, especially with the supposed new mutant variants. Yet at the same time, it was the northeastern states that spread much more severely as cases plummeted in the southern states and other non-masked states.
Gee, why do you think the most recent spread all happened to be clustered in the Mid-Atlantic states? No mask mandates? Well, in these states, people are wearing them even outside. It doesn't take Sherlock Holmes to discover that this is all natural based on timing and geography.

As WalletHub found in a recent analysis ranking the 50 states and D.C. by stringency of restrictions, there is simply zero correlation between stringency and outcomes with the virus. Our government succeeded in locking down everything but the virus.
In reality, lockdowns and masking were just as logical before the vaccine as afterward. Which is why Biden is still pledging to wear his mask outdoors. This was always about the cult of control. Likewise, it was always known that schoolchildren were never major vectors of spread. Now that new emails between the CDC and the teachers' unions have come to light, it is clear that the CDC knew this fact as well but allowed the teachers' unions to rewrite its February guidance to limit its categorical advice of returning to in-person instruction.
Just like with the Jonestown Cult in the 1970s, an entire society has been programmed to commit suicide based on illogical faith in idols and fear of fellow man rather than embrace grounded common sense. Now that Fauci has been exposed as the Jim Jones of our time, how many will continue drinking the Kool-Aid?
~~~~~~~~~~~~~~~~~~~~~~~~~~~~~~~~~~~~~~~~~~~~~~~~~~~~~~~~~~~
Pfizer Reaps Hundreds of Millions in Profits From COVID Vaccine + More
The Defender's COVID NewsWatch provides a roundup of the latest headlines related to the SARS CoV-2 virus, including its origins and COVID vaccines.
By 
~~~~~~~~~~~~~~~~~~~~~~~~~~~~~~~~~~~~~~~~~~~~~~~~~~~~~~~~~~~~~~~~~~~~~~~~~~
Other sources from some of the reputed newspapers in India:
May 16th 2020 Rev - 3