THIS IS A MUST WATCH PRIMER TO THIS PAGE!
https://rumble.com/vdxnux-msom-featuring-dr.-mikovits-northrup-madej-nass-fauci-the-fraud-beware-the-.html?mref=6zof&mrefc=2

Rumble — 2/17/2021 | 7:00 PM | MSOM | Featuring Dr. Mikovits, Northrup, Madej, Nass "Fauci the fraud beware the vaccine"
~~~~~~~~~~~~~~~~~~~~~~~~~~~~~~~~~~~~~~~~~~~~~~~~~~~~~~~~
~~~~~~~~~~~~~~~~~~~~~~~~~~~~~~~~~~~~~~
~~~~~~~~~~~~~~~~~~~~~~~~~~~~~~~~~~~~
Ok friends, I had to look for this because I had posted it in social media, but at the time didn't think to post it here! Here is a video of the proof that the mRNA vaccines totally corrupt the blood cells in our bodies!
Just below is a full size picture of healthy whole blood cells on the left, and mutilated vaccinated blood cells on the right!

C
lick on the link below to watch the video!
~~~~~~~~~~~~~~~~~~~~~~~~~~~~~~~~~~~~~~


Data and news as of August 18th 2021
Explosive Vaxx Data LEAKED | Urgent WARNING Issued by Dr. Jane Ruby
Thrivetime Show: Business School without the BS
Published

August 17, 2021
Due to the nature of Google platform, you'll have to click on the link to the video and watch it right in the Rumble platform!

~~~~~~~~~~~~~~~~~~~~~~~~~~~~~~~~~~~~
The Most Terrifying Warning Yet on COVID Shots
The Most Terrifying Warning Yet on COVID Shots
By
Liberty Sentinel Staff
2 days ago
World-renowned microbiologist Dr. Sucharit Bhakdi warns that COVID "vaccines" will produce global catastrophe and decimate the population.
In this exclusive interview with The New American magazine's Senior Editor Alex Newman, internationally renowned German-Thai-American microbiologist Dr. Sucharit Bhakdi warns that the COVID hysteria is based on lies.
Even more alarming is his assertion that the COVID "vaccines" are set to cause a world-wide cataclysm of unprecedented proportions, including mass death among those who take them.
Starting off, Dr. Bhakdi, the retired chief of the Institute of Medical Microbiology and Hygiene at the University of Mainz, explains that the PCR used to "diagnose" COVID cases has been abused to produce fear in a way that is unscientific.
Next, he explains what the mRNA vaccines are going to do to the human body using analogies and language that anyone can understand.
Among other concerns, he expects massive death due to deadly clotting as well as immune system responses that will destroy the human body.
Finally, Bhakdi, who warned of impending "doom" during a Fox News interview that went viral, calls for criminal prosecutions of the people responsible, as well as an immediate halt to this global experiment.
Watch and share to get this important warning to all Americans before it's too late.
https://rumble.com/vfpgoh-dr.-bhakdi-interview.html?mref=6zof&mrefc=2

~~~~~~~~~~~~~~~~~~~~~~~~~~~~~~~~~~~~~~~~~~~~~~~~~~

World-Renowned Microbiologist Dr. Sucharit Bhakdi Has Urgent Warning of COVID-19 Vaccine Risks
by daniel_g


Thai-German microbiologist Dr. Sucharit Bhakdi continues to expose Big Pharma and the dangers of their poison vaccines they're pushing to the public.

The Pfizer-BioNTech vaccine is already on the market in America and the United Kingdom.

And there's already cause for concern due to side effects expressed in numerous recipients:


2 Alaska Health Workers Got Emergency Treatment After Receiving Pfizer's Vaccine.


— Antiqua N. Smart, DNP, NP-BC, PHNA-BC✝️ ⚕️ (@AskMeDrSmartDNP) December 19, 2020

New: severe allergic reaction to Pfizer vaccine in an Alaskan HCW without a prior history of allergy, received epinephrine X 2, now well. Different cf 3 UK individuals with prior allergic history. We should anticipate rare, unexpected side effects.
Real world ≠ Clinical trials — Eric Topol (@EricTopol) December 16, 2020

Tennessee hospital nurse reportedly faints shortly after receiving the Pfizer-BioNTech's COVID-19 vaccinehttps://t.co/ZtTQM0tW0y — WION (@WIONews) December 18, 2020

America can add the Moderna vaccine to the list. A Bill Gates favorite.

FedEx begins first shipments of Moderna vaccine from Memphis after FDA approval https://t.co/zcSStOx044

— Commercial Appeal (@memphisnews) December 20, 2020

March 2016 – "The Bill & Melinda Gates Foundation has announced an initial $20-million grant to Moderna to advance the development of an affordable mRNA-based cocktail of antibody therapeutics." https://t.co/k6TNQDKkgM

— Tren Griffin (@trengriffin) May 18, 2020

Bhakdi raises serious red flags about the safety of these vaccines. But his warnings are suppressed by the mainstream media. Check out some footage from the famous doctor: Discuss it for God sake before injecting people…

Prominent Virologist Dr. Sucharit Bhakdi Exposes 'Major Risks' of Gene-Altering Vaccine Released in America & UK

The Famous Doctor outlines the 4 terrifying consequences "Before it's too Late" pic.twitter.com/1E7qeESzjH

— Zaid Hamid (@ZaidZamanHamid) December 19, 2020

Breaking news a book called "CORONA FALSE ALARM facts and figures" By Dr. Karina Reiss and Dr. Sucharit Bhakdi (Retired Microbiologist). It says #vaccines is so so unnecessary and it is dangerous if you follow the lines. And you're going to your DOOM. pic.twitter.com/vMdMx8GGU4

Bhakdi also comments that the rushed nature of the COVID vaccine is the biggest medical experiment in human history.

https://t.co/uvseF1dxoj
Award-winning virologist, Dr. Sucharit Bhakdi elucidates why the rushed #Covid19 vaccine trials represent the world's largest medical experiment perpetrated on the globe in human history. #PathogenicPriming#KillerLymphocytes

— Loves Truth & Art #FreeSpeech (@AssocDesign) December 18, 2020

RAIR Foundation listed the four major risks expressed by Bhakdi: 
1.) Elderly Citizens are at Risk!



The first striking observation made by Dr. Bhakdi was that the vaccine, "developed in partnership with US pharma giant Pfizer" was not tested on individuals that are most likely to die of the coronavirus: elderly people with pre-existing conditions. In fact, Dr. Bhakdi specifically points out that the test subjects were "young, healthy people". Still, "half of them had fever, chills, muscle aches, aching limbs, headaches, and they felt sick," said the doctor.

The narrator, Austrian journalist Michael Fleischhacker asked incredulously, "[S]o there weren't enough test subjects with similar conditions to those who are receiving the vaccination now?" "None," Dr. Bhakdi responded. "None of test subjects had pre-existing conditions," he continued.

It does not take a rocket scientist to consider the extreme danger of administering a hastily-created, gene-altering vaccine to a health-compromised population, when there were marked side effects for "young, healthy people". Still, "[P]riority will given to seniors in care homes, Berlin city government announced," reports Deutsche Welle (DW).



2.) The Danger of a Gene-Altering Vaccine (mRNA)



Dr. Sucharit Bhakdi explains that the second "major risk" is the fact that the gene-altering Messenger RNA (mRNA) vaccination "can cause very serious allergic reactions." The mRNA is described at the CDC as "a new type of vaccine to protect against infectious diseases," and Bhakdi has warned that this type of vaccine is "still unknown scientifically and medically."

Back in September, RAIR Foundation quoted the doctor as saying that the coronavirus vaccine in development "isn't a normal conventional vaccine, and it's not like the flu vaccine." He observed the irony that while many people are against "genetically modified food," a vaccination "that genetically manipulates the human body" does not appear to garner concern.

The flu shot is known for putting a "weakened or inactivated germ into our bodies" in order to help build a body's natural immunity to the virus. This is not the case with a mRNA vaccine, which uses existing cells to create a protein "found on the surface of the virus that causes COVID-19" that triggers an immune response, according to the CDC.

The immune response in turn "produces antibodies" that protect against the virus. While there are "no licensed mRNA vaccines in the United States," the CDC assures Americans that "researchers have been studying and working with them for decades…"



3.) Coronavirus Vaccine Can Cause 'an Explosive Immune Overreaction'



The third risk from the coronavirus vaccine, Dr. Bhakdi explains, is that it can "contribute an adverse overreaction to subsequent naturally occurring infections." Bhakdi continues to say that the potential overreaction can also affect "other viruses" as well.

Bhakdi states: "…strangely enough, this vaccine can contribute an adverse overreaction to subsequent
naturally occurring infections. And not just with this virus, also with other viruses, such as a
flu virus. It causes an explosive immune overreaction."

The Virologist stated that tests on animals "showed that there was amplification of the immune system reaction to the disease." He continues: "The animals that were vaccinated nearly died. This is an immense danger."

Dr. Bhakdi explains that "Once a gene-based vaccination is injected in your arm, within minutes the vaccine (mRNA) spreads throughout your body."



4.) Risk of Autoimmune Disease



Dr. Bhakdi's fourth "major risk" is the possiblity of autoimmune disease, which he also explains in detail here. The doctor explains that an "offshoot" of autoimmune disease is "actually embolismic disturbance which can cause death, theoretically, and female infertility."

Without hesitation, Dr. Backdi continues: "These are theoretical things that are already written in black and white."

Earlier this month, RAIR Foundation USA reported that the head of the Robert Koch Institute, Germany's equivalent of America's Centers for Disease Control and Prevention (CDC), appeared to be preparing citizens for inevitable deaths that will take place following the administration of the vaccine. Prof. Lothar H. Wieler assured citizens that "on average 2,500 – 2,700 people die in Germany each day" and therefore, deaths that people may want to attribute to the coronavirus vaccine could be due to "another pre-existing disease" as they will be administered to the "elderly and extremely elderly."

The irony, of course, is that while the German government prepares citizens for inevitable deaths from the coronavirus vaccine, the actual mortality rate of the virus is difficult to find. "You won't be able to find the answer [actual mortality rate], because you'll only get an answer if you search the reports from the RKI [Robert Koch Institute] and calculate the number yourself," Dr. Bhakti previously observed.
~~~~~~~~~~~~~~~~~~~~~~~~~~~~~~~~~~~~~~~~~~~~~~~~~~~~~~~~~~~

Anthony Fauci is always the harbinger of additional suffering to be inflicted by state and local governments. Count on governors parroting the new expectation.
By Georgi Boorman
Dr. Anthony Fauci just spilled the beans: contrary to the implicit promise numerous politicians made that COVID-19 restrictions would only last "until there's an effective vaccine," Fauci says the arrival of a vaccine won't mean life will return to normal, perhaps for more than a year.
"If you're talking about getting back to a degree of normality which resembles where we were prior to COVID, it's going to be well into 2021, maybe even towards the end of 2021," said the director of National Institute of Allergy and Infectious Diseases on Friday.
A safe and effective vaccine produced this quickly would be a stunning scientific accomplishment that could save thousands of lives. But Fauci warned that widespread distribution and getting "the majority, or more, of the population vaccinated and protected" won't happen until perhaps the end 2021, and therefore means we cannot be free from oppressive lockdown measures until at least that point.
Aside from Fauci being a reliable harbinger for politicians moving the COVID-19 goal posts, we have three very good reasons to doubt the understanding promoted by politicians so far about returning to normal when a vaccine is deployed: 1) politicians already moved the goalposts far away from "flatten the curve" and "15 days to slow the spread" and thus can't be trusted 2) they've ignored their promise of reopening if effective treatments were found, and 3) the newly discovered phenomenon of COVID-19 reinfection gives panic-pushers an excuse to keep lockdown measures until some new target of vaccine efficacy or compliance is met.
In short, we have every reason to believe Fauci might even be understating the persistence of lockdown measures and almost no reason to believe previous political promises.
As I've written before, the slide from "flattening the curve" to make sure hospitals weren't overwhelmed to goals as ambitious as "stopping the spread" happened about as fast as the decline in bad news about COVID-19 this spring. With nary an explanation as to why meeting the first goal wasn't good enough to reopen American life as they had promised, politicians and journalists gaslit the public into accepting months of lockdowns.
No one this disingenuous can be trusted, which brings us to point number two: some governors have implied relief from lockdowns upon getting "effective treatment" as recently as this month. According to the Desert Sun, California Gov. Gavin Newsom said in late August that the coronavirus "isn't going away any time soon," and that Californians need to "'live with this fundamental truth until there is a vaccine' or therapeutics help manage the spread of the virus" (emphasis added).
Similarly, the August 20 version of Washington's Safe Start Reopening plan says, "Until there is an effective vaccine, effective treatment or herd immunity, it is crucial to maintain some level of community interventions to suppress the spread of COVID-19" (emphasis added). Oregon Gov. Kate Brown said on September 1 that Oregon can't return to normal "until we reach the day that there is an effective vaccine or treatment for this disease" (emphasis added).
Except we already have cheap, safe, effective therapeutics to help manage the spread of the virus that have been shown to clear the viral load in mild to moderate COVID-19 cases in about a week. Both ivermectin and hydroxychloroquine have been in use for more than half a century and have favorable safety profiles (extremely high dosages notwithstanding).
Numerous studies of hydroxychloroquine, sometimes in combination with azithromycin, show significant reduction in mortality. Ivermectin is newer to the COVID-19 treatment scene, but research so far indicates an impressive level of efficacy in eliminating the virus. If we're "at war" with COVID-19 and if shortening the contagious period is so important, as Newsom claims, then there's no reason not to encourage widespread use of these treatments by doctors.
Yet the West Coast governors haven't even tied a promise of reopening to confirmation of efficacy with these or any other drug currently being evaluated for COVID-19, something it makes perfect sense to do if they were serious about reopening with an effective treatment.
So should residents of these states trust their governors' implicit promise they can return to normal when there's an "effective" vaccine? And just how effective must it be to trigger a return to normal? Government officials have conveniently refused to determine metrics for that, leaving open the opportunity to move the goalposts yet again.
More importantly, now that we know reinfection with other strains of SARS-CoV-2 may be possible (albeit mild in effect, so far as we know), politicians can now say the rules of the game have changed, if and when it suits their agenda. While governors who imposed harsh pandemic restrictions, like Inslee, Cuomo, and Murphy, have been quiet so far on what reinfection means for policy, it will be easy for them to spin mild and asymptomatic reinfection as a cause for alarm, particularly if their case counts begin trending upwards again.
Rather than pushing politicians to lift social distancing and mask restrictions, as Forbes Policy Editor Avik Roy hopes the nature of the reinfections will do (since a COVID-19 vaccine will likely have very limited efficacy, as with the flu), governors and public health officials could argue the asymptomatic and mild cases of reinfection are all the more reason to "lock down again," since we may experience a wave of reinfections before a vaccine has been widely administered.
Given that asymptomatic individuals have been made into the "superspreader" bogeymen of the pandemic, they can be touted as an additional reason to make everyone who appears healthy, including people who've already had the disease, continue distancing and wearing masks in perpetuity.
Furthermore, the U.S. Food and Drug Administration has said it would only greenlight vaccines for deployment that have more than a 50 percent efficacy rate. If none of the vaccine candidates meet that standard, governors could inflict a range of social distancing policies until there is one, perhaps years down the road.
The goalposts are moving yet again. Contrary to Roy's conclusion that ineffective vaccines will rob non-pharmaceutical interventions of their political and public health experience, it's likely vaccination rates will become the new target for governors. Even if the FDA lowers the bar and accepts 30 percent efficacy as good enough for deployment (a rate we sometimes see with the seasonal flu vaccine), governors who think we can't go back to normal until the virus is "stopped" will put even more pressure on getting as much of their state vaccinated as possible.
Even before Fauci's pronouncement that we needed to get at least a majority of Americans vaccinated, signs were emerging that the goalposts would move to vaccination rates. Before the first confirmed reinfection case even came to light, Virginia Health Commissioner Dr. Norman Oliver said he plans to mandate the yet-to-be-released COVID-19 vaccine for all Virginians, with no exceptions except for medical reasons.
Experience thus far tells us we should expect that if significant portions of the public are reticent to take the COVID-19 vaccine, many governors will attempt to institute a universal mandate, and keep lockdown measures until everyone is vaccinated. It isn't hard to envision at least several states enacting travel restrictions and bans on school entry for those who refuse the coronavirus vaccine, even though the disease is almost never deadly to those under the age of 45.
If Joe Biden wins the presidency, we could see a federal attempt to mandate the vaccine. The Democratic nominee has already voiced his support for "nationwide mask mandates" and willingness to "do whatever it takes" and "shut [the country] down" if some experts tell him he should. A vaccine mandate would solidify mass compliance as the condition for returning to normal.
Keeping COVID-19 restrictions "until there's a vaccine" was always an empty promise, meant to keep the public submissive for a few more months. If the deployment of an effective vaccine doesn't end COVID-19 restrictions, you know there is no lie pro-lockdown government officials won't sell us to hold onto their power. Voters would do well to take this into account when casting ballots this November.
https://thefederalist.com/2020/09/14/fauci-spills-the-beans-a-vaccine-wont-end-covid-19-restrictions/ ~~~~~~~~~~~~~~~~~~~~~~~~~~~~~~~~~~~~~~~~~~~~~~~~~~~~~~~~~~~~~~~~~~~~~~

There's an agenda put out by globalist Bill Gates that pushes for mandatory vaccines for the world. The problem is, vaccines are a very risky endeavor for any child anywhere they live. If you don't believe me, just read further!
April 23 at 10:45 AM
Obviously it's not hard to get two bodies dead from asphyxiation loaded onto a canoe and then tip the canoe over in deep water, but the BIG mystery is how both bodies sank to the bottom when dead women float breast up. So obviously Robert is pissed, and he is now letting it all out. See these quotes from Robert with regard to Bill Gates:

This was all said on April 8 2020: Vaccines, for Bill Gates, are a strategic philanthropy that feed his many vaccine-related businesses (including Microsoft's ambition to control a global vac ID enterprise) and give him dictatorial control over global health policy - the spear tip of corporate neo-imperialism. Gates' obsession with vaccines seems fueled by a messianic conviction that he is ordained to save the world with technology and a god-like willingness to experiment with the lives of "lesser humans."

Promising to eradicate Polio with $1.2 billion, Gates took control of India's National Advisory Board (NAB) and mandated 50 polio vaccines (up from 5) to every child before age 5. Indian doctors blame the Gates campaign for a devastating vaccine-strain polio epidemic that paralyzed 496, 000 children between 2000 and 2017.

In 2017, the Indian Government dialed back Gates' vaccine regimen and evicted Gates and his cronies from the NAB. Polio paralysis rates dropped precipitously. In 2017, the World Health Organization reluctantly admitted that the global polio explosion is predominantly vaccine strain, meaning it is coming from Gates' Vaccine Program. The most frightening epidemics in Congo, the Philippines, and Afghanistan are all linked to Gates' vaccines. By 2018, ¾ of global polio cases were from Gates' vaccines.

In 2014, the Gates Foundation funded tests of experimental HPV vaccines, developed by GSK and Merck, on 23, 000 young girls in remote Indian provinces. 
Approximately 1, 200 suffered severe side effects, including autoimmune and fertility disorders. Seven died. Indian government investigations charged that Gates funded researchers committed pervasive ethical violations: pressuring vulnerable village girls into the trial, bullying parents, forging consent forms, and refusing medical care to the injured girls. The case is now in the country's Supreme Court. 
In 2010, the Gates Foundation funded a trial of a GSK's experimental malaria vaccine, killing 151 African infants and causing serious adverse effects including paralysis, seizure, and febrile convulsions to 1, 048 of the 5, 049 children.

During Gates' 2002 MenAfriVac campaign in Sub-Saharan Africa, Gates' operatives forcibly vaccinated thousands of African children against meningitis. Between 50 and 500 children developed paralysis. South African newspapers complained, "We are guinea pigs for the drug makers." Nelson Mandela's former Senior Economist, Professor Patrick Bond, describes Gates' philanthropic practices as "ruthless and immoral."
In 2010, Gates committed $10 billion to the WHO promising to reduce population, in part, through new vaccines. A month later, Gates told a Ted Talk that new vaccines "could reduce population". In 2014, Kenya's Catholic Doctors Association accused the WHO of chemically sterilizing millions of unwilling Kenyan women with a phony "tetanus" vaccine campaign. Independent labs found the sterility formula in every vaccine tested. After denying the charges, WHO finally admitted it had been developing sterility vaccines for over a decade. Similar accusations came from Tanzania, Nicaragua, Mexico, and the Philippines. 

A 2017 study (Morgensen et. Al. 2017) showed that WHO's popular DTP vaccine is killing more African children than the diseases it pretends to prevent. Vaccinated girls suffer 10x the death rate of unvaccinated children. Gates and WHO have refused to recall the lethal vaccine which WHO forces upon millions of African children annually. Global public health advocates around the world accuse Gates of hijacking WHO's agenda away from the projects that are proven to curb infectious diseases; clean water, hygiene, nutrition, and economic development. They say he has diverted agency resources to serve his personal fetish-that good health only comes in a syringe.

In addition to using his philanthropy to control WHO, UNICEF, GAVI and PATH, Gates funds private pharmaceutical companies that manufacture vaccines, and a massive network of pharmaceutical-industry front groups that broadcast deceptive propaganda, develop fraudulent studies, conduct surveillance and psychological operations against vaccine hesitancy and use Gates' power and money to silence dissent and coerce compliance. In his recent nonstop Pharmedia appearances, Gates appears gleeful that the Covid-19 crisis will give him the opportunity to force his third-world vaccine programs on American children.
**************************************************************************************************************************************************
BILL AND MELINDA GATES FOUNDATION KICKED OUT OF INDIA
pranavsinha (34)
in
#life
• 3 years ago
Yes, the Microsoft founder and the icon of the Third-World Humanitarianism has been kicked out of India as his fraud was called out. He came to India posing as a philanthropist and humanitarian helping the Third-World poor people by alleviating their conditions and yes, of course, "VACCINATING" their children.

But, only a couple of years earlier suspicions started to emerge. As, reports of their themselves being heavily invested in the companies which were manufacturing those vaccines started to appear. Native Indian doctors and health activists started raising objections as the illegality of the testing of those vaccines on poor children started to come out into the open. Suspicions arose that he may have committed a crime against humanity by illegally testing vaccines on poor innocent children. Bill and Melinda Gates Foundation had been facing trials in the Supreme Court of India since then and a couple of months earlier they were kicked out of this country. So that, they could no longer kill innocent poor Indian children by illegal vaccine testing.

Back in 2009, the Gates Foundation funded the trial of Gardasil (Merck and co.) on nearly sixteen thousand poor and vulnerable tribal school children of the state of Andhra Pradesh in India. Many among those children fell terribly ill and at least five among them died. At around the same time they conducted the trial of Cervarix (GlaxoSmithKline) on some fourteen thousand tribal children in Vadodara a place in Gujarat, another state of India. Because of this hundreds of those children fell terribly sick and at least two among them died. Upon investigation it was found that in both cases consent forms were forged. As many of those consent forms only had thumb impressions, many among them were singed by the wardens, who were bought, of the hostels those children were staying in. Many illiterate and poor parents were coerced into signing it too. And the children themselves had no clue about the nature of the disease and the vaccines.

Sana Ansari, 19, her brother Mazhar and sister Asiya were all enrolled in the trial of Gardasil 9 drug - but she and her family say she had no idea she was testing the drug.

A petition which condemned these atrocities as " crimes against humanity" has claimed that the Gates Foundation, the WHO and the Programme for Appropriate Technology in Health (PATH), both of which supported these trials, were criminally negligent for testing these deadly vaccines on the most vulnerable, poor, uneducated and massively under-informed people in India. They were not made aware of the potential dangers involved in those trials.


Aman Dhawan, 16, from Indore, lost weight and strength after being enrolled in the Gardasil 9 trial, which he didn't know he had signed up for either.

When all this was coming out into the open an attempt to cover this all up was also made with the help of bought up Indian health officials. But, eventually Gates Foundation was brought under trial in the Supreme Court of India. A couple of months ago it was kicked out this country. People of India will no longer be the victims of these Nazi-like experiments. It is time these big pharmaceutical companies realized that India is no longer going to allow them to treat vulnerable sections of India as guinea pigs because they can't do that in their own countries.


Whistleblower Dr Anand Rai (pictured), 37, lifted the lid on the scandal of illegal drugs trials in the city and now has been given an armed guard to protect him.

And, I am damn sure that the Western mainstream media was not at all talking about it. I am from one those States of India to which the Gates Foundation came. Time and again it has been proved that in India majority of health related issues are because of hygiene related issues like poor sanitation or poor drinking water and things like that. And, not because of the lack of being vaccinated so that big pharmaceutical companies could earn huge profits.


Just because these innocent children are poor and vulnerable it does not mean that they deserve to be treated as guinea pigs for illegal and dangerous drug trials by big pharmaceutical companies.
~~~~~~~~~~~~~~~~~~~~~~~~~~~~~~~~~~~~~~~~~~~~~~~~~~~~~~~~~~
At Least 9,245 Americans Tested Positive for COVID-19 After Vaccination; 132 Dead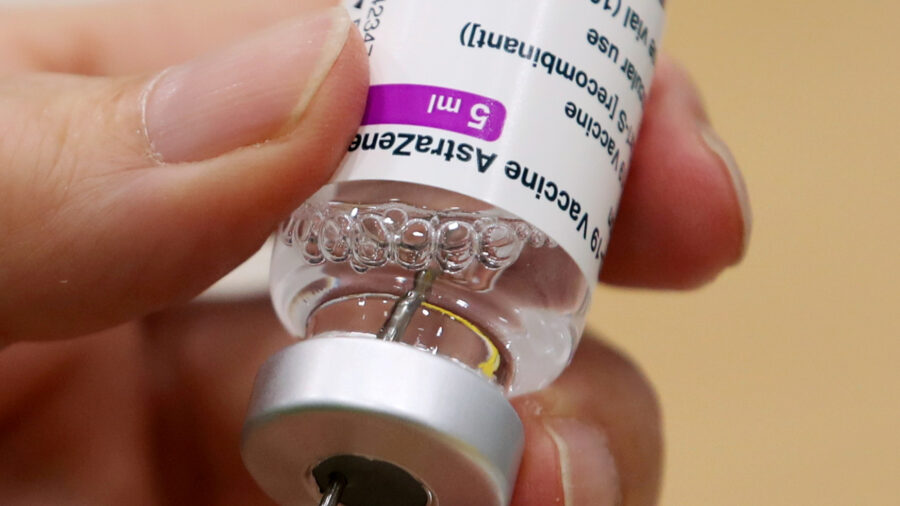 A medical worker prepares a dose of Oxford/AstraZeneca's COVID-19 vaccine at a vaccination center in Antwerp, Belgium, on March 18, 2021. (Yves Herman/Reuters)
The number of documented so-called breakthrough COVID-19 cases has climbed above 9,000, according to the Centers for Disease Control and Prevention.
As of April 16, 9,245 people tested positive for COVID-19 at least two weeks after getting their final COVID-19 vaccine, the health agency reported.
About 9 percent, or 835, required hospitalization, and 132 died.
Of the hospitalized patients, 241 were said to be asymptomatic or having an illness not related to COVID-19, and 20 of the deaths were reported as asymptomatic or not related to the disease, which is caused by the CCP (Chinese Communist Party) virus.
The numbers are from 46 U.S. states and territories. It's not clear which four states are not submitting the breakthrough case figures to the agency, which is known as the CDC.
The numbers are an undercount because the CDC's surveillance system is passive and relies on voluntary reporting from state health departments. Additionally, not all breakthrough cases will be identified because of a lack of testing.
"These surveillance data are a snapshot and help identify patterns and look for signals among vaccine breakthrough cases. As CDC and state health departments shift to focus only on investigating vaccine breakthrough cases that result in hospitalization or death, those data will be regularly updated and posted every Friday," the agency said in a statement.
A breakthrough case means a person gets COVID-19 despite being vaccinated and having two or more weeks elapse since their final dose. Two of the three vaccines authorized for use in the United States require two doses.
The CDC says vaccines are still effective, noting that the breakthrough cases represent a small number of those who have been vaccinated.
Clinical trials reviewed by drug regulators showed Pfizer's vaccine to be 95 percent effective in preventing infection by the CCP virus, Moderna's to be 94 percent effective, and Johnson & Johnson's to be 66.9 percent effective.
The Johnson & Johnson shot was tested after variants began circulating, unlike the others.
As of April 30, over 100 million Americans have been fully vaccinated against the CCP virus. Fully vaccinated means getting two doses of the Pfizer or Moderna jab or the single-shot Johnson & Johnson vaccine.
Also on Friday, the number of adverse events reported to the passive Vaccine Adverse Event Reporting System (VAERS) was updated, reaching over 133,000.
The system, which federal authorities encourage people to submit reports to, now has reports of 3,607 post-vaccination deaths.
There were also 2,527 recorded life-threatening cases, over 1,600 cases of permanent disability, and nearly 8,500 cases where patients required hospitalization.
The CDC says on its website that "VAERS has not detected patterns in cause of death that would indicate a safety problem with COVID-19 vaccines."
Agency physicians, along with regulators from the Food and Drug Administration, review each case report of death.
"A review of available clinical information including death certificates, autopsy, and medical records revealed no evidence that vaccination contributed to patient deaths," the CDC said in an April 27 statement.
From The Epoch Times

https://www.ntd.com/at-least-9245-americans-tested-positive-for-covid-19-after-vaccination-132-dead_606410.html?utm_source=newsletter&utm_medium=email&utm_campaign=2021-04-30
~~~~~~~~~~~~~~~~~~~~~~~~~~~~~~~~~~~~~~~~~~~~~~~~~~~~~~
Significant Jump This Week in Reported Injuries, Deaths After COVID Vaccine
VAERS data released today showed 118,902 reports of adverse events following COVID vaccines, including 3,544 deaths and 12,619 serious injuries between Dec. 14, 2020 and April 23, 2021.
The Defender is experiencing censorship on many social channels. Be sure to stay in touch with the news that matters by subscribing to our top news of the day. It's free.
Data released today by the Centers for Disease Control and Prevention (CDC) on the number of injuries and deaths reported to the Vaccine Adverse Event Reporting System (VAERS) following COVID vaccines showed a significant jump in reports of injuries and deaths compared with last week's numbers.
VAERS is the primary government-funded system for reporting adverse vaccine reactions in the U.S. Reports submitted to VAERS require further investigation before a causal relationship can be confirmed.
Every Friday, VAERS makes public all vaccine injury reports received as of a specified date, usually about a week prior to the release date. Today's data show that between Dec. 14, 2020 and April 23, a total of 118,902 total adverse events were reported to VAERS, including 3,544 deaths — an increase of 358 over the previous week — and 12,619 serious injuries, up 2,467 since last week.
In the U.S., 222.3 million COVID vaccine doses had been administered as of April 23. This includes 97 million doses of Moderna's vaccine, 117 million doses of Pfizer and 8 million doses of the Johnson &Johnson (J&J) COVID vaccine.
Of the 3,544 deaths reported as of April 23, 25% occurred within 48 hours of vaccination, 17% occurred within 24 hours and 40% occurred in people who became ill within 48 hours of being vaccinated.
This week's data included three reports of deaths among teens under age 18, including two 15-year-olds and one 16-year-old who died unexpectedly from a blood clot 11 days after receiving her first Pfizer dose.
A 15-year-old female died of cardiac arrest after receiving the second dose of the Moderna vaccine, and a 15-year-old male died of cardiac failure two days after receiving the Pfizer vaccine.
This week's VAERS data show:
CDC ignores The Defender, no response after 53 days
According to the CDC website, "the CDC follows up on any report of death to request additional information and learn more about what occurred and to determine whether the death was a result of the vaccine or unrelated."
The Defender reached out to the CDC on March 8 with a written list of questions about reported deaths and injuries related to COVID vaccines, the status of ongoing investigations reported in the media, if autopsies are being done, the standard for determining whether an injury is causally connected to a vaccine, and education initiatives to encourage and facilitate proper and accurate reporting.
We made numerous attempts to contact the CDC via phone and email. As of April 30, 53 days after our initial inquiry, we still have yet to receive answers to our questions.
First 'acknowledged' case of J&J blood clots in a male
On April 27, The Defender reported a 30-year-old California man was hospitalized with blood clots after receiving J&J's COVID vaccine. It is the first time U.S. public health officials have specifically acknowledged "vaccine-induced thrombotic thrombocytopenia syndrome" in a male who received J&J's shot.
The news came days after an independent advisory panel for the CDC on April 23 voted 10 to 4 to recommend the continued use of the J&J vaccine with no restrictions after acknowledging a "possible link" between the vaccine and rare blood clotting disorders, mostly in young people. The panel concluded the benefits of the vaccine outweigh the risks.
Children's Health Defense queried the VAERS data for a series of adverse events associated with the formation of clotting disorders and other related conditions. VAERS yielded a total of 1,845 reports for all three vaccines from Dec. 14, 2020, through April 23.
Of the 1,845 cases reported, there were 655 reports attributed to Pfizer, 577 reports to Moderna and 608 reports to J&J — an increase of 448 J&J-related cases in just one week. U.S. health officials only acknowledged 15 blood clot cases associated with the J&J vaccine at the April 23 meeting.
Children as young as 6 months in COVID vaccine trials
On April 27, ABC News reported children as young as 6 months old are now in COVID vaccine trials. Dr. Zinaida Good, research fellow and immunologist at the Stanford Medicine Cancer Center, enrolled both her sons in Stanford Hospital's Pfizer trial. Good said she and her husband are confident in the safety of the vaccine.
"It would be wonderful if we knew how to communicate better the benefits of the vaccine and its safety. The data is very clear," Good said. "Those who get vaccines like this, mRNA vaccines, at least they are protected and they don't really have any real side effects, not any real long-term consequences."
Dr. Angelica Lacour's 3-year-old daughter, Eloise, is also participating in the trial for young children. Lacour said she was told about potential side effects. "They said that it's incredibly rare, but anyone can have an anaphylactic reaction to it. But it's so rare they couldn't even give us an example," Lacour said. "So [side effects were] not something I was very concerned about."
It is unknown whether Pfizer informed parents of potential side effects beyond just "anaphylaxis." According to VAERS data, 45,508 of the 118,902 total reported adverse events were attributed to Pfizer's vaccine. Of those 45,508 adverse events, 13,116 were related to anaphylactic reactions.
Possible link between Pfizer vaccine and heart inflammation
The Defender reported April 26 on details leaked from an Israeli Health Ministry report that raised concerns among experts about a possible link between the Pfizer vaccine and myocarditis.
The preliminary report found 62 cases of myocarditis, including two deaths, in people who received the Pfizer vaccine. Fifty-six of the cases occurred after the second dose of the vaccine, and 55 cases occurred in men — most between the ages of 18 and 30.
Israel's pandemic response coordinator, Nachman Ash, confirmed "tens of incidents" of myocarditis occurred in vaccinated people, primarily after the second dose, but emphasized the health ministry had yet to draw any conclusions.
Pfizer said it had not detected similar findings in the rest of the world but would look deeper into the phenomenon. Yet a search for "myocarditis" in VAERS revealed 75 cases of myocarditis, with 73% occurring in people between the ages of 17 and 44. Of the reported cases, 33 were reported after the Pfizer vaccine.
COVID vaccines and menstrual cycle disruption
Researchers this week called for clinical trials to track and document menstrual changes in vaccinated women after some women reported changes to their menstrual cycles after receiving a COVID vaccine, The Defender reported April 28.
Women have reported hemorrhagic bleeding with clots, delayed or absent periods, sudden pre-menopausal symptoms, month-long periods and heavy irregular bleeding after being vaccinated with one or both doses of a COVID vaccine.
There's no data linking COVID vaccines to changes in menstruation because clinical trials omit tracking menstrual cycles. But two Yale University experts wrote in The New York Times last week there could be a connection.
"There are many reasons vaccination could alter menstruation," wrote Alice Lu-Culligan, an M.D./Ph.D. student at Yale School of Medicine, and Dr. Randi Epstein, writer in residence at Yale School of Medicine.
"Periods involve the immune system, as the thickening and thinning of the uterine lining are facilitated by different teams of immune cells and signals moving in and out of the reproductive tract," Lu-Culligan and Epstein explained. "Vaccines are designed to ignite an immune response, and the female cycle is supported by the immune system, so it's possible vaccines could temporarily change the normal course of events."
To find out whether the COVID vaccine truly disrupts menstrual cycles, experts say there needs to be a controlled study with a placebo group. Rather than treat menstrual cycles as unimportant or too complicated, researchers should view tracking periods in future studies as a potential opportunity, Lu-Culligan and Epstein said. Clinical trials should track and document menstrual changes as they do other possible side effects.
Government considering COVID vaccine mandate for U.S. troops
President Joe Biden said today he has not ruled out requiring all U.S. troops to get the COVID vaccine after the shots win final clearance from federal regulators, but cautioned that such a decision would be a "tough call," Politico reported.
https://childrenshealthdefense.org/defender/vaers-significant-jump-reported-injuries-deaths-after-covid-vaccine/?utm_source=salsa&eType=EmailBlastContent&eId=3b9187c1-b00e-48a8-b02f-d75f9d0f636c
~~~~~~~~~~~~~~~~~~~~~~~~~~~~~~~~~~~~~~~~~~~~~~~~~~~~~~~~~~
EU Vaccine Injury Reporting System Shows More Than 330,000 Adverse Events Following COVID Vaccines
Health Impact News compiled the latest data on reports of COVID vaccine injuries and deaths in EU countries following vaccination with all four COVID vaccines approved in the EU for emergency use.
The Defender is experiencing censorship on many social channels. Be sure to stay in touch with the news that matters by subscribing to our top news of the day. It's free.
Every week The Defender publishes the latest data from the Vaccine Adverse Events Reporting System (VAERS) on injuries and deaths reported after people received one of the three COVID vaccines that have received Emergency Use Authorization in the U.S.
VAERS, which operates under the Centers for Disease Control and Prevention, is the primary government-funded system for reporting adverse vaccine reactions in the U.S. In the EU, suspected drug reactions are reported to EudraVigilance, which also tracks reports of injuries and deaths following the experimental COVID vaccines.
Health Impact News compiled the latest EudraVigilance data on reports of COVID vaccine-related injuries and deaths and found — as of April 17 — 7,766 reports of deaths and 330,218 reports of injuries following injections of the four COVID vaccines approved for emergency use in the EU: Moderna, Pfizer, AstraZeneca and Johnson & Johnson, marketed under the Janssen brand.
The Health Impact News report broke down the data by vaccine, type of injury and country.
According to the report, injury and death report totals for each vaccine were:
Pfizer-BioNTech: 4,293 deaths and 144,607 injuries
Moderna: 2,094 deaths and 15,979 injuries
AstraZeneca: 1,360 deaths and 169,386 injuries
Johnson & Johnson (Janssen): 19 deaths and 246 injuries
Cardiac and blood/lymphatic disorders were among the most commonly reported injuries.
According to its website, EudraVigilance was launched by the European Medicines Agency in 2012. Reports of suspected adverse events are submitted electronically to EudraVigilance by national medicines regulatory authorities and by pharmaceutical companies that hold marketing authorizations (licenses) for the medicines.
https://childrenshealthdefense.org/defender/eu-vaccine-injury-reporting-eudravigilance-330000-adverse-events-covid-vaccines/?utm_source=salsa&eType=EmailBlastContent&eId=3b9187c1-b00e-48a8-b02f-d75f9d0f636c
~~~~~~~~~~~~~~~~~~~~~~~~~~~~~~~~~~~~~~~~~~~~~~~~~~~~~~~~~~~
One hundred days of Biden's mask-wearing have come due, and they have failed miserably to alter the natural trajectory of the virus. The time has come for lawsuits against the demonic mandate that 2-year-olds wear masks on planes, forcing the government during legal discovery to produce a morsel of evidence that masks make a difference even with adults.
Given that COVID fascism and mask-wearing are a cult, its practitioners will never admit that the viral spread is 100% natural, seasonal, and geographical and that it will continue until every country reaches immunity. But given the terrible physical and psychological consequences of these policies, it's important for us to remind ourselves that they were all pain and zero gain.
Argentina did everything "right," according to the public health "experts." The country had one of the earliest and most draconian lockdowns, a mask mandate in place since April 14, and even forced cremation of some of those who died from the virus against the will of Jewish residents who asked for a proper burial.
Argentina, like many of the countries around the world that barely experienced any virus deaths during the first few months of the pandemic, thought that its draconian policies enabled the country to dodge the bullet. But when spring turned into summer, the population began experiencing growth in cases that later intensified, as we have seen in many countries that first escaped the virus. Argentina was praised by the liberal media for following the science and imposing a "strict COVID-19 lockdown," which "saved lives."
Given that Argentina had only one major wave, it was due for at least one more robust round, like every other country has had. The "virus is gonna virus" until populations reach herd immunity, like what happened in England and most parts of the U.S. All the places that "defeated" the virus are now having to defeat it again; all the places that did better than those hit first are now doing worse. It's all natural and has nothing to do with human intervention. Some people might have forgotten about the trajectory of cases in Argentina, but the inimitable Ian Miller is here to remind us:
The bottom line is that Argentina is a large country and could not escape the full spread of this virus, just like California, where officials erroneously thought they had defeated it through the voodoo of non-pharmaceutical interventions. Yet, as hospitals began to fill up, the Argentine government doubled down on failure, as President Alberto Fernandez declared that the previous restrictions were "insufficient." He therefore announced limited travel during nighttime hours because, of course, the virus spreads more at night. Now, watch Argentina catch up to the herd immunity level of other countries as this wave spreads undaunted by the power grabs, yet he will credit those measures for the inevitable decline in cases that always follows a sharp increase.

Then, of course, there is India. During December, as most of the world was experiencing its large winter wave of the virus, India barely had any spread after experiencing a large spread over the summer. The WSJ published an article on Dec. 30 titled, "COVID-19 was consuming India, until nearly everyone starting wearing masks." You know, because we've never seen any place in America with everyone wearing masks that suffered from the virus! NPR hailed India's success in enforcing mandates on outdoor joggers by stationing police outside to hand out fines.
Well, like every other place in the world, masks "worked" until it was time for natural seasonal spread in that given area. Yes, India, given its massive share of the world's population, had relatively few cases for the first year of the pandemic. Which is why it had the greatest spread of any country when it was time – because there was so much new ground unprotected by herd immunity for the virus to target.

Now, let's put aside the fact that much of India already had a strict mask mandate early last year and still experienced a first wave. As Ian Miller shows, India suffered a 1,400% increase in cases since the Wall Street Journal quoted Indian health officials as crediting their universal mask mandate for stopping the spread. However, they will never follow up on their drive-by reporting. In each case, the media credits periods of lack of spread to mask-wearing, but then forgets about the masks when the virus spreads with a vengeance. Then, when cases inevitably come down again, it's the masks, or perhaps more recently, the vaccines.
In reality, it's an all-natural phenomenon. In California, where the virus spread prolifically in the late fall/early winter despite the earliest lockdown and mask mandates in America, the virus had already peaked before a single vaccine was administered:
Let's now travel farther east than India, and we will discover the fact that, for whatever natural reason, the virus has barely spread for the first year. Which is why the Far East is the world's new hot spot. There are few people there with immunity.

Japan is part of the Far East surge this spring. The Japanese have been hailed for months for their "mask culture" even predating this virus. You'd be hard-pressed to find people more disciplined about wearing masks than the Japanese. Well, it "worked" until it didn't.
But we need not travel around the world to discover the obvious fact that it is natural phenomena, not human interventions, that are driving the cyclical and geographical spreads. All the experts warned that there would be catastrophe when nearly half the states got rid of their mask mandates, beginning with Texas and Mississippi two months ago, especially with the supposed new mutant variants. Yet at the same time, it was the northeastern states that spread much more severely as cases plummeted in the southern states and other non-masked states.
Gee, why do you think the most recent spread all happened to be clustered in the Mid-Atlantic states? No mask mandates? Well, in these states, people are wearing them even outside. It doesn't take Sherlock Holmes to discover that this is all natural based on timing and geography.

As WalletHub found in a recent analysis ranking the 50 states and D.C. by stringency of restrictions, there is simply zero correlation between stringency and outcomes with the virus. Our government succeeded in locking down everything but the virus.
In reality, lockdowns and masking were just as logical before the vaccine as afterward. Which is why Biden is still pledging to wear his mask outdoors. This was always about the cult of control. Likewise, it was always known that schoolchildren were never major vectors of spread. Now that new emails between the CDC and the teachers' unions have come to light, it is clear that the CDC knew this fact as well but allowed the teachers' unions to rewrite its February guidance to limit its categorical advice of returning to in-person instruction.
Just like with the Jonestown Cult in the 1970s, an entire society has been programmed to commit suicide based on illogical faith in idols and fear of fellow man rather than embrace grounded common sense. Now that Fauci has been exposed as the Jim Jones of our time, how many will continue drinking the Kool-Aid?
~~~~~~~~~~~~~~~~~~~~~~~~~~~~~~~~~~~~~~~~~~~~~~~~~~~~~~~~~~~
Pfizer Reaps Hundreds of Millions in Profits From COVID Vaccine + More
The Defender's COVID NewsWatch provides a roundup of the latest headlines related to the SARS CoV-2 virus, including its origins and COVID vaccines.
By 
~~~~~~~~~~~~~~~~~~~~~~~~~~~~~~~~~~~~~~~~~~~~~~~~~~~~~~~~~~~~~~~~~~~~~~~~~~
Other sources from some of the reputed newspapers in India:
May 16th 2020 Rev - 3