Dr. Fleming Calls COVID a 'Crime Against Humanity'
In his 135-paged book, "Is COVID-19 a Bioweapon? A Scientific and Forensic Investigation," Richard M. Fleming decodes the genetic sequence of COVID-19. The nuclear cardiologist, lawyer and medical researcher has discovered in this sequence many, if not all, of the components of what he calls "a biological weapon." He writes:
"SARS-CoV-1 was a genetically modified (Gain-of-Function) virus that was also a bioweapon developed by the Chinese Communist Party, with SARS-CoV-2 being the upgraded version of this bioweapon." 
The doctor determined this was the case mainly based on interviews he conducted with Dr. Li-Meng Yan —  one of which is transcribed in the book — a Chinese medical doctor and virologist who escaped to the United States in 2020. Fleming states Yan asserted that "SARS-CoV-1 was the first bioweapon and that SARS-CoV-2 is the advanced version." Yan contends that the Chinese military knew about the development of artificial viruses, as potential bioweapons, as revealed in the book. She is still in hiding in fear for her life. 
In colorful charts and graphs, Fleming explains, in layman's terms, each component in the SARS-CoV-2 sequence, detailing how each was likely added to the mix to create a monster out of existing viruses, in a Wuhan lab. The genetic sequencing alone would make this book well worth purchasing.
But Fleming goes beyond just presenting the formula for the COVID bioweapon. He provides a paper trail pointing the finger at the likely suspects who funded this criminal experiment, which he identifies as "Gain-of-Function research." In gain-of-function research, scientists and technicians enhance the lethal capability of viruses in order to "better understand how something like a corona virus might mutate over time." He states: 
"Such mutations might allow scientists and physicians to stay ahead of such infections … Instead of asking questions about what might happen naturally, this research became one of intentionally making those changes occur not in small incremental steps as might occur naturally, but in larger steps that would most likely take centuries to occur — if at all." 
Fleming reports President Obama banned gain-of-function from American labs in October of 2014 after workers were exposed to anthrax. 
Yet it reemerged several years later in China. Was it secretly funded by American organizations in China while it was banned in the U.S.? 
From 2018, the doctor highlights documents proving that gain-of-function research with bats was being conducted at the Wuhan Institute of Virology, funded by American donors. 
Fleming includes the dollar amounts American organizations contributed to this so-called research. Millions came from agencies connected to the U.S. government including the Department of Defense. He asks:
"What new pandemic now awaits humanity given this Gain-of-Function funding by the U.S. federal government — and other governments, corporations, and individuals — including SARS-CoV-2, viruses, bacteria and biologic pathogenic agents?" 
Fleming is also sounding the alarm about the efficacy and safety of COVID vaccines. Because he sees COVID as a lab-created bioweapon, he writes, "there are no real effective vaccines against the pandemic." 
Fleming also states that most masks, in nearly all circumstances, are ineffective at preventing the transmission of COVID. 
He states that the "evidence is not there … None of it supports the wearing of masks by kids in secondary school systems. None of it supports … the wearing of it in the general population … the spread is so minimal." In a hospital setting, the right kind of mask may provide some benefits, he adds. 
Fleming warns about the danger of turning "the practice of medicine and honest scientific investigation over to the government" as happened under the administration of Adolf Hitler. He writes:
"Many people over the years have decided what was best for humanity. Bill Gates has commented on more than one occasion that the use of clustered regularly interspersed short palindromic repeats technology would make it possible to 'eliminate undesirable genes' and 'potentially swap in preferable alternatives' – a concept held by other in history, including Dr. Joseph Mengele." 
Fleming cites that under Hitler, doctors became "biological soldiers" committed to "cleansing" the population of "inferior" genetic material. 
The doctor states that those responsible for funding and unleashing the COVID bioweapon are guilty of "crimes against humanity." He calls for "criminal accountability" for those who caused "this devastation, destruction and death across the planet."
This incredibly well-documented, concise and passionate book is a must-read in order to understand what is really at stake in the COVID pandemic.
~~~~~~~~~~~~~~~~~~~~~~~~~~~~~~~~~~~~~~~~~~~~~~~~~~~~~~

"Breakthrough Cases"
Senator Lindsey Graham, who has received both COVD vaccines, has just been re-infected with COVID 19.
Instead of reinfection they are calling these, "Breakthrough cases," the usual deceptive use of words.
Studies from the UK are showing many reinfections.
The Deep State CDC and its mouthpieces are adding the phrase, "But it's a good thing they were vaccinated or the symptoms could have been much worse."
The biggest lie of all? THE COVID SHOT IS NOT A VACCINE. It is gene therapy, in Big Pharma's words, "Downloading Code" into your DNA. People do not get sick again from a legitimate vaccine.
This ignores the fact that 96%+ of people who get COVID recover and there are immediate treatments that work, like Ivermectin and Hydroxychloroquine.
It now appears that vaccinated people can be super spreaders to unvaccinated people. Can this get any more bizarre?
Now some talking heads are saying COVID could be around for 15 years, meaning lockdowns, masks and mandatory (door-to-door?) vaccines.
I encourage you to thoroughly examine both sides of the equation and reach an educated decision.
I am not anti-VACCINE. But this issue just gets worse and worse as the days pass.
The crisis is not just the virus. It is also what governments are doing with it, and known treatments are being concealed.
~~~~~~~~~~~~~~~~~~~~~~~~~~~~~~~~~~~~~~~~~~~~~~~~~~~~~~

~~~~~~~~~~~~~~~~~~~~~~~~~~~~~~~~~~~~~~~~~~~~~~~~~~
~~~~~~~~~~~~~~~~~~~~~~~~~~~~~~~~~~~~~~~~~~~~~~~~~~~~~~

Pfizer's Covid Vaccine Protection Against Omicron Fades Just Weeks After Second And Third Doses, Study Finds
Robert Hart
Updated May 16, 2022, 04:13am EDT
Immunity against the omicron coronavirus variant fades rapidly after a second and third dose of Pfizer and BioNTech's Covid-19 vaccine, according to peer reviewed research published in JAMA Network Open on Friday, a finding that could support rolling out additional booster shots to vulnerable people as the variant drives an uptick in new cases across the country.
Key Facts
Levels of omicron-specific "neutralizing" antibodies—which can target the virus and stop it from replicating—decline rapidly after a second and third dose of Pfizer's shot, according to the Danish study of 128 people who had received two or three doses.
Antibody levels, which are associated with protection against infection and disease, fell within weeks of getting the shots and were much lower than the level of antibodies specific to the original and delta coronavirus variants, the researchers said.
Compared to original and delta variants, the proportion of omicron-specific antibodies detected in participants' blood dropped "rapidly" from 76% four weeks after the second shot to 53% at weeks eight to 10 and 19% at weeks 12 to 14, the researchers found.
Omicron-specific antibody levels increased after the third dose—nearly 21-fold at week three and nearly 8-fold at week four, compared to four weeks after the second dose—and the shot generated a detectable response in most people for at least eight weeks, the researchers said.
However, antibody levels started to drop as early as three weeks after the booster shot, falling 4.9-fold for the original variant, 5.6-fold for delta and 5.4-fold for omicron between weeks three and eight.
The "transient" antibody response after doses two and three mean additional booster shots might be needed to combat the variant, particularly among older people, the researchers said.

Key Background
Experts and regulators broadly acknowledge the benefits of a third vaccine dose to top up flagging protection against serious illness and death. There is less consensus over whether additional shots are needed beyond that and questions over whether frequent boosting will be practical. Neutralizing antibodies have been the primary focus of studies evaluating vaccines—they are much easier to study—but they are not the only part of the immune system protecting humans against disease. Other parts of the immune system, such as T cells, might be less effective at preventing infection but they are more durable than antibodies and can reduce the chance of serious illness if infected. Many experts believe this latter property is the primary function of vaccination, not preventing infection, and data shows they offer much more durable protection, including against omicron.
Further Reading
We Cannot 'Boost Our Way Out' Of The Covid Pandemic, Experts Warn (Forbes)
Do You Need A Second Covid Booster Shot? Experts Are Divided. (Forbes)
~~~~~~~~~~~~~~~~~~~~~~~~~~~~~~

Below when Gates say:
Bill Gates
Says there will be another pandemic while expressing hope for an 'eradication vaccine'....
What he means is ("hope for a depopulation vaccine!")
Bill Gates speaks during a panel discussion at the 2022 Munich Security Conference in Germany on Feb. 18, 2022. (Alexandra Beier/Getty Images)
Omicron Is 'Type of Vaccine' That Gives Cellular Immunity, Spreads Faster Than Vaccines:

Bill Gates
Bill Gates
Says there will be another pandemic while expressing hope for an 'eradication vaccine'
Says there will be another pandemic while expressing hope for an 'eradication vaccine'
Billionaire Bill Gates says the SARS-CoV-2 Omicron variant has spread faster across the world than the COVID-19 vaccines have, and that the variant is a "type of vaccine" that gives people cellular immunity. He also predicted on Feb. 18 that another pandemic was coming, and shared what he believes should be done "next time."
At the 2022 Munich Security Conference, attended by security experts, politicians, and people of influence around the world, the Microsoft co-founder was asked: "Where would you assess where we are today in beating COVID-19?"
"Well, sadly, the virus itself, particularly the variant called Omicron, is the type of vaccine—that is, it creates both B cell and T cell immunity—and it's done a better job of getting out to the world population than we have with vaccines," Gates said.
B cell and T cell immunity, also referred to as cellular immunity, comprise alternate mechanisms of immunity than antibodies. A study published in Nature suggests that the immune system's T cells may offer protection against COVID-19 by "remembering past encounters with other human coronaviruses."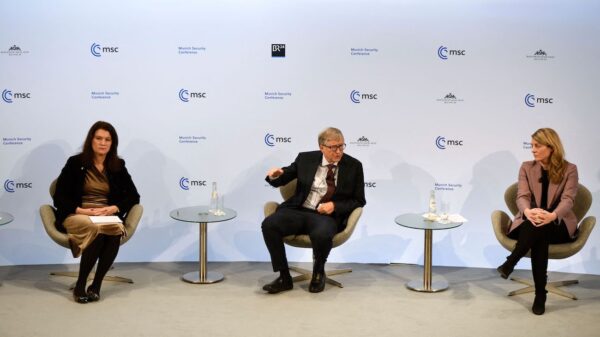 Co-chair of the Bill and Melinda Gates Foundation Bill Gates (C) speaks with Canadian Foreign Minister Melanie Joly (R) and Swedish Foreign Minister Ann Linde during the 58th Munich Security Conference in Munich, on Feb. 18, 2022. (Thomas Kienzle/AFP via Getty Images)
Meanwhile, a study published in the medical journal Cell (pdf) said that data suggests "SARS-CoV-2 elicits broadly directed and functionally replete memory T cell responses, suggesting that natural exposure or infection may prevent recurrent episodes of severe COVID-19."
Gates told the conference that the risk of severe disease from contracting COVID-19 has been dramatically reduced due to people having been exposed to various variants of the SARS-CoV-2 virus.
"If you do serosurveys in African countries, you get well over 80 percent of people [who] have been exposed either to the vaccine or to various variants. And so what that does is it means the chance of severe disease—which is mainly associated with being elderly and having obesity or diabetes—those risks are now dramatically reduced because of that infection exposure," he said.
The Omicron variant, since its identification in November 2021, has spread rapidly across the world to become the most dominant variant, although it generally triggers much milder symptoms.
Gates, who has invested in vaccine research via the Bill & Melinda Gates Foundation, noted in regard to vaccines that "it took us two years to be an oversupply."
"Today, there are more [COVID-19] vaccines than there's demand for vaccines," he said. "It's sad we didn't do a great job on therapeutics. Only here, two years in, do we have a good therapeutic."
He also said that vaccine development "took us a lot longer this time than it should have," and suggested that "next time, instead of two years, we should make it more like six months."
"Certainly, some of the standardized platform approaches, including mRNA, would allow us to do that," Gates said.
'We'll Have Another Pandemic'
When asked about the potential for another pandemic, he responded, "Well, we'll have another pandemic; it will be a different pathogen next time."
Gates said there will also be "some rebound" with the current pathogen, the SARS-CoV-2 virus, at more typical seasonal flu levels.
"We don't have a tool to do eradication," he said, noting that current COVID-19 vaccines haven't been able to prevent inoculated individuals from getting infected.
Gates said that funding should be allotted to developing a vaccine that can "get rid of families of respiratory viruses, including the flu family, and the coronavirus family."
"And I do think in the next decade we can come up with an eradication vaccine," he said. "That's an aspiration, not a guarantee. … There's already a lot of work that's been done on a universal flu vaccine, and the date on that looks very promising."
"We won't get death levels at the kind of acute level that we're still experiencing today as the Omicron wave passes through on a global basis," Gates said.
Gates's Bill & Melinda Gates Foundation on Jan. 19 pledged $300 million to the UK's Wellcome Trust to support the Coalition for Epidemic Preparedness Innovations (CEPI).
The coalition was formed five years ago by the governments of Norway, Germany, Japan, and India, as well as the Gates Foundation, Wellcome, and the World Economic Forum. It has co-led a global initiative called COVAX to deliver vaccines to low- and middle-income countries.
CEPI said it's seeking to raise $3.5 billion to "develop lifesaving vaccines against any new viral threat (referred to as 'Disease X')—to within 100 days of a pathogen being sequenced."
~~~~~~~~~~~~~~~~~~~~~~~~~~~~~~~~~~~~~~~~~~~~~~~~~~~~~~~~~~~~~~~~
Pfizer, AstraZeneca vaccine antibody levels may decline after 2-3 months: Lancet study
~~~~~~~~~~~~~~~~~~~~~~~~~~~~~~~~~~~~~

The Most Terrifying Warning Yet on COVID Shots
World-Renowned Microbiologist Dr. Sucharit Bhakdi Has Urgent Warning of COVID-19 Vaccine Risks
*****************************************************************************************************
pranavsinha (34)
in
#life
• 3 years ago