What we have is a New World Order mandate to depopulate the earth, and every demon-rat municipal manager, township supervisor, mayor, governor, congressman/woman, and would-be president has signed on to the plan! So when you see news like this, and know that Governor Cuomo of NYC put elderly people in with Covid19 patients/victims and killed what's now being reported as over 11,000 NYC care patients, you know it was murder!
~~~~~~~~~~~~~~~~~~~~~~~~~~~~~~~~~~~~~~~~~~~~~~~~~~~~~~~~~~~~~

Janice Dean Finally Gets Her Chance to Testify
Posted: Aug 17, 2020 2:15 PM
For months Fox News meteorologist Janice Dean has been trying to tell her tragic story. Her in-laws, Mickey and Dee Newman, died in separate New York elder care facilities during the coronavirus pandemic. She has made no secret of the fact that she blames Gov. Andrew Cuomo and his nursing home mandate, which forced facilities to accept recovering COVID patients. Over 6,000 COVID patients were reportedly sent to elder care homes over the course of 46 days. When New York lawmakers began hearings on the subject, Dean was ready to testify. But the New York State Senate didn't want to hear it. A few days before the first meeting was set to begin, her name was taken off of the witness list. She later found out that was because the Democratic majority would have been too "uncomfortable" with her testimony.
New York Republicans gave her the chance to speak on Monday, and through a painful amount of tears she managed to get through it. 
Mickey and Dee's health had been declining for some time before they went into elder care facilities, Dean explained. It was "the first time in their lives they had been apart like this." Mickey's facility went into quarantine in March and she was notified that he'd be moved to a different floor to make way for a new crop of patients. Dean says that she now believes that some of those new patients were ones recovering from COVID. Some days later the staff called her husband to notify him that his dad was sick. He had a fever, and three hours later he was dead. They were told it was likely a result of coronavirus. 
"We only got confirmation when we saw it on the death certificate," she said.
Dean recalls how her husband Sean had to break the news to his ailing mother. He would later visit her, but had to stand ten feet away with a mask on, telling her he loved her. 
"He would never see her again," Dean said as she choked up. 
Dean said that her husband recalled how, in his mother's facility, workers were getting coffee without masks on, and they were allowing residents to roam freely. The last thing Dee asked of her son before she died was to get Easter gifts for the kids and put her name on the presents. 
"Elder care homes were turned into death traps."
Her death was not counted as a nursing home death because she died in the hospital. New York, Dean fumed, is the only state who doesn't count deaths in the proper way.
As for New York Democrats being "uncomfortable" with her story, she suggested that "it's the cover up they're uncomfortable with."
"If anyone has the right to feel uncomfortable, it's the thousands of family members who lost loved ones," she insisted.
Mickey and Dee were the definition of what Andrew Cuomo calls "New York tough," and yet he treated them as just numbers on a curve, Dean said. She concluded by demanding a full outside investigation into the nursing home tragedy, with subpoena powers.
Following Dean was witness Jennifer Harrison, who spoke warmly of her late step grandmother, who was on her way to a "well deserved" 100th birthday. But she too succumbed to COVID in a nursing home. To make matters worse, she says that her family was "lied to" and treated in a "despicable" manner.
Harrison didn't learn until two weeks after the fact that her step grandmother had contracted COVID, and it was by "complete accident" when the billing department sent her a notice regarding her COVID treatment. 
"I was caught completely off guard and had to get answers from a billing clerk," Harrison shared. 
And that clerk could only tell by the codes she was reading that her step grandmother had COVID. She died not long after that.
The facility could have made the situation somewhat more tolerable by expressing their condolences to the family, but Harrison said they couldn't even manage to do that. She said the staff called her with a "cold, short, and nasty" message that her loved one had died and asked her to come get her that night. Not "I'm sorry for your loss," just those few stark words.
Like Harrison, witness JoAnn Williams said she was offered no condolences when she learned her father had died. The staff just wanted to know when she would be able to pick up his belongings. 
"I am furious," Williams said. "I cannot grieve properly."
All Williams has left of her father, she said, is an urn and a photograph.
https://townhall.com/tipsheet/cortneyobrien/2020/08/17/janice-dean-finally-gets-her-chance-to-testify-n2574461?utm_source=thdailypm&utm_medium=email&utm_campaign=nl&newsletterad=08/17/2020&bcid=fd050d84e78fcccf7024607dd06f2fed&recip=28383921
~~~~~~~~~~~~~~~~~~~~~~~~~~~~~~~~~~~~~~~~~~~~~~~~~~~~~~~~~~~~~~~~~~~~~~~~~~~~~~~~~~~~~~~~~~~~~~~~~~~~~~~~~~~~~~~~~
The Outrageous Reason NY Dem's Stopped Janice Dean from Testifying at Monday's Nursing Home Hearing
Posted: Aug 11, 2020 9:45 AM
New York Gov. Andrew Cuomo's controversial nursing home policy that forced facilities to accept COVID patients went into effect on March 25 and continued for 46 days. But he insists it has nothing to do with the 6,000 senior care fatalities that the state has tallied since the start of the coronavirus outbreak. The number may actually be much higher. (More on that later).
Fox News meteorologist Janice Dean, one of many New Yorkers who lost loved ones in nursing homes, was prepared to testify about how Cuomo's mandate led to her in-laws' deaths. But at the last minute, her name had been taken off of the witness list.
What happened to the invitation, Fox News radio host Brian Kilmeade wondered.
"It got lost, I suppose," Dean replied.
Dean said she had filled out all the paperwork and sent her formal request letter to all the lawmakers at the end of July. They told her she'd have a time to testify on Monday, August 10. Several emails confirmed it. And yet, when the time came, she was bumped.
"I can only guess," she said. "I think it went higher than the chairman. I think that it was Andrew Cuomo or his admin that decided they didn't want my voice to be heard. And that's really unfortunate."
"It's just another indication that they don't want a real investigation," she concluded. "This is a complete sham."
Gov. Cuomo has more often than not tried to defer the blame during this pandemic. But according to Dean, "Here in New York, it's on Gov. Cuomo."
Townhall asked Dean if she'd heard back from any Democrats on the panel. All they managed to send her was a generic email about not being able to accommodate her request because of "the very large volume of requests received and limited amount of time."
They "encouraged" her to tune in to the live broadcast.
Later, Dean learned some interesting details about her "lost" invitation. Apparently, Senate Democrats were too "uncomfortable" having her in a witness chair.
The Senate Majority later sent a statement to Fox News, insisting that "every victim should have their story heard and it's deeply troubling that she wasn't given the opportunity to provide testimony at today's hearing."
The New York Senate GOP excoriated their counterparts for refusing to let her speak.
"Fox & Friends" gave Dean the chance to share part of her testimony on Tuesday morning. She spoke warmly of her late in-laws, Mickey and Dee Newman, who she called the epitome of "New York Tough."
~~~~~~~~~~~~~~~~~~~~~~~~~~~~~~~~~~~~~~~~~~~~~~~~~~~~~~~~~~~~~~~~~~~~~~~~~~~~~~~~~~~~~~~~~~~~~~~~~~~~~~~~~~~~~~~~~~~~~~~~~~

The only thing that's "deeply troubling" is that the Democrat Senate Majority took
off the witness list. They take their marching orders from
and they took away her opportunity to provide testimony at yesterday's
#nursinghome
hearing.
~~~~~~~~~~~~~~~~~~~~~~~~~~~~~~~~~~~~~~~~~~~~~~~~~~~~~~~~~~~~~~~~~~~~~~~~~~~~~~~~~~~~~~~~~~~~~~~~~~~~~~~~~~~~~~~~~~~~~~~~~~

"I just wanted to tell my story," she said, fighting back tears. "I wasn't – I don't want to be in this position. I'm not a political person but if I can be the voice for the families that have lost loved ones and I have made one difference for one family, then it was all worthwhile."
As it turns out, the Cuomo administration may be hiding the actual number of COVID-19 related nursing home deaths. As the Associated Press reported, the number they provided - 6.000 fatalities - could be "a major undercount" because it only counts residents who died on nursing home property, not those who died after being transported to hospitals.
And no, Dean didn't take the Democrats advice and tune in to Monday's hearing. She maintained that these hearings won't produce any substance until they bring in witnesses by subpoena.
https://townhall.com/tipsheet/cortneyobrien/2020/08/11/janice-dean-chats-more-about-how-her-invitation-to-nursing-home-hearing-got-lost-n2574052
~~~~~~~~~~~~~~~~~~~~~~~~~~~~~~~~~~~~~~~~~~~~~~~~~~~~~~~~~~~~~~~~~~~~~~~~~~~~~~~~~~~~~~~~~~~~~~~~~~~~~~~~~~~~~~~~~~~~~~~~~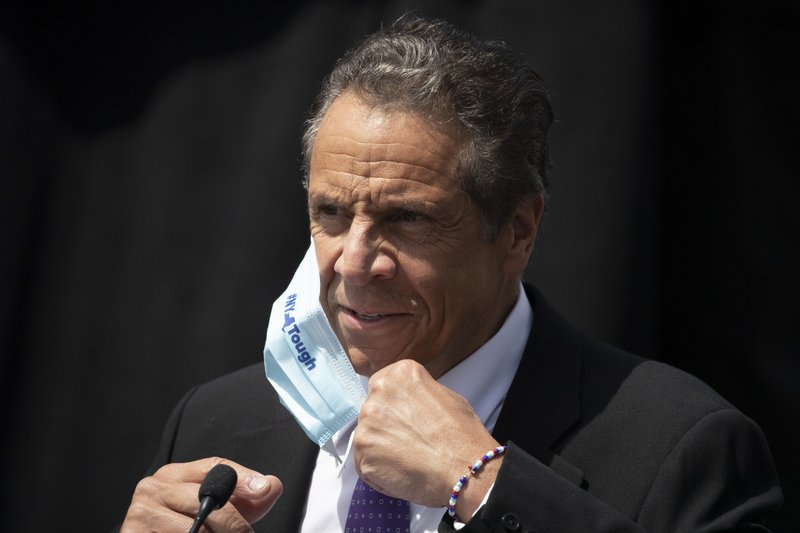 By BERNARD CONDON, MATT SEDENSKY and MEGHAN HOYER
1 of 2 FILE - In this June 15, 2020, file photo, New York Gov. Andrew Cuomo removes a mask as he holds a news conference in Tarrytown, N.Y. New York's coronavirus death toll in nursing homes, already among the highest in the nation, could actually be a significant undercount. Unlike every other state with major outbreaks, New York only counts residents who died on nursing home property and not those who died in hospitals. (AP Photo/Mark Lennihan, File)
NEW YORK (AP) — Riverdale Nursing Home in the Bronx appears, on paper, to have escaped the worst of the coronavirus pandemic, with an official state count of just four deaths in its 146-bed facility. The truth, according to the home, is far worse: 21 dead, most transported to hospitals before they succumbed. "It was a cascading effect," administrator Emil Fuzayov recalled. "One after the other."
New York's coronavirus death toll in nursing homes, already among the highest in the nation, could actually be a significant undercount. Unlike every other state with major outbreaks, New York only counts residents who died on nursing home property and not those who were transported to hospitals and died there.
That statistic could add thousands to the state's official care home death toll of just over 6,600. But so far the administration of Democratic Gov. Andrew Cuomo has refused to divulge the number, leading to speculation the state is manipulating the figures to make it appear it is doing better than other states and to make a tragic situation less dire.
"That's a problem, bro," state Sen. Gustavo Rivera, a Democrat, told New York Health Commissioner Howard Zucker during a legislative hearing on nursing homes earlier this month. "It seems, sir, that in this case you are choosing to define it differently so that you can look better."
How big a difference could it make? Since May, federal regulators have required nursing homes to submit data on coronavirus deaths each week, whether or not residents died in the facility or at a hospital. Because the requirement came after the height of New York's outbreak, the available data is relatively small. According to the federal data, roughly a fifth of the state's homes reported resident deaths from early June to mid July — a tally of 323 dead, 65 percent higher than the state's count of 195 during that time period.
Even if half that undercount had held true from the start of the pandemic, that would translate into thousands more nursing home resident deaths than the state has acknowledged.
Another group of numbers also suggests an undercount. State health department surveys show 21,000 nursing home beds are lying empty this year, 13,000 more than expected — an increase of almost double the official state nursing home death tally. While some of that increase can be attributed to fewer new admissions and people pulling their loved ones out, it suggests that many others who aren't there anymore died.
However flawed New York's count, Cuomo has not been shy about comparing it to tallies in other states.
Nearly every time Cuomo is questioned about New York's nursing home death toll, he brushes off criticism as politically motivated and notes that his state's percentage of nursing home deaths out of its overall COVID-19 death toll is around 20%, far less than Pennsylvania's 68%, Massachusetts' 64% and New Jersey's 44%.
"Look at the basic facts where New York is versus other states," Cuomo said during a briefing Monday. "You look at where New York is as a percentage of nursing home deaths, it's all the way at the bottom of the list."
In another briefing last month, he touted New York's percentage ranking as 35th in the nation. "Go talk to 34 other states first. Go talk to the Republican states now — Florida, Texas, Arizona — ask them what is happening in nursing homes. It's all politics."
Boston University geriatrics expert Thomas Perls said it doesn't make sense that nursing home resident deaths as a percentage of total deaths in many nearby states are more than triple what was reported in New York.
"Whatever the cause, there is no way New York could be truly at 20%," Perls said.
A Cuomo spokesman did not respond to repeated requests for comment. New York's Department of Health said in a statement that it has been a leader in providing facility-specific information on nursing home deaths and "no one has been clearer in personalizing the human cost of the pandemic."
A running tally by The Associated Press shows that more than 68,600 residents and staff at nursing homes and long-term facilities across the nation have died from the coronarivus, out of more than 164,000 overall deaths.
For all 43 states that break out nursing home data, resident deaths make up 44% of total COVID deaths in their states, according to data from the Kaiser Family Foundation. Assuming the same proportion held in New York, that would translate to more than 11,000 nursing home deaths.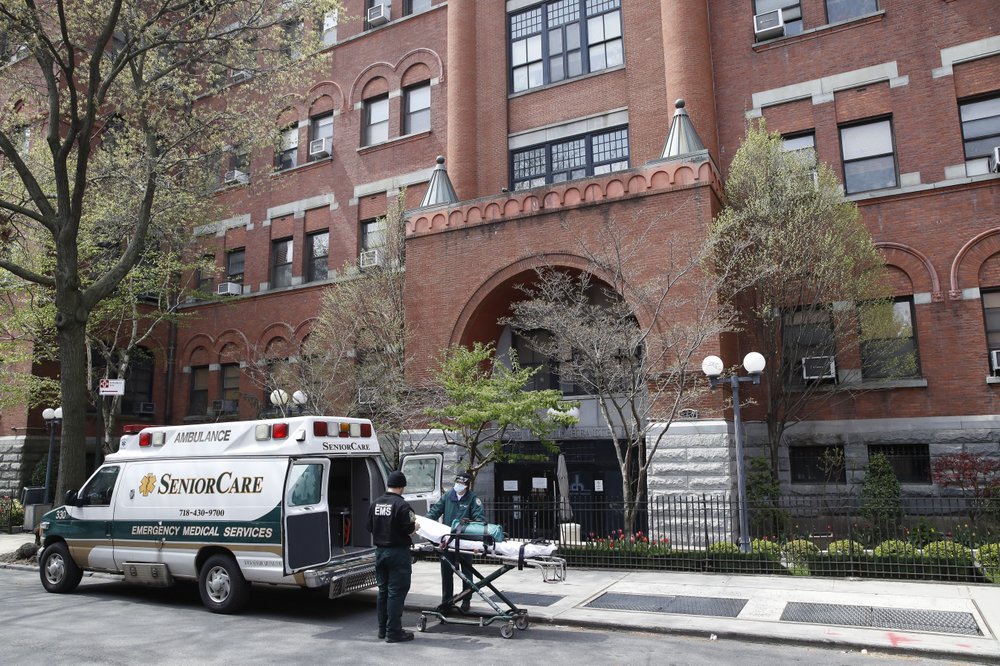 In this April 17, 2020, file photo, emergency medical workers arrive at Cobble Hill Health Center in the Brooklyn borough of New York.
To be sure, comparing coronavirus deaths in nursing homes across states can be difficult because of the differences in how states conduct their counts. New York is among several states that include probable COVID-19 deaths as well as those confirmed by a test. Some states don't count deaths from homes where fewer than five have died. Others don't always give precise numbers, providing ranges instead. And all ultimately rely on the nursing homes themselves to provide the raw data.
"Everybody is doing it however they feel like doing it. We don't have very good data. It's just all over the place, all over the country," said Toby Edelman of the Center for Medicare Advocacy, a nonprofit representing nursing home residents. New York health chief Zucker explained during the legislative hearing that New York only counts deaths on the nursing home property to avoid "double-counting" deaths in both the home and the hospital. And while he acknowledged the state keeps a running count of nursing home resident deaths at hospitals, he declined to provide even a rough estimate to lawmakers.
"I will not provide information that I have not ensured is absolutely accurate," Zucker said. "This is too big an issue and it's too serious an issue."
Zucker promised to provide lawmakers the numbers as soon as that doublechecking is complete. They are still waiting. The AP has also been denied access to similar nursing home death data despite filing a public records request with the state health department nearly three months ago. Dr. Michael Wasserman, president of the California Association of Long Term Care Medicine, said it is unethical of New York to not break out the deaths of nursing home residents at hospitals. "From an epidemiological and scientific perspective, there is absolutely no reason not to count them."
Nursing homes have become a particular sore point for the Cuomo administration, which has generally received praise for steps that flattened the curve of infections and New York's highest-in-the-nation 32,787 overall deaths. A controversial March 25 order to send recovering COVID-19 patients from hospitals into nursing homes that was designed to free up hospital bed space at the height of the pandemic has drawn withering criticism from relatives and patient advocates who contend it accelerated nursing home outbreaks.
Cuomo reversed the order under pressure in early May. And his health department later released an internal report that concluded asymptomatic nursing home staffers were the real spreaders of the virus, not the 6,300 recovering patients released from hospitals into nursing homes. But epidemiologists and academics derided the study for a flawed methodology that sidestepped key questions and relied on selective stats, including the state's official death toll figures. "We're trying to find out what worked and what didn't work and that means trying to find patterns," said Bill Hammond, who works on health policy for the nonprofit Empire Center think tank. "You can't do that if you have the wrong data."
AP reporters Jim Mustian and Marina Villeneuve, and investigative researcher Randy Herschaft contributed to this report.

https://apnews.com/212ccd87924b6906053703a00514647f
18 August 2020